Vegan Cuts sent me this subscription box for my review.
This is my first Vegan Cuts and I was super excited to get it. It also has one of my favorite products I've ever received in a subscription box just because it's so danged cool! The September Vegan Cuts box is no longer available but you can sign up for the October Vegan Cuts! FYI Vegan Cuts is a Canadian company so use a card that doesn't charge an arm & a leg for Canadian currency.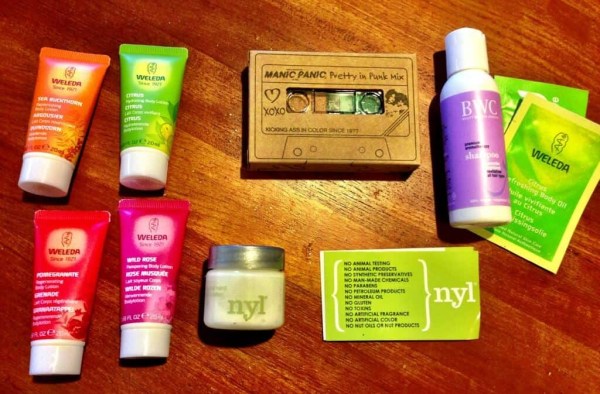 This came in a fairly small cardboard box and I was psyched to see how much actually came in it!
The Subscription
: 
Vegan Cuts
The Description
: Vegan Cuts offers two boxes! In the Beauty Box you'll be getting 4-7 100% cruelty-free beauty products!
The Price
: 20 per month
September 2013 Vegan Cuts
Info Card I sure wish I could have this light & background every day! This is the Vegan Cuts information card and shows the possible variations for the box.
The back of the card provides basic information about the product and social media information for each brand. "No-bunny was harmed in the making of this box!" CUTE!
GladRags pantyliner ($12.49) Coupon for a free cloth pantyliner (and free site-wide shipping) from GladRags! Cloth works very well for many women (no landfill impact too) and this is a great way to try it!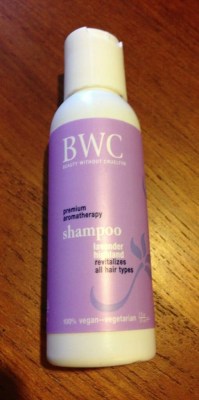 Beauty Without Cruelty Lavender Shampoo ($1.36) I'm not personally wild about shampoo in subscription boxes, but for Vegan Cuts, I think it's a fine inclusion, as it's a subscription box for those of us hunting for vegan and cruelty-free beauty.
Weleda Indulgent Body Lotion Kit ($13.50) These are adorable and so perfect for trial or sampling. I received Sea Buckthorn (replenishing), Citrus (hydrating), Pomegranate (regenerating), Wild Rose (pampering).
Good Lube Sample Paraben free infused with a touch of lemon and vanilla. This was on my card as one of the items, I think it may have been replaced with the nyl (below) as it is a review box.
Weleda Citrus Refreshing Body Oil Sample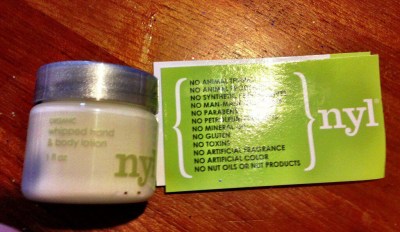 nyl organic whipped hand and body lotion ($5) You can see the card – they really mean nothing extra! It uses Meadowfoam seed oil (non-comedogenic) and I can't wait to try this.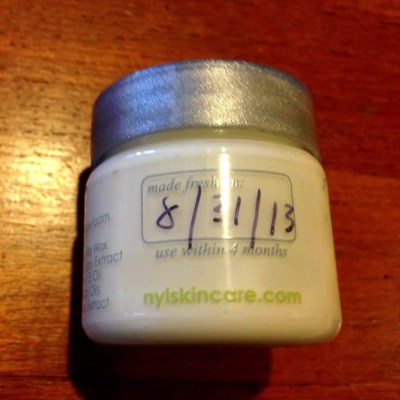 nyl makes every product weekly by hand. Always fresh!
Manic Panic Pretty in Punk Eyeshadow Compact (Side A) ($12) This cassette tape compact includes 2 shimmer shadows, a mirror, a hidden tray, and a wristlet! Inside the hidden tray is a coupon for 15% off at Manic Panic Collection (free shipping over $25). And head's up – these are refillable!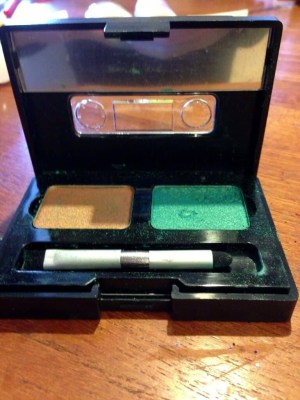 This is my favorite item of the box and absolutely one of my most favorite items ever! It doesn't have to be expensive to be awesome. Now that I've said that, I totally got a dud. My shadow was broken and there was no wristlet. Bummer. That's ok, I am sure I can use a ribbon from one of my boxes as a wristlet. I have 2 drawers full. (I don't know why I save them, my daughter has short hair!).
This shows the nifty pullout tray! Variations for this product were lipgloss ($12) and I think the eyeliner duo($10). Just guessing on this from the photo that there were variations!
Vegan Cuts promises over $35 value in a box and this one had over $44 in value. I thought that was excellent and a really fun beauty box!
Visit Vegan Cuts

Check out all my Vegan Cuts Reviews! Don't forget to take a look at other Natural & Vegan Beauty Subscription Boxes.