Yummy! September Gourmet Taste Trunk has arrived! I'm totally loving Taste Trunk because it's been super inspiring in my meal "planning." Which would consist of OMG what am I feeding us in 10 minutes most of the time! If you're new, check out how to save 25% at the bottom of the page!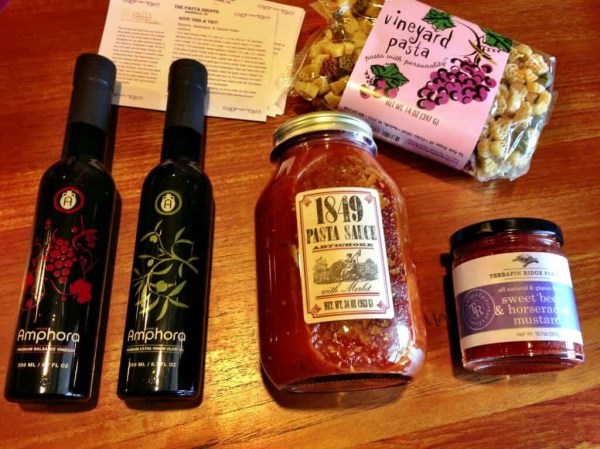 The Subscription
:
Taste Trunk
The Description
: Taste Trunk offers 4 different monthly trunks: Gourmet, Sweet, Health, and BBQ. Each trunk has 5-10 products.
The Price
: $36/month
The Coupon
: Put my name in the "special instructions" box at checkout (Brandy O'Grady) and use coupon code
Splurge25
for 25% off!
September 2013 Taste Trunk Gourmet Box
The trunk! Taste Trunk arrives in an outer flat rate priority mail box. Love that. It arrives promptly and due attention is paid to the shipping costs. Shipping ain't free!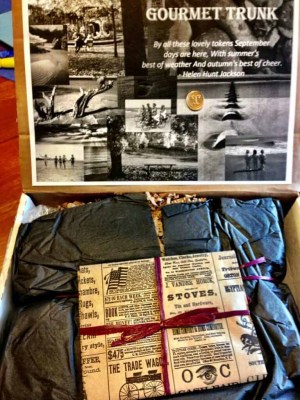 I love the theming of this box. I think it's cute & thoughtful.
I love having individual information cards. I also got a $5 credit to the Taste Trunk store! I visited and they have all these GREAT sets available! Plus there are new gift subscriptions available and I just think this would be a great gift!
I wanted to point out how well everything is packed in this box. Despite the fragile nature of basically all the items, I've never had an issue with any of it.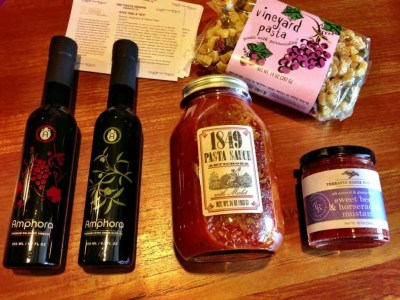 I loved the fall yummy in my tummy theme of this box! The information cards gave me some amazing ideas and I need to do a little shopping before I get to cooking!
Amphora Nueva Premium EVOO – Spanish Arbequina ($7) This is so much fun! Amphora Nueva makes all sorts of single varietal olive oils and now I want to try them all! This one is fruity & peppery.
Amphora Nueva Balsamic Vinegar ($7) I love balsamic (did you miss my Hello Fresh review where I drank the extra, cuz I did!). When I first saw this item I thought there were two oils which would have also been great but this is also fabulous. I want to try their black fig next. Looks great!
1849 Pasta Sauce ($5.49) This flavor is merlot & artichokes and I'm totally going to make the included recipe – chicken cacciatore – with it. It sounds so good.
The Pasta Shoppe Vineyard Pasta ($5.50) My kids will pick a fun pasta shape every single time over a regular one. I'm going to save this one to serve with a sauce because my daughter is kind of weird about sauce. It will entice her to try something new.
Terrapin Ridge Farms Sweet Beet & Horseradish Mustard ($6.70) I'm so excited about this, never seen anything like it before. It's mustard and horseradish and beets! The card suggests it on roast beef, steak, grilled salmon, or crab cakes. I'm definitely getting a roast for this, it's insanely delicious.
While I loved this box and will absolutely use everything, I felt like last month's box gave me a bit more variety in terms of different flavor profiles over September Taste Trunk but this September box I think gives a different gourmet experience. But they are totally different boxes and the staple items in this box are a nice way to be able to use up any remaining seasoning type items from the previous month without getting overloaded. Thoughtful curation! The value of this box is right on target – Taste Trunk is $29 per month (plus shipping) and this box had over $31 of products in it. If you're going to subscribe, check out how to save 25% right below!