Spicy Subscriptions sent me this subscription box for my review.
Well this was a spicy surprise! I had no idea I was getting this and I was… tickled pink? to get the September Spicy Subscriptions box in the mail totally out of the blue!  And this is your warning to skedaddle if you are not interesting in reading a review about a subscription box intended to promote adult intimacy!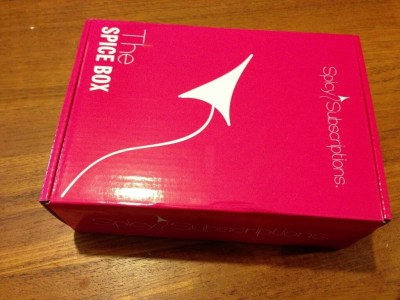 Spicy Subscriptions comes in a pink box inside a padded bubble mailer. Nobody will know that you have a spicy surprise inside. Like my mailcarrier has time to check through my 5 packages a day. He thinks I'm hilarious. But he also has no idea that I got a sexy time party in a box today.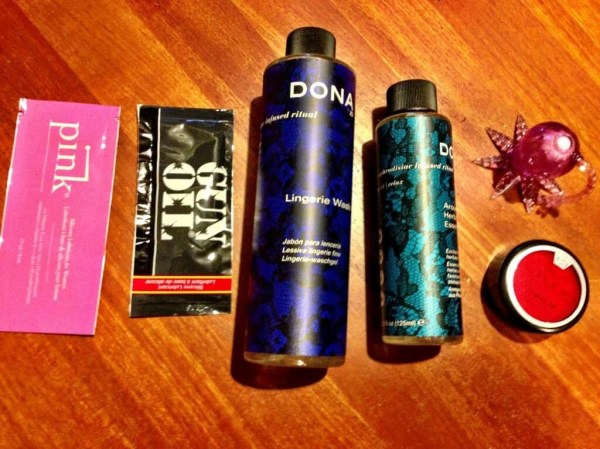 The Subscription
: 
Spicy Subscriptions
The Description
: Get monthly romantic surprises to your door. The Spice Box contains a collection of romantic gifts and an assortment of Intimate Items, Massage Oils, Sexy Lingerie, and Fragrances.
The Price
: $25 or $35/month
The Coupon
: Save 5% on your first Spicy Subscriptions box! Use code 
mommysplurge
.
September 2013 Spicy Subscriptions Premium Box – The Screaming O
Info Card Well, I guess we're all about the O this month! This is a premium box, which means it contains a flirty item, 2 full-size items, and samples. If you'd like a deluxe item, they're just $10 more a box!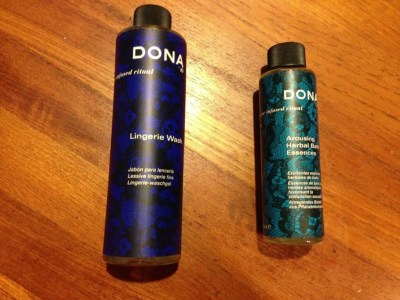 Dona by Jo's Lingerie Arousing Herbal Bath Essences – Goji Berry ($11) This is part of a superfruit and aphrodisiac infused line. It's paraben, natural, and petro-chemical derivative free. Nice for your lady parts!
Dona by Jo's Lingerie Delicates Wash – Blue Lotus ($6.50) The other half of the experience is to wash your lingerie in a coordinating delicates wash. I appreciated the idea of a holistic sensual experience!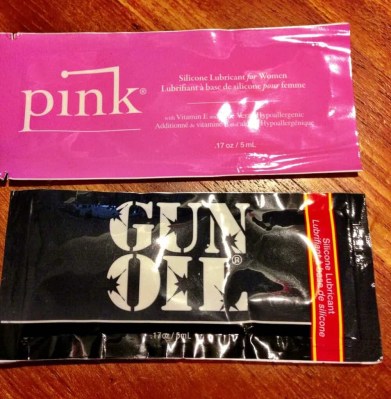 Pink Silicone Lubricant for Women This lube has fantastic reviews on Amazon. And this sample is TSA friendly. Just sayin.
Gun Oil My husband and I just about busted a gut at this one! 2 tickets to the gun show, please. This is a very man-centric line of items, but really, it was the only sort of "man specific" item in the box. I appreciated that this box was pretty orientation neutral.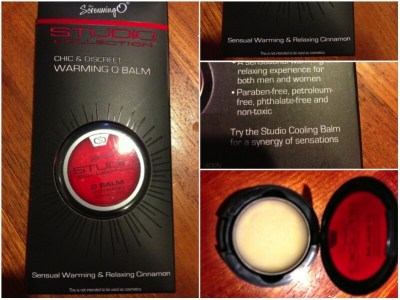 O'Balm Cooling Balm ($6.99) Drop this in your bag and I guess be ready for action at any time. This is a "disguised" sexcessory and its a cooling/tingling balm that is safe to apply on the body. You could do lots of interesting things with this one!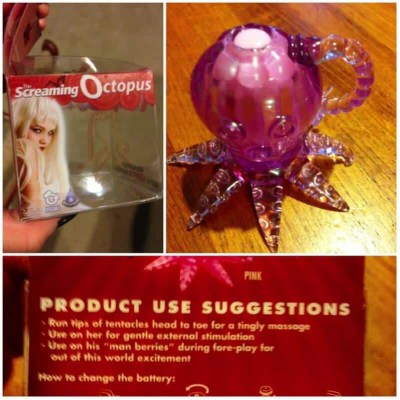 Screaming Octopus ($10.83) This is a super cute little buzzy waterproof mini vibe and you can use it just about anywhere. You'll have to experiment with it. I don't understand what the top tail does. I don't think I want to? The box helpfully suggest to use it on "man-berries."
This box, according to Spicy Subscriptions has a retail value of $44.99. I'm going with that and not going to spend my night looking at vibrators! Okay okay, I looked stuff up and came up with $35.52, but some of those items required large shipping costs so I think that Spicy Subscriptions's value calculation is pretty much right on the money.
Overall I thought this box encouraged a sensual experience and wasn't just sex! Which is good! I think the Spicy Subscriptions boxes tend to alternate experiences. I personally think having a holistic experience with your partner is a good thing, and so is getting dirty. Have fun people, get spicy. And if your partner complains about your subscription box habit, just go ahead and purchase an adult subscription box. They'll get over it. I sent some photos to a certain friend that shall not be named here and her husband said… why don't we get an adult box???
Visit Spicy Subscriptions

Check out all my Spicy Subscriptions Reviews! Don't forget to take a look at other Adult Subscription Boxes.