From the Lab sent me this subscription box for my review.
From the Lab is a really unique subscription box! Every month you get a selection of products, either hair, skincare, or makeup, that are pre-release products from a top beauty lab. I think this is totally fascinating, don't you? That means you get some super-dupes expensive beauty products way before anyone else got them. And while I really love sampling high-end beauty, I absolutely do not love paying the actual prices for it.
From the Lab send a full 30-day supply in every box. If you love it and are a member, you can purchase more, for as long as it's available. All of the products conform with European product standards, which means they are already tested and do not have benzene, parabens, PABA, phhalates, sulfates, and other terrible things that regularly appear in US-manufactured products. Love that!
The Subscription
:
From the Lab
The Description
: Each month get a full, 30-day supply of one, two, or three products in skincare, hair care, or color cosmetics. Every product that you receive is a luxury product with a projected retail value of $40-$200.
The Price
: $26/month
September 2013 From the Lab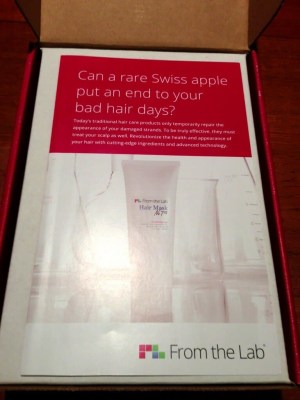 Info Card From the Lab includes an extremely extensive information card. You don't have manufacturer information, but you do have every bit of other detail on the product available. I was totally impressed with this and I got to read all about this new product!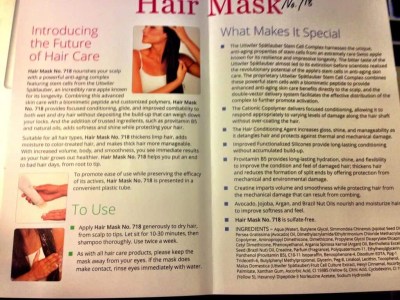 The item I received was "Hair Mask No. 718" that "nourishes your scalp with a powerful anti-aging complex featuring stem cells from the Uttwiler Spätlauber, a rare Swiss apple that has been used in other super high-end beauty products. The card gave me application instructions and a whole bunch of information about the technical details of the product.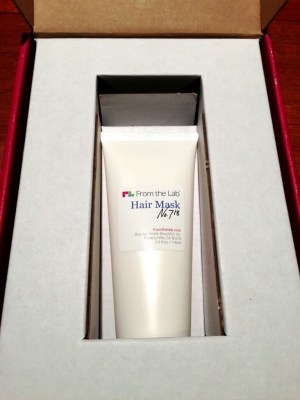 The Mask The products are presented very neatly in the box.
The cream This was a thick rich cream, and I applied it to only the ends of my hair. I have extremely fine hair and just had it all cut off and have no split ends to speak of. Not that I get them. So I didn't expect much from this product.
After the mask had set for an appropriate amount of time, I washed. My hair did have noticeably more body the next day, due to the silicones in the Hair Mask. My hair was definitely softer but it was still a little heavy for my baby hair, so I I'll try using a weensy bit to see if I can achieve the effects I want!
I was excited to find that a silicone based mask had some positive effects for my hair! I think this would be great on anyone with regular or thick hair. My daughter unfortunately shares my hair, but my son doesn't, and I'll be trying this on him next. Since it conforms with European standards I feel completely comfortable doing that! He has weird straw-like hair and I'm always looking for a great out-of-the-bath conditioning product for him. I think this will be a real winner! (This worked GREAT and I loved that I didn't have to rinse his hair twice! I just glooped it in before bathtime and then shampooed!).
Overall, I really enjoyed trying this box out and think this would be great for any woman addicted to department store beauty counters! I loved all the information I received and thought that From the Lab provided a really unique subscription box experience.