Kasten Pets sent me this subscription box for my review.
I was thrilled to be asked to review Kasten Pets!! My dog Lindy is a 14 pound miniature schnauzer and keeps my husband company in Vermont. I miss her so much and I totally FaceTimed with her to show her everything that is on the way to her. Okay, she can't really see me on the iPhone I think, but she loves hearing my voice. I miss her being shoved up all over me when I sleep. Or rather, when I "sleep" and she sleeps. Dogs are our kids too!
Anyhow, Kasten Pets is a new dog subscription box and it's totally awesome! I loved everything in this box and felt it was made just for my dog.
The Subscription
: 
Kasten Pets
The Description
: Each box packed with 5-7 doggy products including healthy treats, safe entertaining toys, and unique accessories. Each box is carefully curated for different sizes and tastes.
The Price
: $37/month
The Coupon
: Get $15 off a 3 month subscription! Use code 
15OFFMOMMYSPLURGE
.
September 2013 Kasten Pets
Kasten Pets ships in a nice plain outer box, FedEx ground I think!
Info Card You don't need an entire book on each item for your dog. This gives what you need to know about every item.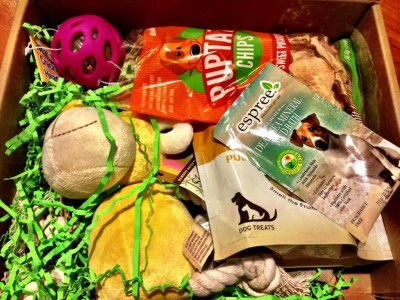 I really liked the green squigglies in this box!
Puppy Cake Puptato Chips ($5) My dog loves loves loves sweet potato. These are going to be a huge hit!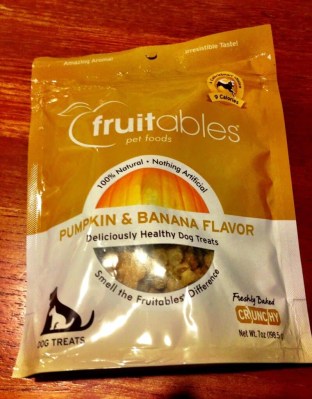 fruitables Pumpkin & Banana Treats ($5) Another all natural snack, with my dog's other favorite food, squash. She begs for it.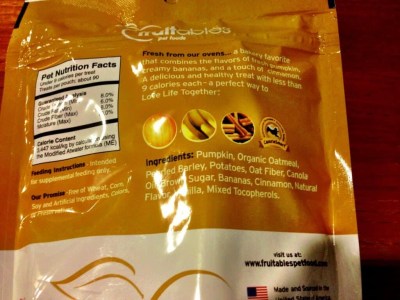 Don't you love this ingredients list?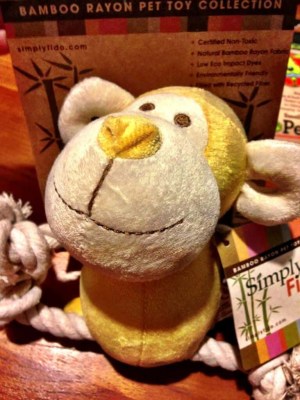 Simply Fido Monkey Rope ($13) This is soft and adorable and has a squeaker. My baby dog loves squeaky things. This is organic & non-toxic which is wonderful, especially as my children played with it first. This is great and sturdy and will totally hold up
Simply Fido Organic Plush Bone ($4) I know what my dog likes and when she gets this she'll sit there for approximately 3.5 hours squeaking it over and over!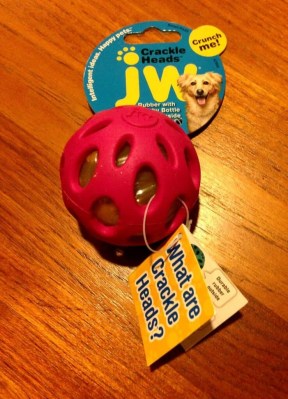 JW CrackleHeads ($9) This ball has water bottle plastic inside and the noise caught Lindy's attention even over the computer! This is awesome because it's not going to get sliced up and hurt your dog.
Bonus item! Espree Coat Renewal Dead Sea Mineral Mud Bath ($1.40) My husband will be giving that bath, not me! Because I have a miniature schnauzer this is perfect, they often have itchy coats.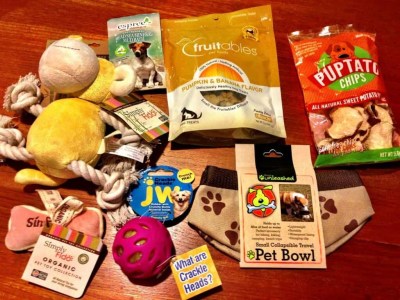 Dogs Unleashed Travel Bowl ($7) My kids may or may not have played doggy using this bowl and I refused to take a picture of them doing so. I'm sending everything to my dog and she'll get to use this when she visits for Thanksgiving!
I thought Kasten Pets was a great fun box and full of natural treats for my baby dog (that were also just fine for my kids to play with too)!  All her treats are on their way to Vermont and I'll post a photo of her with them when I get it!
Visit Kasten Pets

Check out all my Kasten Pets Reviews! Don't forget to take a look at other Pet Subscription Boxes.