The Fantasy Box sent me this subscription box for my review.
I was pretty pysched when The Fantasy Box asked me to review a box! I don't really subscribe to adult boxes (that's your adult box warning signal! Don't read further if you don't want to!) because my husband lives far away and, well, I don't get a whole lot of chances to really use the items! But of course we do get to visit on occasion and I can't wait to really give this box a go at the next opportunity (yes, penciled in on my date night calendar). You'd think everything would be great and happy at such a reunion but when you don't even see your partner for weeks or months at a time, things can be a little weird!
I promise you, this outer box is totally discreet, because I was like WHAT IS THIS BOX I MUST KNOW RIGHT NOW and I totally started opening it in front of my kids! But the shipping label says "TFB" (for The Fantasy Box) so if you order it, that's what it is, ok?
The Subscription
:
The Fantasy Box
The Description
: Every month, you will receive a different fantasy, instructions for how to play it out and all the goodies needed to turn fantasy into reality. Mini, Regular, and Platinum (luxury high-end) versions shipped monthly or bi-monthly.
The Price
: $34, 59, and 159 per month.
The Coupon
: Get 20% off your first box! Use code
SPLURGE
.
September 2013 The Fantasy Box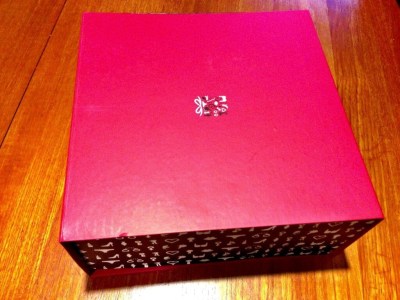 The Box! This was one of the best themed boxes I've seen. It's cute and totally reusable. It even closes with a magnet. Oh boy I have a toy box just like my kids! But seriously, this will be a great place to store some adult items. Up high. Away from eyes looking for other fun things I stash in my room.
Lots of Info Cards! The Fantasy Box is kind of a combo date night/sexy time box. You get a card, He gets a card. Plus there were these fun surveys. My husband & I did this once and it was a LOT of fun. I can't wait to do it again, who knows what's in that man-brain until you ask! I loved the focus on communication!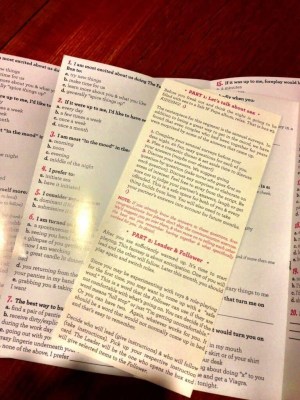 The Surveys A peek at the surveys & the welcome card. The Fantasy Box says to discuss your surveys over dinner. That will be a fun meal!
The Game is On! Before you open up everything you grab a leader & follower card – the two of you decide – and follow the directions.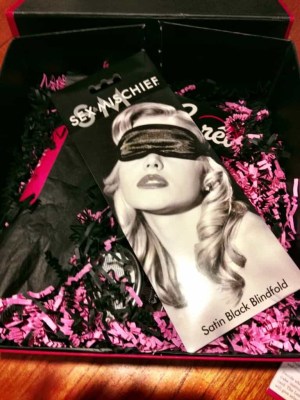 Opening the Box When you first open the box after getting through the cards & steamy dinner, it looks really interesting! The follower card instructs that person to get ready and blindfolded.
Sex and Mischief Satin Black Blindfold I was impressed by the brand – SportSheets. I don't own them, but I've heard of them. It's a high-end brand. The blindfold was soft & silky & excellent quality.
Dona Aphrodisiac Infused Massage Candle This is made with camu camu fruit and smells delicious. It melts into a massage oil, yummy! Who wouldn't want that spread all over their body? Trust me it smells great! It's also natural & paraben-free.
Hot Pink Warming Lubricant For Women Have you noticed I'm not spelling out the Leader card? What if you get this box and you're the Follower? Would I want to ruin your fun? No. Bet this is fun.
Outfit You know, I don't really have any lingerie. I mean I have underwear but I don't have a whole lot of bedroom attire. My husband will love this. It's a very flattering little piece and totally different for me. I liked it!
La Reve Personal Massager in Hot Pink First, I loved finding batteries in the box. I was able to turn it on & make sure it worked straight off. This was cute, high-quality, and definitely not cheap. It's waterproof, has ridges, and if you're the follower, I'm betting your partner is already thinking of crazy stuff. Wow this is a TMI review! I turned it on to check it out and it is a powerful device!
I love the idea of spicing things up! Even if everything is working normally in the bedroom, it's ok to have some fun and The Fantasy Box looks really fun. I loved how this box was an actual collection with suggested activities instead of just a box of stuff (plus it was very high quality). It can be intimidating, especially if you're not used to or new to adult items. The instructions for the box were really clear and if you're a little shy, you can pick being the follower. If you're a little more bold, pick the leader card. It's up to the two of you. Plus you'll have endless data from your steamy surveys to experiment with fun new things. And do not skip those surveys! This The Fantasy Box was the $59 Classics box and I do totally recommend it!
Don't forget to take a look at other Adult Subscription Boxes.