Conscious Box has a lot of coverage on my site and all the reviews are linked at the bottom of the page, so this is just the briefest of looks at what I think the best items in the box are!
The Subscription
:
Conscious Box
The Description
: Eco and green-friendly box available in regular, vegan, and gluten-free styles. Tons of samples, always packed full. Everything from cleaning supplies, supplements, snacks, and personal care. Pure, non-toxic and sustainable.
The Price
: $20/month]
The Coupon
: Get 3 months for the price of two! Use code
1MONTHOFF
. Get your first box for free – pay $7.95 shipping Use code
GETAWAYFREE
.
September 2013 Conscious Box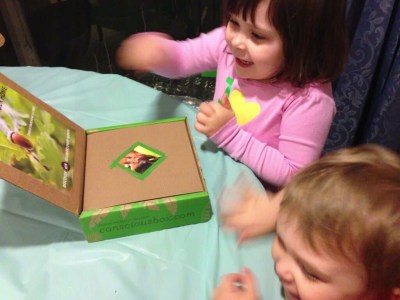 My kids really enjoyed opening this one up!!! They were ridiculously excited because there was a squirrel on the box and a great big acorn. They wouldn't go to bed last night so I let them open the box.
This was a totally great Conscious Box! The items I was super excited about were:
Saffron Road Tikka Masala Simmer Sauce ($4+) Yeah! Who doesn't love Tikka Masala? I have heard these are very good and I love Indian food! I really need to get myself to Costco and buy some chicken. These are gluten-free, halal, and kosher too.
Celestial Seasonings Sleepytime Kids Wish there were two packets, but this one is sort of indicative of how much the items in my subscriptions have influenced us! I don't think I mentioned it but WE KICKED THE JUICE HABIT! No more juice in my house, only milk & tea!
Kids Calm Multi This is a multivitamin drink mix with a fruit/veggie blend
Sustainable Kidz Ebook coupon This coupon is only for half off but my daughter was really excited by the photo, so I'll buy it.
Coastal Scents All Natural African Black Soap Supposed to help clear blemishes. My husband has the problem skin so I'll pass this one along.
Avalon Organics Nourishing Lavender Shampoo Love getting a cleaning product of any kind in any box!
The only thing weird about this box is that my packing list on the Conscious Box website is entirely off. Like I got the products but it says I received Moroccan Tagine Simmer Sauce, not Tikka Masala, etc. It's fine, it's just weird!