I think this is one of my favorite Citrus Lane boxes ever!! For some reason my daughter's didn't show up, but now the kids are even (E's Bluum went to Vermont – my mistake I think!). They both had fun with this one and it was so great! I'm psyched! No free clothes this month, but I'm still very happy with this box, and if for some reason you've never tried Citrus Lane, you totally should!
The Subscription
:
Citrus Lane
The Description
: A box of 5 great items per month for your child aged 0-5 years old. Items are tested and are always a hit. Basic, Classic, and Deluxe Boxes are available.
The Price
: $12, 25, or 49 per month
The Coupon
: Get $10 off your first box! Use code
TAKETEN
.
September 2013 Citrus Lane 2 years 9 months Boy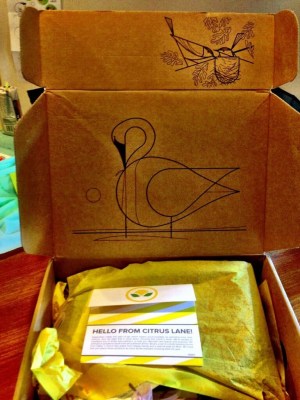 The box!! This is totally new for Citrus Lane and I was totally enamored with the really beautiful line art on the box.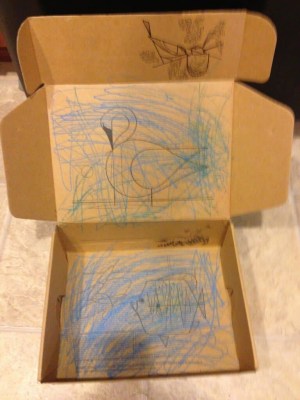 It's a pond! The box suggested that I undo it, let the kids color, and then refold it. So we did! E's favorite color is blue. He only uses blue. Blue blue blue. It was a miracle that I got him to use black and yellow on his Kiwi Crate artwork.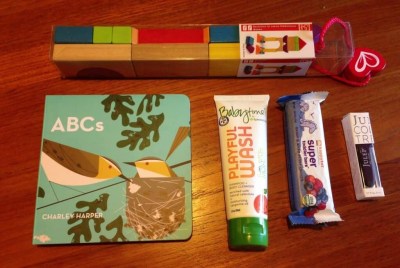 Episencial Babytime Playful Wash ($3.83) Moisturizing shampoo & bodywash scented with tangerine with calendula oil in it. This is great!
Julep ($11.20) Another subscription within a subscription! I have this color but it's nice anyways and it's purple! The coupon code – 20% off (FIRST20)- is a bit weird because that's how much you'll get off if you're a Maven. I dunno, maybe it's extra? If you haven't ordered anything and it gives you extra that's great!
Happytot Super Toddler Bar ($0.88) Organic Mixed Berry Crunch Flavor. Can't remember if we'd had these particular ones but we love Happy Family foods!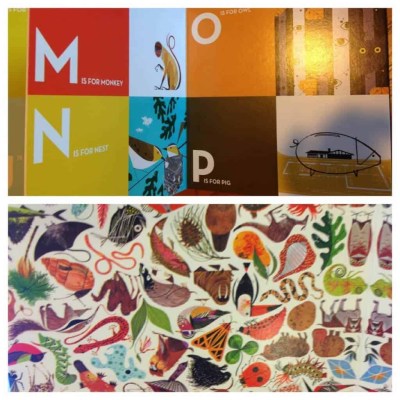 Charley Harper ABCs ($7.96) This. Is. Gorgeous. I love the 60s modern vibe and its a shame the artist has since passed. I'm definitely checking out 123s and Colors. It's beautiful.
Hape – Qube Play Set – City Planner Blocks ($9.99) Also gorgeous, isn't the vibe of this box fantastic? My kids were crazy about these, and ended up being able to copy the photo on the box. I was impressed! We don't have wood stacking blocks (I don't know why?) and my kids love them. Win! They are crafted from sustainably sourced wood and finished with child-safe paint.
Building little houses!
And here's the information card if you're dying to check it out!
The total I got was around $34 plus some fun time with the box and really excellent curation. We always always love Citrus Lane! If you're new you can save half off your first box with code TAKEHALF. Which is pretty awesome.