This month I have one Bluum for my daughter and my son's box is in Vermont. SAD! I was hoping to have the kids open their boxes together and it's just not going to happen. I'll have husband open/photograph and then he can bring anything we want right away to Disney. But I feel bad for my little guy! It does make it a little bit better that I think this is the best Bluum we've ever received!
The Subscription
:
Bluum
The Description
: Age-specific subscription boxes for babies and toddlers starting at $14.90. Each box contains 5-6 full-size products revolving around a monthly theme. A toddler box is available for $24.95. Earn rewards points for reviewing products or opting in to that month's Bluum box to redeem for a free box.
The Price
: Boxes start at $14.90. A toddler box is available for $24.95.
The Coupon
: Save half off your first box! Use code
HALFOFF
. Try using this code to save half off your first box! Use code
PAMPERS
.
September 2013 Bluum 4 year 9 months girl
Dr. Seuss plate ($7) This is cool and I like how it has 4 dividers instead of the usual 3. But we have a huge stack of divider plates already from Target clearance!
Early Lingo Colors and Shapes at The Park DVD ($20) This is an immersion DVD. I have no idea if it works! We *are* hoping to get my daughter into the random lottery French immersion program at the elementary school next year. That would be neat!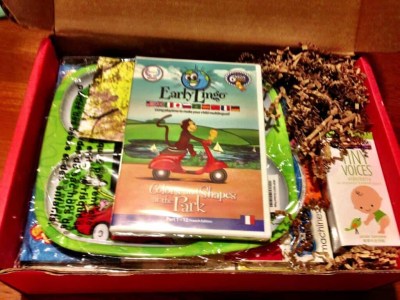 It looks totally full but half of it is squigglies. Two of the items were books. This was a SERIOUSLY heavy box.
Info Card Bluum information cards aren't really. Unlike most other months I actually thought the items in the box sorta fit a fall theme!
Wipe Clean Letters ($11.69) My daughter took this out immediately! I think this is great and perfectly age appropriate. She needs more practice forming her letters but like most children, hates to do it!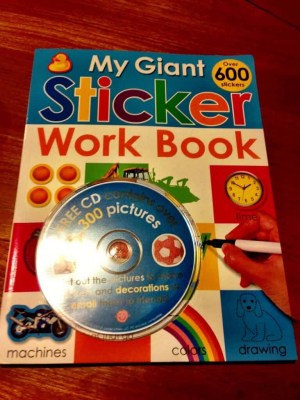 My Giant Sticker Workbook ($10.56) This is totally giant, has 600 stickers, and a load of activities. SCORE.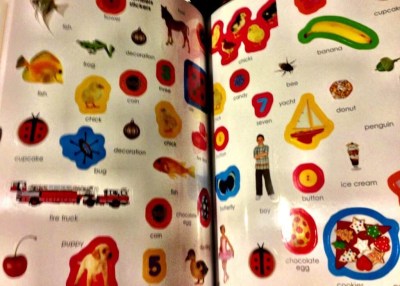 SO MANY STICKERS. Who cares if we ever do the activities? Which we will, but ZOMG STICKERS.
Tiny Voices Elderberry ($10) I enjoy getting homeopathic remedies in boxes. You know why? If one of my kids isn't feeling well in the middle of the night and I don't have something, I'd have to bundle them up, put them in a stroller, and walk 5 miles to a 24 hour CVS (so basically, not happening). So yeah, I like having a drugstore at home. This will be great if I need it.
I got about $60 worth of products in this one Bluum. I am certain they haven't been that high before and I'm super duper impressed! I think this is the first one for my daughter and I totally regret not doubling up before! If you were thinking of getting a Bluum for an older child, based on this box, I would say go for it!