Bestowed sent me this subscription box for my review.
I was super excited when Bestowed contacted me to review the September Bestowed Box! I have reviewed Bestowed previously but it was hard to make a determination because I reviewed a specially curated review box. This, friends, is the actual September box (see note about Vitamelts below). I really thought it was a fantastic box and I felt that I really could tell it was curated by a nutritionist. I think I appreciated the Bestowed selections more this time around.
The Subscription
:
Bestowed
The Description
: Get 5+ NEW healthy and delicious foods delivered to your door every month – each one hand picked by celebrity nutritionist and author Heather Bauer.
The Price
: $19/month
The Coupon
: Get $5 off your first box! Use code
MOMMYSPLURGE5
.
September 2013 Bestowed Back To School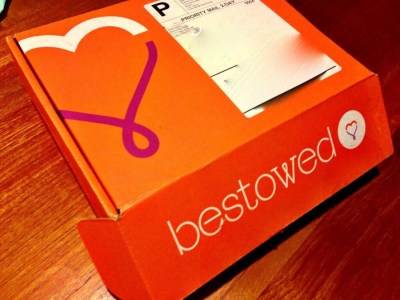 I love the outer box, it's so cute. Bonus, it comes 2-day priority mail and doesn't sit around on a truck for two weeks.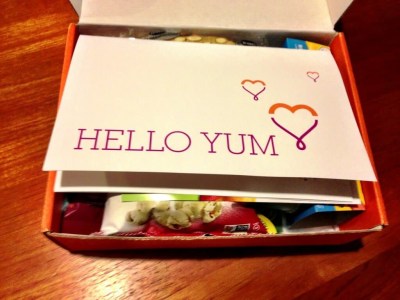 This box was full, I didn't think they could really pack any more in.
Information Booklet I really liked this booklet. It gives a ton of information on every single product, plus lifestyle tips and recipes.
The theme of September Bestowed is Back To School. As always, nutritionist Heather Bauer selects the items for Bestowed box and I thought the selections for this month were fantastic, and really fit the theme well.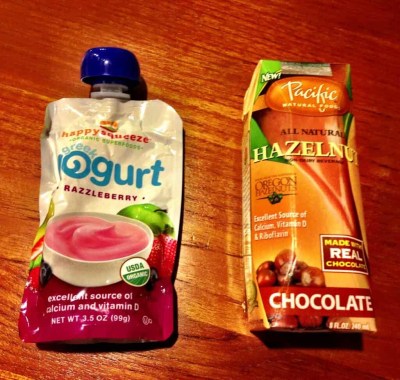 Happy Family Happy Squeeze Greek Yogurt ($1.50?) What a great idea to include this. Squeeze yogurt doesn't need to be just for kids and this portion size will probably stop you from a 700 calorie yogurt at ABP. Or wherever. My children wanted to eat this but I convinced them to save it in favor of Chobani from a Squooshi. Happy Squeeze is shelf-stable.
Pacific Natural Foods Hazelnut Chocolate Diary-Free Milk ($0.85) This is chocolate hazelnut milk and totally delicious. I was pretty psyched to find it on subscribe & save on Amazon and I wouldn't have thought to try it without getting it in this box! I'll pick up a case sometime.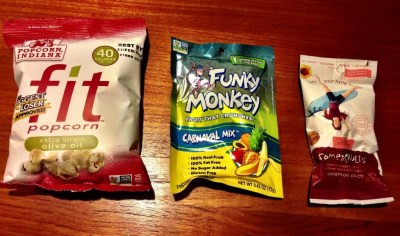 Popcorn Indiana Fit Popcorn ($1) This EVOO flavored popcorn is non-GMO project certified. Awesome. I didn't realize that until now.
Funky Monkey Fruit Snacks – Carnavale Mix ($1.25) We love Funky Monkey and my kids are totally into tropical fruit right now. This was a great hit!
Cinnamon Crunch Somersaults ($0.82) I love Somersaults! I think they are an amazing nut-free snack and I was excited to try this flavor. I personally prefer the savory ones but the kids gobbled these up.
Nonni's THINaddictives Cranberry Almond Thins ($0.65) I totally forgot to check and see if they still had this at Costco. I wanted to get a box but I didn't want to deal with the hassle of returning it if we didn't like it. The kids LOVED it. I loved how you got the same chew feeling as eating a whole hunk of biscotti in just one thinny thin slice. Definitely getting a box next time.
Pearls Black Pitted Olives to Go! ($4?) I loved these cute cups and that I didn't have to have a big jar rotting in the fridge. I was impressed that they were able to package them (with a long shelf life) without all the brine.
La Tortilla Factory's White Whole Wheat Soft Wrap Minis ($3) This is a full-size product and it was good, although the texture improved greatly upon heating. As I only buy whole wheat (except I buy KAF White Whole Wheat for baking) the white whole wheat wasn't necessary for us. I'd like to try one of their other flavors, like Honey Oat!
Quick Mexican Pizza Do I need to give you the recipe for this? No it's not a snack, it's a pizza alternative. Shush now, it was for the kids. You should put vegetables on yours.
NatureMade Vitamelts ($6) There was an item in subscribers' boxes that couldn't be included in review boxes, and bizarrely enough, this was being sampled at the grocery store today. Included in the box were melty multivitamins in tropical fruit flavor and they were tasty indeed.
I thought September Bestowed was a great box and there were more than a few items that I'll be looking to purchase again! The regular box (with the vitamins) had a value of $19, plus the free priority mail shipping. I am totally happy with that value when I get a must-buy item every single time. I was really impressed with the curation and I thought that these were really great lifestyle options that wouldn't make anyone who is looking to improve their diet feel deprived or sad about what they were eating. And I also just found out that Somersaults makes these. Yeah, these definitely need to go in a box! Perhaps October Bestowed, as a reminder not to eat all that terrible candy? If you'd like to sign up, you can get $5 off your first Bestowed box with super-exclusive coupon code MOMMYSPLURGE5!