Whew, I did a little bit of shopping this weekend! I picked up a Halloween costume for my daughter at Party City – we typically make our own costumes and never buy them, but I just didn't have it in me this year. She really wanted to be a butterfly and the cost of the entire costume wasn't much more than just buying wings. While I was there I loaded up on room decorations for our hotel at Disney World! Last time we got magically upgraded to a Royal Suite at Port Orleans Riverside and… I'm afraid she might be crushed when that doesn't happen again this time! I got a mix of fiesta decor (we're staying at Coronado Springs), Halloween items, and and Mickey decorations. Hoping that does the trick! And it's way cheaper than paying for a special room! I also picked up a variety of glow in the dark stuff, a large platter for food (less $$ than disposable plates and I can take it home with us), and various party favors for treats for the kids.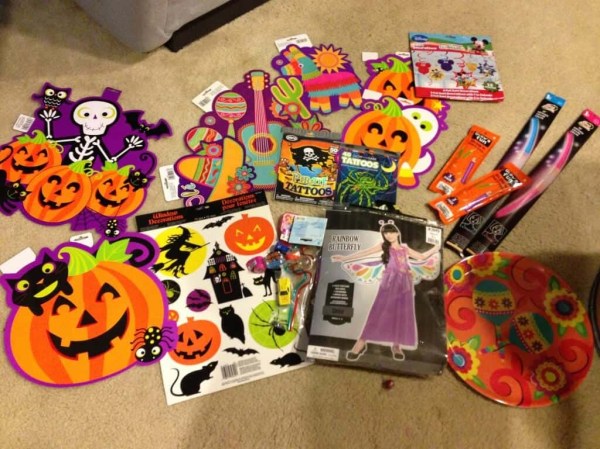 What else hmmm. Picked up this Pijon Box deal – I think this looks like a REALLY nice box and nice enough to just get a subscription just because with that price! Also I'm waiting a few days before I pick up the Blue Apron deal but I'm totally getting it. I need to have food when we come back from Disney. I'm basically not going back to the grocery store except for Coke Zero for the rest of the year.
I also spent a LONG time picking out a Fabletics outfit – I totally love how they have varying prices on the VIP outfits so you can get two pieces with your monthly pick, but the combos were a bit off to me? Like anything I wanted had long pants and I can't do the long pants because I'm so short, and I didn't want a t-shirt and then the tops I wanted on the less pricey outfits were also paired with long pants. What's up with long pants Fabletics? I totally wanted to blow my 20% off discount on a jacket outfit but ended up with this one. I'm trying to be happy about it. I'll see when I get it. I'm actually not an asymmetric top fan.  I did love how they also have 3 piece outfits and I wanted one with a sports bra but I did not want one with a t-shirt because I have plenty of t-shirts. I guess what I'm saying is that I have no idea if this is better or worse than Ellie. We'll see!
I had these huge plans to also go to Target yesterday but it just didn't happen because we spent so much time at the party store! Did any of you pick up fabulous Philip Lim pieces?
I also totally cancelled Love With Food – I'll try them again when they have another deal – and my Fancy Boxes, so I don't have to deal with coming back to all of them from vacation. But I'm totally regretting Fancy already! Oh noooes. Oh well.  I also dropped Beauty Box 5. I liked it, I just felt I was getting a lot more value out of other subscriptions! Then of course I added OneRadiant to the mix. I am getting PLENTY of skin trial/deluxe and full-size even in myBlush Mystery Beauty Box but I did want to try out this more personalized box!
Also, I have been loving & using everything in my Fall Special Edition Popsugar Box and I have done THREE eye looks from my Stila Luxe palette (I can follow instructions!).  I did not get the summer one and I totally won't skip one EVER again. My kids will just have a great eyewear collection! In all seriousness, I am planning on getting LASIK someday. I've been waiting because my prescription actually wasn't stable for a long time. But even if I do have to wear glasses afterwards it won't be nearly as bad as it is now (-575 or something like that). I cannot see without my glasses! My kids bring them to me in the morning, it's so sweet!
Have a great Monday, and do me a favor, reach out to someone you haven't talked to in a while. You never know if you won't get the chance to do it again.