Mia Tempo sent me this subscription box for my review.
I just went to a spa and had a whole body treatment! Not really! I just took some me time with the September Mia Tempo Signature Box. I was so delighted when I unpacked this box that I immediately went and sampled nearly every product. And I totally needed it. I feel great and refreshed and really truly enjoyed taking some time for myself. Mia Tempo is absolutely on my list as a must try box!
Mia Tempo means "me time" and it features perfectly curated at-home beauty treatments and fabulous all-natural & organic skin care, bath and beauty products. It's not a random jumble of products but everything is designed to work all together and provide the kind of experience you'd get by selecting an item or two from a spa menu. All the products in the Signature Boxes (like this one) are natural and organic (just like the regular boxes) and are also vegan and gluten-free.
The Subscription
:
Mia Tempo
The Description
: Mia Tempo box contains a 'spa treatment' menu that provides a fun, unique way to discover, relax and refresh mind, body and spirit.The perfectly curated spa & beauty products featured are crafted from all-natural and organic ingredients and never tested on animals.
The Price
: $40/month
September 2013 Mia Tempo Signature Box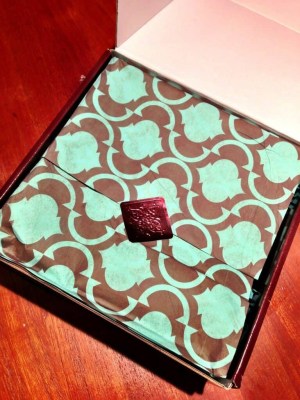 Mia Tempo arrived in a gorgeous chocolate brown box and the inside was like opening a beautifully wrapped gift. Instead of feeling bad about messing up the paper I tore right into it. I was so excited that it was so beautiful, I knew the items inside would be great!
Mia Tempo came with two information cards – one was a welcome card with general information.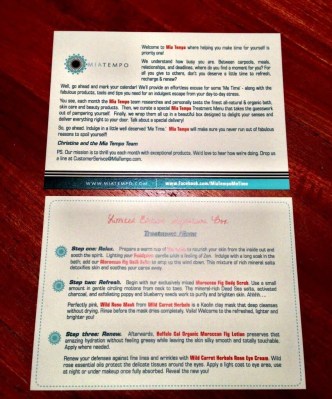 The other information card was specific to this box and explained that the Buffalo Gal Organics items were produced exclusively for this box! I also received a spa treatment menu and a 20% off coupon for additional Buffalo Gal products!
Relax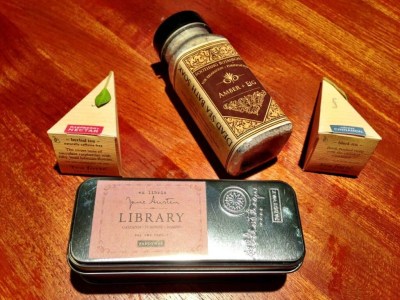 Tea Forte – Cinnamon & Raspberry I'm not a tea drinker but these smelled wonderful. The cinnamon smelled so good that I put it in a pot to scent my home. I am saving the caffeine-free raspberry for my daughter. She likes her me time too (she's 4 but I encourage relaxation!).
Moroccan Fig Bath Salts These smelled great! I didn't take a bath last night so I haven't used them, but they are scented with fig and rose petals. Very yummy. I did see this morning the suggestion to stop up your shower and put some in the basin to scent the air.
Paddywax Candle – Jane Austen This gorgeous candle is from the Paddywax "Library" collection and is scented with a gardenia, tuberose, and jasmine blend. It's delicious!
Refresh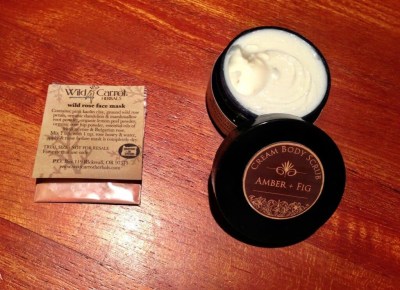 Buffalo Gal Organics Moroccan Fig Body Scrub This was another custom-blended item. I loved the texture of this creamy scrub. I thought it was very unique. It is a cream base with sea salts, charcoal, and poppy and blueberry seeds. All natural!
Wild Carrot Herbals Wild Rose Mask I'm normally not a rose fan but all the rose scented items in this box were fantastic. Nothing was too-heavily scented and was relaxing instead of being cloying. Maybe I am actually a rose fan and didn't know it! My face felt fantastic after this mask – so smooth. I loved this mask!
Renew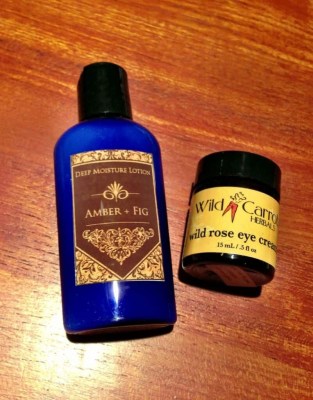 Buffalo Gal Organics Moroccan Fig Lotion This was a mildly scented lotion and went on very lightly, perfect for after the bath. My skin is still hydrated and was never greasy.
Wild Carrot Herbals Rose Eye Cream This was an extremely hydrating eye cream and very lightly scented with rose. I have a sensitive face (especially my eye area) and was not irritated one bit.
Bonus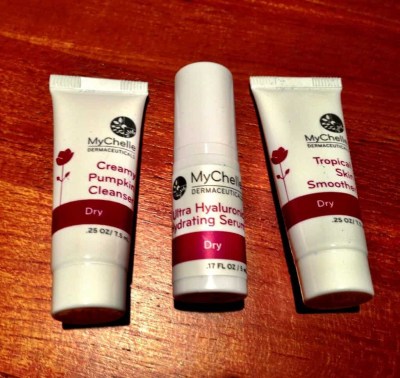 MyChelle Dermaceuticals Mini Kit I received 3 trial size items from the new-to-me MyChelle natural skin care line. I was having such a great time in the shower (nearly forgot to wash my hair) that I forgot to use the Creamy Pumpkin Cleanser and the Tropical Skin Smoother, but I'm looking forward to trying them. I tested the Ultra Hyaluronic Hydrating Serum and my face felt smooth and plumped.
I thought Mia Tempo was just a fabulous box and I was so relaxed after using all the products. I felt so good and not a crabby patty like I was shortly before!
I don't have a price rundown on this box because everything was custom blended but after reviewing the prices on Buffalo Gal Organics and similar items I would say it's a great value for the all-natural organic items that I received and the curation of the box. Plus it is so much easier and less expensive than an actual spa trip! I loved the September Mia Tempo Signature Box and completely recommend it. Look for Signature boxes at Mia Tempo in October!