We love modern art and love to visit the Hirshhorn Museum. Don't I sound like a super snooty mom? I just think it's fun & interactive and sometimes totally trippy! But don't worry, Kiwi Crate's modern art is not weird, it's totally tradish modern art! The September Kiwi Crate has a Mondrian-inspired painting project, a Calder-inspired mobile, and several other projects & activities! Fittingly enough, here's the kids in front of a Calder piece! (the one on the right I am pretty sure is Calder) – Favorite exhibit for sure!
Let me tell you the kids are just as excited about Kiwi Crate as they are about going to see artwork, probably even moreso since it's the beloved Kiwi!
The Subscription
:
Kiwi Crate
The Description
: Arts, crafts, and science activities subscription for kids ages 3-7. Get a monthly subscription filled with all the materials and inspiration that will let your child explore, imagine, and create, all centered around a fun monthly theme!
The Price
: $20/month
The Coupon
: Use this
Kiwi Crate link
and save $10 off your first box!
September 2013 Kiwi Crate Modern Art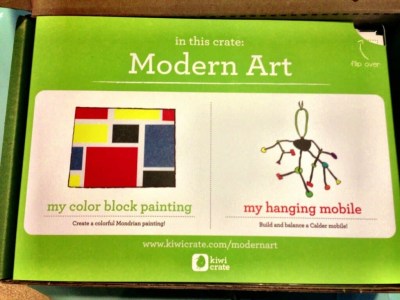 Modern Art We had a ton of fun with this one! There were two main projects, plus the magazine.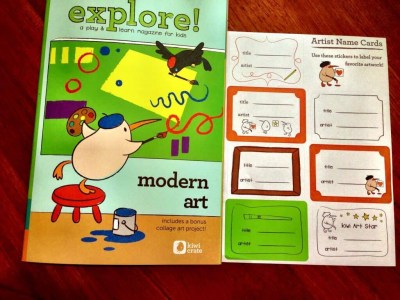 Explore! magazine & bonus stickers Loved the magazine! It had stories and art projects and we definitely have not finished it yet, there is a ton of activities in there. It's a great I'm bored let's do something sort of thing. I loved the book recommendations. We also got these artwork labeling stickers. I'd rather have the erasers I saw elsewhere.
But where's Kandinsky?
Oh here he is! Fighting Forms is one of my favorite pieces in the world. I sound like a pretentious turd. I do love modern art.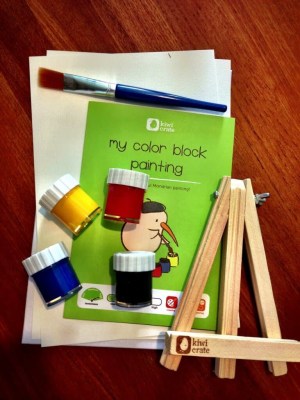 Color Block Painting This one was really fun & the kids had great results. Their smocks are from Bibbitec.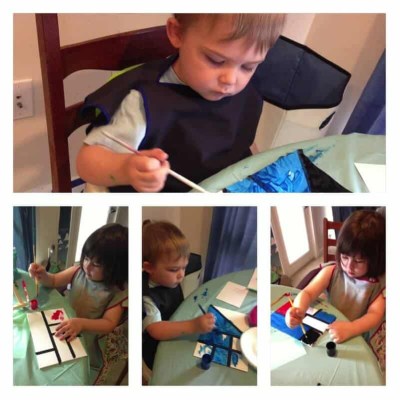 hanging mobile This was way more fun than I expected and turned out awesome!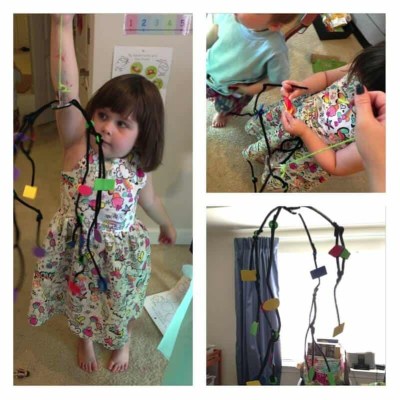 The mobile turned out great. My daughter called it a "sandwich giver" because we sandwiched the pipe cleaners in between.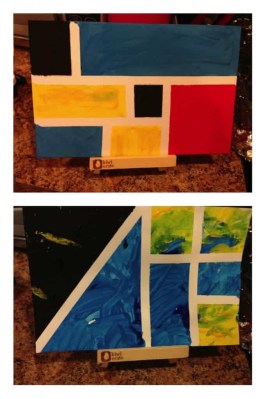 I loved these! So proud of my baby artists!
The weather is nice again, it sounds like a great week for a trip back to the museum!