Yes, I got the entire September Julep Collection – it was too fabulous not to and I have just been aching for fall. These are gorgeous fall colors – dark dark grays, purples, and blues, with massive pops of glittering reds and oranges, just like a city with fall foliage (nevermind where the trees might be coming from!). I got the entire collection for September, all the add-ons, everything. I don't do it every month, only when I actually want it. This collection is probably even more gorgeous in person, and some of the colors are super hard to show in photos!
I just got back from traveling and the mail arrived a few hours after we did. What a pile! I opened Julep first, of course!
The Subscription
:
Julep
The Description
: Nail polish box and a beauty box. Get either 3 polishes, 2 polishes and a beauty product, or 2 beauty products per month.
The Price
: $20 per month
The Coupon
: Get your first box free, just pay shipping! Use code
FREEBOX
.
September 2013 Julep The Cityscape Collection
Thanks, Julep, for assuring me it was ok to upgrade!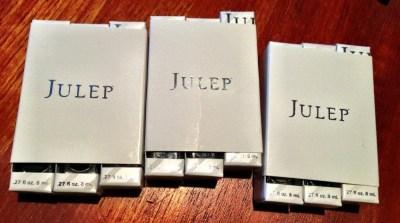 These are the new sleeves holding the polishes. Not sure what they are doing for two polish boxes, but it sure is nicer than the prior rubberbanding!
Face Stuff!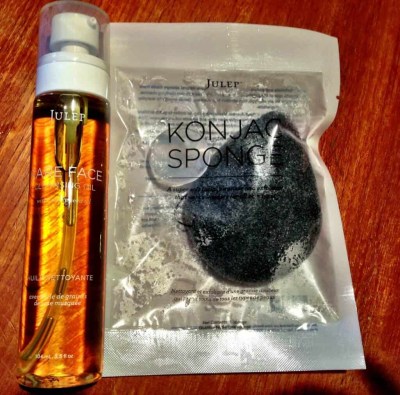 Bare Face Cleansing Oil ($22.40) As I'd been on a plane today, my face was gross. I broke these out right away and I am totally impressed. My face felt really clean and exfoliated – and not greasy at all. I do recommend oils for faces even if you have an oily face – it can help balance it out. Julep's Konjac sponge was super soft. I definitely felt that this was much better than a drippy facecloth.
Konjac Sponge ($9.60) I also loved the included suction cup. I hang up everything in my shower (including my toothbrushes). I don't have space on my tiny vanity for all that stuff!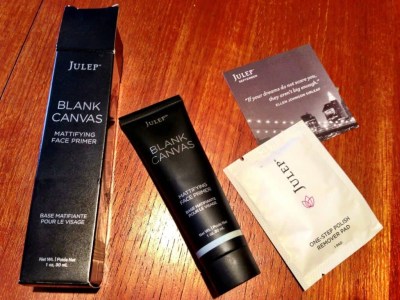 Blank Canvas Mattifying Face Primer ($22.40) After my gently scrubbed feeling had subsided, I added some face primer! Has kind of an odd (not bad, just odd) smell but this is a great, not too silicone-y primer.
The Polishes
I swatched these quickly on white cardstock, some of them are very inky dark, I know they are going to be awesome on nails! From left to right: Florence, Catrina, Tatiana, Kristy, Karmen, Padma, Josephine, Daria, Reese, Candace. For some reason ALL of them look sparkly, must have been the light & texture of the paper.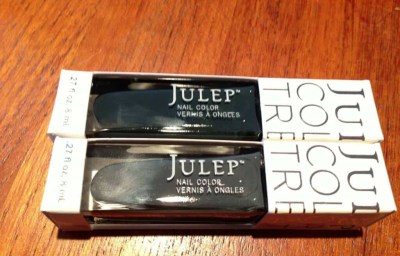 Josephine & Daria These are also shown below but I wanted a comparison shot. Josephine is a deep teal grey crème. Daria is slate gray, also crème. The three blues & grays are so dark I had trouble distinguishing them in the photos (except Kristy!).
Kristy, Tatiana, Daria Kristy is a midnight blue crème – very inky and wonderful! Tatiana is a golden burnt orange microglitter. Daria as seen above!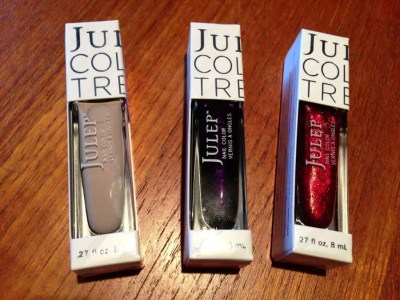 Florence, Padma, Karmen Florence Classic camel crème, Padma Royal plum crème, Karmen Golden crimson microglitter. Karmen is totally wild and gorgeous!
Josephine, Candace, Catrina Josephine (as seen above), Candace: golden chocolate microglitter. Catrina: marigold yellow crème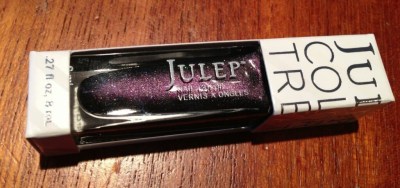 Reece This is a FANTASTIC purple polish, a bit more subdued than the Deborah Lippman Ray of Light. It's shimmery and my daughter squealed when she saw it!
Whew, quite a box! I loved this one and can't wait to transform my look with some new seasonal fall colors. Absolutely gorgeous, every single one. I suspect I'll be gifting the canary yellow to my bestie, because I'm just not a yellow person, but I am pretty pumped about the Julep Cityscape collection! And I absolutely recommend the konjac sponge & bare face cleansing oil. I think the oil will last a good long time and the Konjac sponge is pretty inexpensive (it needs replaced every 3 months or so).
What do you think of the September Julep Cityscape Collection?