Hello Fresh sent me this subscription box for my review.
I reviewed the first part of last week's Hello Fresh, including the delivery, yesterday! Check out the review! Hello Fresh is super reliable when it comes to delivery and my deliveries are always extra cold. I really appreciate that because food safety is important! Right now I have an awesome coupon for Hello Fresh – use code ASPLURGEFALL until 9/27 to save a whole $25 on your first box! That is an amazing deal and you should totally take advantage of it!
The Subscription
:
Hello Fresh
The Description
: Each week Hello Fresh delivers beautifully photographed step-by-step recipe cards, with the exact fresh ingredients needed to create a selection of new recipes.
The Price
: $69/week
The Coupon
: Save $15 on your first order. Use code
AFRESHDECEMBER
. Expires December 31, 2013.
September 4, 2013 Hello Fresh Fall Flavors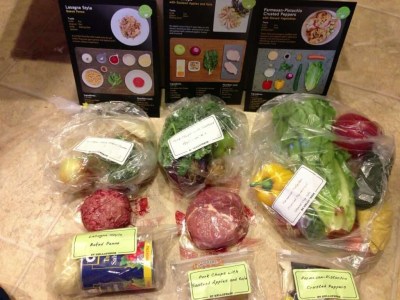 Everything in our box!
Roasted Stuffed Peppers with Parmesan Pistachio Topping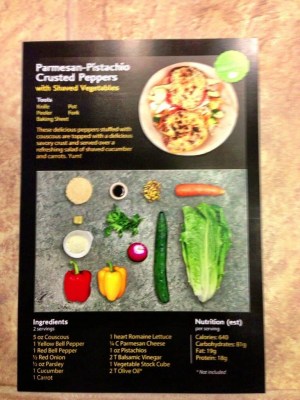 Stuffed Peppers Recipe Card This meal looked so great I had to try it. I was completely intrigued by the flavor combo of parmesan & pistachio. Plus I really wanted to try out a vegetarian recipe.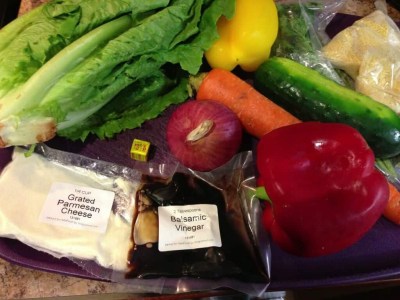 Stuffed Peppers Ingredients All the produce i received was super fresh. I tried my best not to eat the pistachios, but a few made it to my mouth instead of the dish!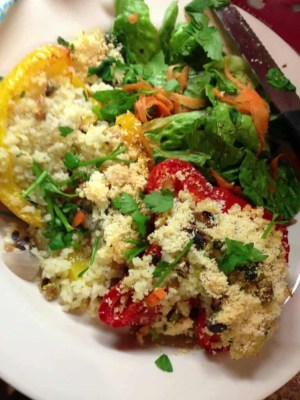 Stuffed Peppers Final Product This meal was actually very easy to prepare. I roasted the peppers, sweated the onions, and made the couscous. Then you just put it i the peppers, topped it, and baked it. The peppers were served with a salad of lettuce, cucumber, and carrot. The flavor was delicious and there was a ton of couscous leftover. I really loved the melding of the balsamic vinegar with the couscous. I may or may not have drank the extra vinegar from the recipe. It was really high quality. Yes I'm serious. It was good. I love balsamic vinegar. This was a delicious meal and would have also been great with a cheddar topping or with a quinoa base!
Honey Mustard Pork Chops with Sautéed Apples & Kale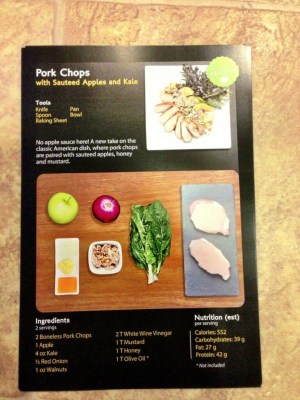 Pork Chops Recipe Card This recipe just sang fall. One of Hello Fresh's strengths I think is including fruit in recipes. It looked so yummy and I had to try it, plus my kids love the flavor of honey mustard!
Pork Chops Ingredients I knew this would be a great dish just looking at the ingredients. A VERY hefty serving of pork was included and I loved the various colors (and in the stuffed peppers too – basically I just pick meals that are pretty!).
Pork Chops Final Product Wow that was a lot of food! I wasn't very hungry the day we made this, so I only ate a small child-size portion (mine's the one with all the greens!). The kids very very happily ate this meal, which I served with some leftover couscous for them.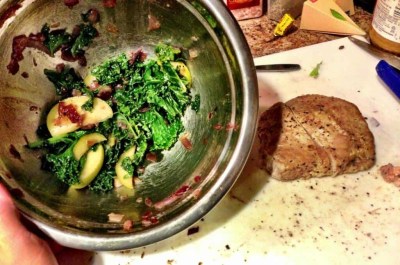 Leftovers! We had an entire chop & half the veggies leftover! It was great the next day too.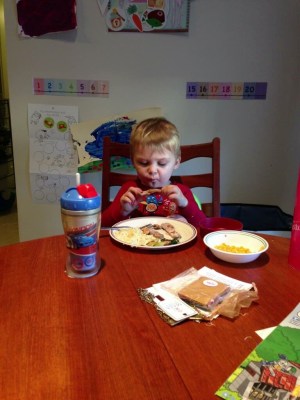 Yummy! I thought this was a great meal with appeal for both adults and kids. I loved that I could eat restaurant quality food along with my kids!
I love getting Hello Fresh meals. I think this is my third or fourth box and every box has had great new flavors and always a significant amount of meat. I'm continually impressed with the amount of food in these boxes and can't imagine eating half of the final product all by myself!