Hello Fresh sent me this subscription box for my review.
I was so excited when Hello Fresh emailed me the week before Labor Day about reviewing a box! Of course, yes, I love Hello Fresh, and who wouldn't want a box of groceries delivered the first full day back from vacation?! Nobody! Hello Fresh is perfect for that or just as an every day thing! It takes all the hassle out of cooking (the recipe deciding & planning & shopping) and keeps all the fun part – the cooking! If you find that you are maybe eating out too much during this busy busy back to school season, I have a coupon for you to try this box with a $25 savings! Just use code ASPLURGEFALL until 9/27! Hooray! I totally recommend it!
The Subscription
:
Hello Fresh
The Description
: Each week Hello Fresh delivers beautifully photographed step-by-step recipe cards, with the exact fresh ingredients needed to create a selection of new recipes.
The Price
: $69/week
The Coupon
: Save $15 on your first order. Use code
AFRESHDECEMBER
. Expires December 31, 2013.
September 4, 2013 Hello Fresh First Taste of Fall
The Delivery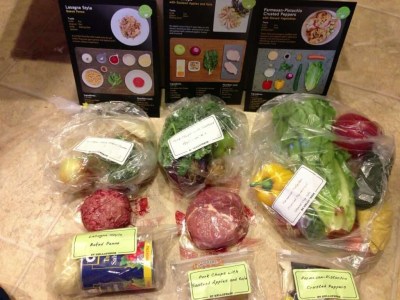 Fresh Food Organized Hello Fresh delivers next-day Fedex in a huge huge box. Everything is organized and separated into bags and is very easy to throw into the fridge and then remove when you're ready to cook.
Hello Fresh is COLD! All the meat lays directly on top of several huge ice packs. Mine got delivered at the end of the day and my ice packs were still mostly frozen. I think having cold meat is super important for a dinner kit/fresh food delivery service, and Hello Fresh's meat is really truly COLD. Those ice packs I think are like the size of a sheet of printer paper.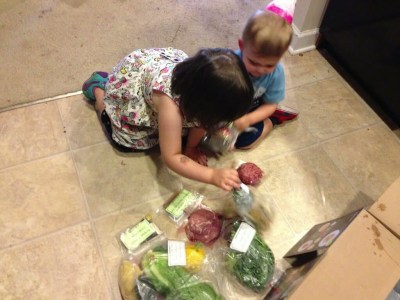 Kids Pick! When we unpacked this box it was dinnertime. I let the kids look at the recipe cards and select what we were cooking. They picked Lasagna Style Baked Penne. Honestly they were so excited about the food it was hard to get pictures!
Lasagna Style Baked Penne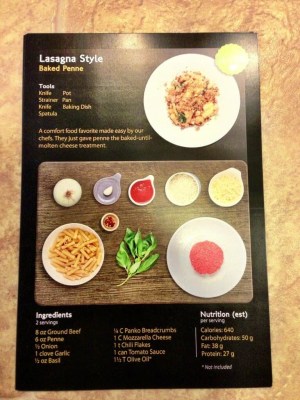 Recipe Card I selected this one for its ease of preparation and kid friendliness! It was super easy to make, and I noticed that all the recipes I had selected were fall recipes! Hooray for fall, we love to eat comforting warm foods.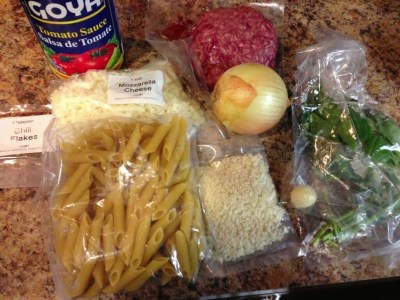 Everything is pre-measured I love not having to worry about measuring. I was excited to see Panko breadcrumbs for some crunch! I thought that was a great idea! I did leave out the chili flakes inside the dish because my kids were eating it too.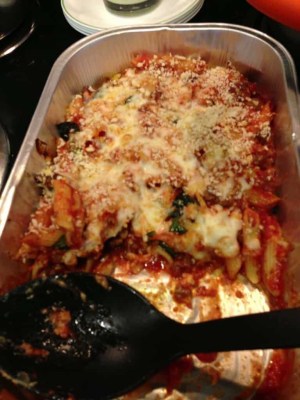 Easy Prep This was really easy to put together – a little browning, a little boiling, and a little baking! I actually prepared most of it while interviewing a new babysitter. Made my life so much easier to just have everything there and put it together. I dug out this disposable pan (which I totally stick in the dishwasher and reuse) because it cools off quickly – there was so much food I knew there would be leftovers.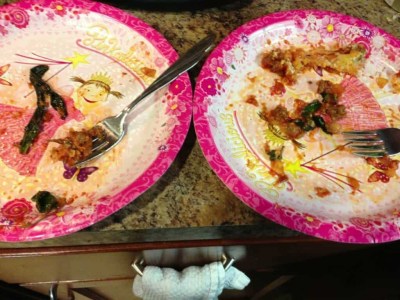 All gone! The kids ate this meal up! It fed us twice and I was really happy with the great flavor, texture, and ease of preparation. Obviously if you have big kids you might need to get more servings if you are feeding the whole family. I don't always feed them our Hello Fresh – about half the time I reserve it for adult meals – but I love selecting kid-friendly meals for this too.
Come back tomorrow for my review of our next two dishes to see how they tasted! Usually when I take a look at a fresh food box I do the entire thing, but the reviews get really long and it's not really fair to the recipe! This way I can also pretend I have a cooking blog.