I picked up Fabletics earlier this week (really? That was super duper fast!) and it came in the mail today! Fabletics is a new workout clothing subscription, similar to Ellie, but very different! After looking at all the outfits available I determined that the clothes are much more basic but you can get more with your monthly outfit (if you decide to spend a little extra money). I thought that option was nice, but I chose an outfit with two pieces.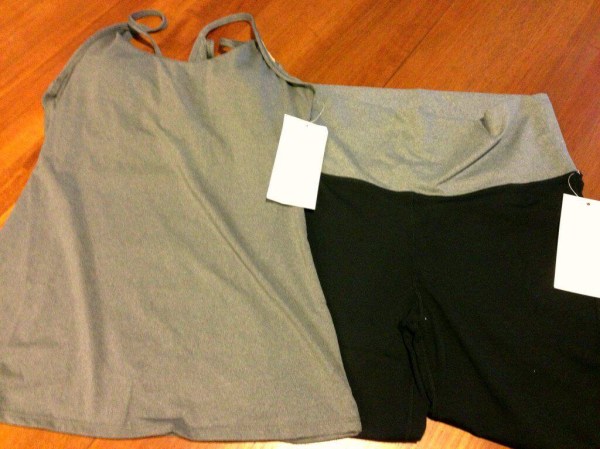 The Subscription
: 
Fabletics
The Description
: Workout musts delivered to your door. Kate Hudson's new line in collaboration with the JustFab family. Buy suggested looks, your own picks, or skip the month.
The Price
: $50 per month
The Coupon
: Reports of 50% off at 
Fabletics
 when you use my link! Get 20% off your first outfit when you 
sign up using my link
.
September 2013 Fabletics
Empower ensemble ($49.95) This is the outfit I chose!
Omeemee Tank ($34.95) This is a asymmetrical design with a built in soft cup bra. The cut of this is very flattering (it's not the angle of the photo, the top itself is A shaped)
Lima Capri Foldover Waist ($39.95) This has a foldover waistband. The fabric on the waistband is slightly different than the top's fabric.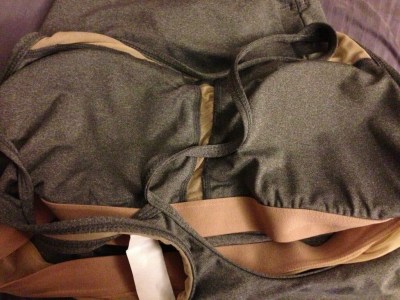 Soft cup bra And here's the technical details of that soft cup bra! Lots of breathable fabric for your workout!
I know people were somewhat disappointed that Fabletics only goes up to size Large currently. However, in my opinion, the clothes are sized a little larger than Ellie (which has restocked some of the October selections, just FYI!), which is probably why the clothing goes down to size XXS. I might go so far as to say it is vanity-sized! The items I ordered were "medium support" so if another item is high support they perhaps may feel a bit smaller
All the seams in the capris were double serged and the top was single serged. There wasn't a pocket or anything like that inside the pants. I liked this outfit and I thought it was a good value! The next one I am interested in is this one, which comes with a tank, capri, and sports bra for $59.95!

Check out all my Fabletics Reviews! Don't forget to take a look at other Fitness & Health Subscription Boxes &Women's Clothing & Fashion Subscription Boxes.