I recently received a voucher for FabKids in my Citrus Lane Boxes! I had my son select an outfit, and this is what he picked. I thought it was super cute!
The Subscription
:
FabKids
The Description
: FabKids is a monthly subscription box of kids clothes You can select one of the outfits or skip it entirely. Free shipping & free returns. The clothing is exclusively produced for FabKids (some designed by Christina Applegate).
The Price
: $40 per month
The Coupon
: Buy one outfit, get the second free! New Members only. Current members get a $20 off 2 outfits deal.
August 2013 FabKids Boys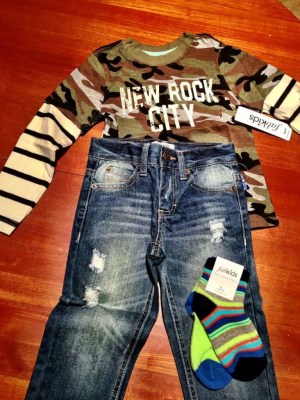 FabKids New Rock City Outfit ($40) The normal price for this outfit is $40. I got mine for $4.95, so it was a total steal. Typically new members can get one for half off, which is a good deal. I thought the quality of these clothes were very nice. I loved the jeans, I thought they were very fashionable, and had some nice details, including an adjustable waist with hidden ends for the elastic so it doesn't stick out. I totally hate elastic waistbands that stick out! The socks were a great addition to the outfit!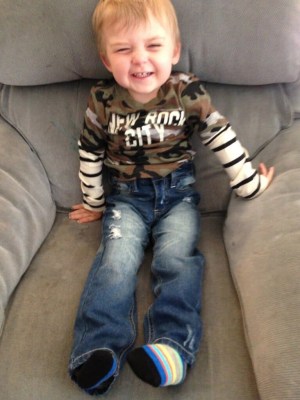 This little guy was totally happy with his pick! I bought it in a size 3 for some room to grow. I think it's time for mom to get rid of the 2Ts. He's been sprouting big time!
I love the addition of boys to the FabKids lineup, but I remain skeptical about the value for this subscription as a subscription. If you haven't signed up, absolutely get an outfit for $20, I think it's a great deal given the quality of the clothing and the fact that you receive an entire outfit. But $40 is way too much for me for just one outfit. There are much better options for my family I think!