Elizabeth & Clarke sent me this subscription box for my review.
Wow. I just opened my first Elizabeth & Clarke box and I was completely bowled over. It's now officially one of my favorite subscriptions – ever! First, a few details on how Elizabeth & Clarke works! You sign up fairly early for the next season's collection, which is available for preview on Elizabeth & Clarke's website. You're charged in advance, and can select 1 shirt for $30, 2 for $50, or 3 for $60. I was sent a three shirt box for review. There are five shirts to choose from and you select the shirts and the size for your subscription. This makes it super easy! Plus, wait for it… all of the shirts that I received (and I think everything that Elizabeth & Clarke produces) are machine-wash cold, tumble dry low. No dry cleaning!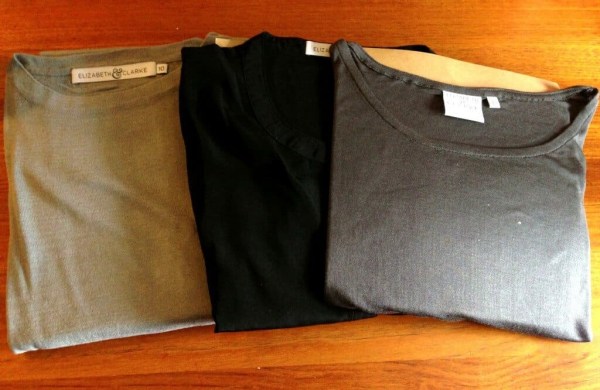 The Subscription
: 
Elizabeth & Clarke
The Description
: Shirts by subscription. Designer-quality blouses delivered to your doorstep each season, without hassle or the department store pricetag.
The Price
: $30-60/quarter
The Coupon
: Save 20% on your first box! Use code 
INSTYLE20
.
Fall 2013 Elizabeth & Clarke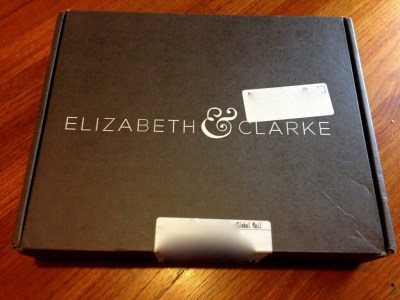 Elizabeth & Clarke arrives in a nicely styled box. It's always nice when the actual box is inviting.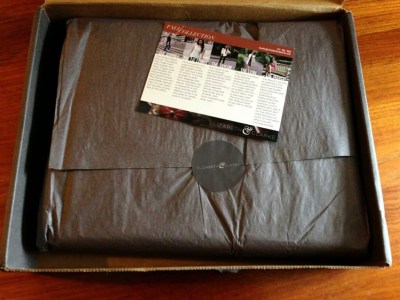 Everything is wrapped neatly in tissue and sealed.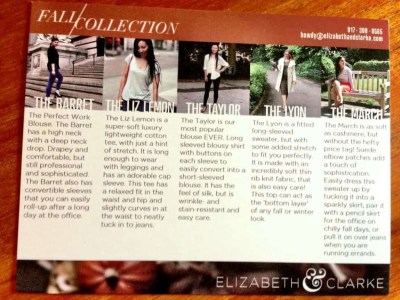 This information card shows all of the shirts from the collection, plus the details for each shirt.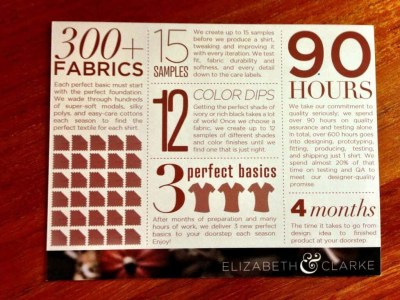 The back of the information card details the design and selection process for the shirts. Over 600 hours goes into producing just 1 shirt to meet Elizabeth & Clarke's "designer quality promise." In my opinion, they delivered! All of my shirts are wrinkly as I photographed them straight from the box. The wrinkles will out upon wearing or hanging up for a bit.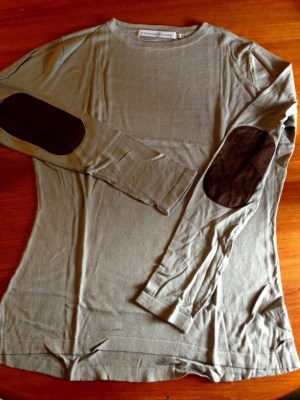 The March This is a soft, fine rib-knit sweater in gray with cute & soft suede elbow patches for a hint of fall equestrian inspired style. I'm wearing it right now! The card says it could go with a sparkly skirt, or a pencil skirt, or just with jeans, and I think all those suggestions are spot on. Do you also see how nicely this top is shaped? I was impressed! 60% rayon, 40% cotton.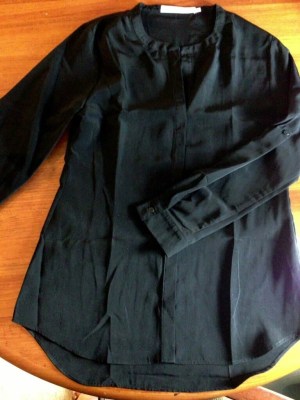 The Barret Looove it! This one has a high neck line, low opening, just the way I like it. I love the covered placket, the convertible sleeves, and the nice vent in the back. It's perfect! 100% microfiber poly.
The Lyon I'm totally in love with Elizabeth & Clarke at this point. This is a fitted long sleeve layer with a cute asymmetrical point and a fitted body. It is super super soft because it's 100% microfiber modal (my favorite) and it is nice and thin, allowing you to layer on top of it. This is perfect for someone like me that's in & out of in and outdoors and walking around everywhere. I love it and I'm going to wear it all the time.
I was totally wowed by Elizabeth & Clarke! I had no idea what to expect but I assure you that each of these blouses will be fall staples.  The shirts are totally me – comfortable, basic, and I would have selected them myself. I think at $20 per shirt this is a steal! I don't know why anyone would get just one shirt, although I do think the price is still right.
The sizes are forgiving, but Elizabeth & Clarke does offer returns & exchanges with a pre-paid label should you find that they fit incorrectly. You can check out the Elizabeth & Clarke winter collection on their website. They have some great basics for Winter including a work-perfect shell and some dressy holiday basics. Once you fall in love with Elizabeth & Clarke (and you will!) you can also check out their blog for past styles and check and see if they have your size available if you want to pick up some extras. I took a moment to read it and I have to say I agree. I'm constantly buying new basics, and it's a total chore to do it. And half the time I end up with an overpriced shirt that just doesn't meet my (actually quite minimal) expectations! These are really fabulous pieces and I am just so excited about them! I'm gushing!
Visit Elizabeth & Clarke

Check out all my Elizabeth & Clarke Reviews! Don't forget to take a look at other Women's Clothing & Fashion Subscription Boxes.