This was my first Sample Society box – I wasn't really sure what to expect! Sample Society is from BeautyBar.com, part of the "Familyhood." I'm a pretty active Familyhood shopper – Soap.com, Wag.com, and Vine.com are 3 of my favorite shopping sites! You can save 20% on your first order on any of these sites by using code Mommysplur – just not on BeautyBar.com! Oh well!
The Subscription
:
Sample Society
The Description
: Get five deluxe-sized luxury brand samples and $15 monthly gift code to redeem on a $50 purchase at BeautyBar — when any product from the brands you sampled is included in your order. Plus an Allure mini-mag.
The Price
: $15/month
September 2013 Sample Society
Sample Society comes in a nice outer box that I didn't take a photo of, and this really nice inner box full of black squigglies.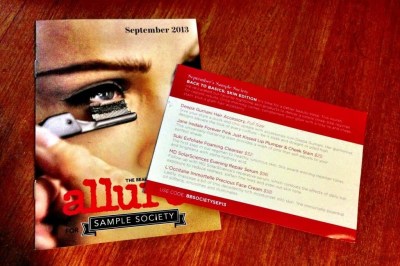 There's an information card with the prices and information for each product plus an Allure mini-mag. 5 pages excluding the covers & contents.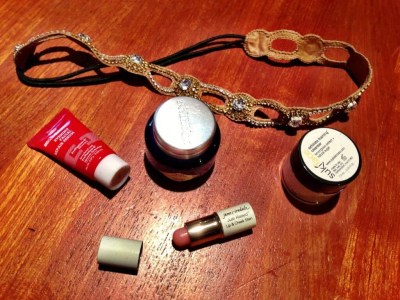 Jane Iredale Forever Pink Just Kissed Lip Plumper & Cheek Stain ($25) I thought this was just clear, but this is a "self-adjusting color" – what they used to call mood lipstick! I had red lipstick on so I totally put this on my son and he turned sweetly pink. This sample didn't have a size, the price is for full-size.
Suki Exfoliate Foaming Cleanser ($1.25) This has AHA and has an amazing smell. I got this in a Birchbox a few months ago and I really like it!
MD SolarSciences Evening Repair Serum ($7.70) This is some pricey stuff! This serum is supposed to reduce the appearance of hyperpigmentation, redness, and fine lines and wrinkles. I'm all about correcting & preventing aging so I'm excited to try this!
L'Occitane Immortelle Precious Face Cream ($17) That price, ladies, is for this sample. WOO. L'Occitane's website says: helps diminish the appearance of wrinkles and maintain skin's quality and smoothness, while Ruscus and Holly extracts have also been added to help even skin tone and relieve puffiness. Hey, if this is the silver bullet, bring it on! I may not pay $100 for a tiny tub of cream, but $58, maybe, if it's a bit bigger and I have a discount!
$15 Coupon for any of the September Sample Society Products Spend $50 at Beauty Bar and include one of the sampled products, get $15 off. Not sure I'd use this every month, $$$!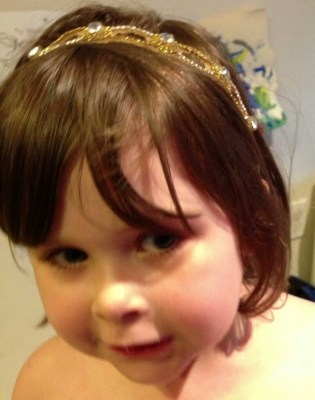 Deepa Gurnani Hairband ($60) I loved this, it's so pretty! It doesn't really go with my hair (mushroom head with a hairband), but I found someone it looks lovely on! I found a similar headband that has more crystals. Based on the headbands available I'm guessing this particular one is $44!
This box honestly didn't look like much when I opened it, but after really inspecting each of the products and their quality (they are luxury products with the attendant price tags!) I was pretty impressed! It's an extremely high value box (maybe around $70) and I would recommend trying it!
Are you more of a luxury products sampler or basic beauty sampler?