The Bouqs sent me a flower bouquet for my review! Gorgeous!
The Bouqs is a flower bouquet delivery service. All "Bouqs" are $40 (although you can double and triple your bouq for a huge splash of flowers!) and there are forty bouquets to choose from. I have bought flowers online before and been unhappy. Too many choices, too much crap in the bouquets.  You just want some pretty flowers, right?  The Bouqs has this video (that is so funny )  that starts with "sending flowers online SUCKS." I thought that was hilarious and totally true. They make it simple by curating the bouquets available so you aren't overwhelmed and not adding any crap like cheap teddy bears or bad candy. The ordering process is super simple and they aren't trying to get you to buy anything else besides a Bouq!
http://youtu.be/6hm5zX0Nlno&rel=0
You can get your flowers by single Bouq deliveries or you can get regular flower delivery services (all the way down to weekly!). You can also schedule your Bouqs on the "never forget service" for anniversaries and such. (Forward this post to your husband!)  You can use code BOUQLOVE (all caps required!) to get 10% off your first delivery. I was sent a double Bouqs!  Although this was a review package I tested out the checkout and it is very easy to order just the Bouq you want and set it for future delivery.

Flowers for the Bouqs are grown on an active volcano in South America (That means lots of sun and really healthy soil!) and sent from the farm to your door. The Bouqs says it sources only from eco-friendly and sustainable farms and pays living wages to its farmers. I think that's totally awesome!
Double Bouq Desperado Review
Bouqs are shipped right to you from the farm via FedEx. You can see right on the box they have to go through customs! It means they aren't sitting around waiting for someone to buy them – they're cut and shipped for your schedule so they are as fresh as possible.

I admit my kids acted up the day we received the flowers and these didn't go into a vase until the next afternoon. Didn't matter at all, they were as fresh as could be! When I opened the package I was pleased to see a nice large message card instead of a handscrawled 5 word sentence. There is plenty of room to send a thoughtful note with your Bouq.


My kids were so excited they tore into the box and carried the flowers around. I was really surprised to see their reaction to flowers, I didn't realize that they would enjoy this simple pleasure as much as we seem to!

Very simple instructions were printed on the inner lid of the Bouqs package: fill the vase and mix in the included flower food, gently remove the flowers, which were wrapped carefully around both the flowers, and bagged on the stems, snip the stems, remove the lower leaves, and add water every other day.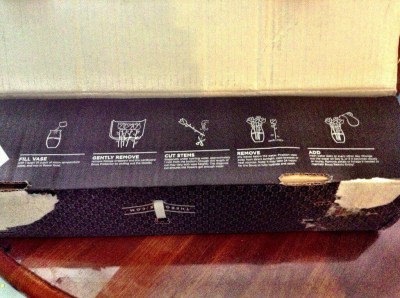 I cut off the stems and placed them in the vase. So you can get an idea of just one Bouq, here's how huge these flowers are!
Seriously!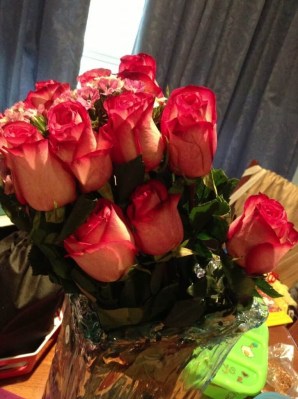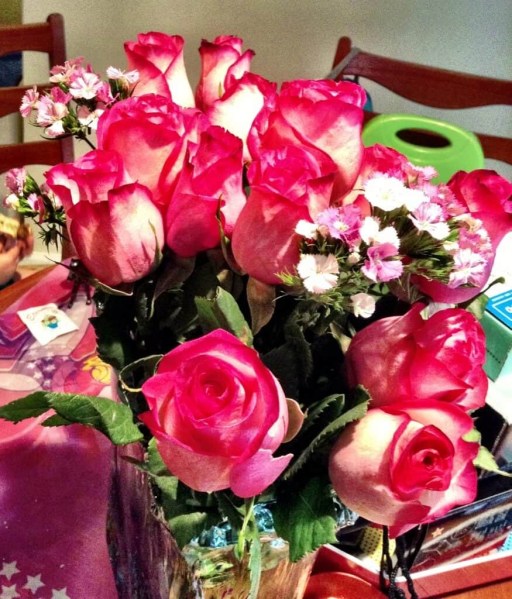 This bouquet was so abundant I really had to pack them in to get both bouquets in this vase. I was so impressed, and with flowers, more is more!  Double bouqs are only $10 extra and totally worth it!
These flowers graced our table for weeks. These photos were taken at 1 & 2 weeks out.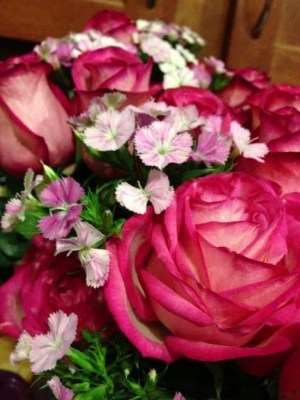 I really loved how the deep purple edging on the flowers deepened over time! I loved looking at these flowers every day and seeing the calming effect they had on my kids. Bringing some nature inside is important and the Bouqs is a really wonderful and beautiful way to do it! I was so impressed with the service that I'll absolutely be using the Bouqs for my own flower gifting needs – and getting some for myself to enjoy! I didn't realize how happy they made me until they were gone. At three weeks out they were done, but had aged so so beautifully with a wonderful vintage effect. I felt with the freshness of the flowers that I truly got every drop of value out of the flowers!
A very special delivery!