I was all worked up this morning because I was at the mall yesterday and forgot to go to Target! I heard the 70% off toy clearance started yesterday, so we went first thing this morning (which means it was about 10:45 by the time we got there!).
I spent $75.76 plus tax, which brought my total to $80.31! Here's what I got! Everything was 70% off. Sorry for the terrible photos, I was doing them ASAP before the kids got into everything! Make sure to read my warning about the last item! I will actually get five bucks back after I take care of the pricing error!  I did find most of the toys in the aisles instead of a dedicated clearance section. I ended up passing on a Bounce Bounce Tigger for ~$13.50 and Aquadoodle Elmo for ~$8.
Big Boots Helicopter set ("Bootsburg Rescue Set") – $10.48 My kid is crazy about Big Boots (Target also has the individual figurine sets for $1.48 I think, we already bought a bunch of those).
Spiderman Squinkies – I don't really know what these are, but my kid will love them. $4.48
3 Marvel superhero sets – 2 characters in each.
Matchbox car storage – $4.48. Branded with Disney Cars. And Drifter. This one's all over the place.
Imaginext Dragon $10.48
Inkoos color-on bear – blingoo $5.98
Orbeez light up star $3.58
Angelina Dance With Me Game – $6.58
Little Pet Shop – $2.98. Cupcake Shop Set.
Little Pet Shop – $3.88 ***WARNING*** Rang up as $9.08. Will have to return and deal with that! This is the doodle on one.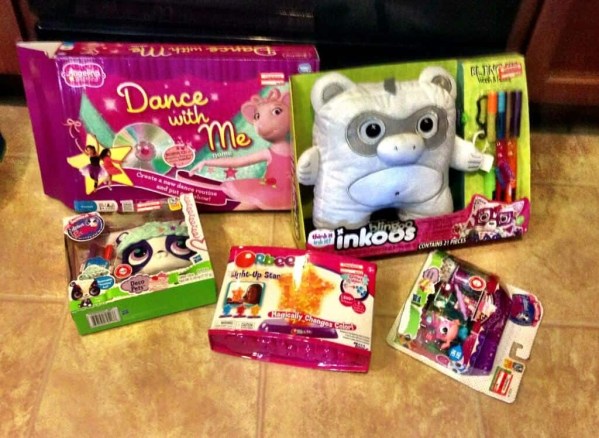 Did you shop Target summer toy clearance? What did you get? Since my kids' birthdays are a week before Christmas I am always relieved when I can store up a good haul!