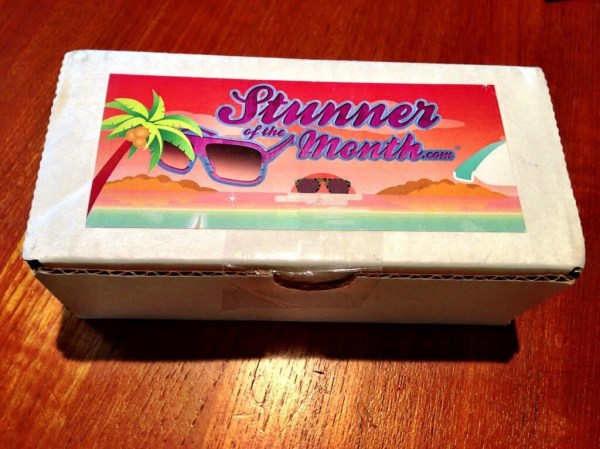 It's Stunner of the Month! Yes! This is a cute little subscription box that nets you one pair of shades a month for $9. For nine bucks anyone can get a new pair of shades, and you can actually suspend your account very easily within the Stunner of the Month website. When I opened my box I found a keychain eyeglasses screwdriver – AWESOME – some sort of weirdo card (which I found out was the name of the sunglasses), a sticker, and glasses inside a microfiber pouch.
August Stunner of the Month Sunglasses Subscription Box
Wow, they sure are stunning.
I liked that they had 100% UV protection!! I found out from the Stunner of the Month website that the name of the sunglasses style is "Apprentices." They have a hilarious rating system, but I loved that you can actually rate your dirt cheap sunglasses.
1 – Not my favorite.
2 – These'll work.
3 – Saucier than the average plate of rice and beans.
4 – My friends are gonna be jealous.
5 – Fresh to death, how does StunMo do it!
On me, these are probably a 1, on my daughter, definitely a five. She's pretty darn fly. I love having extra LARGE pairs of sunglasses around for the kids! If you lose your sunglasses constantly or just like new looks to experiment, this would be a great monthly subscription.
If you want to see me wear these bad boys, you have to watch the video, which is less than one minute long. Use code trystunner to get your first pair free (must be lowercase).  See all my other lifestyle, accessories, and jewelry subscription box listings and ALL my subscription box reviews!
http://youtu.be/Q931Qi2E6mY&rel=0