This week was a Plated week! We have been getting Hello Fresh and mixed it up a little with some new tastes. I really like Plated – the meals are unique and there are some great aspects about the service that I really enjoy.
My Plated box came on Tuesday and was delivered by FedEx. It sat on my floor half the day before I could put it away, and it was really cold. This box is pretty compact and held everything neatly. The Plated produce was either green-bagged or zipper-bagged, and a layer of parchment separated the produce from the meat and ice packs, which I thought was a really nice touch!
Plated offers a meal selection in 2-plate increments. Select any of that week's recipes, but order two plates at a time (minimum of four plates). They can all be from the same meal – this would be so great as a dinner party option. I love fresh food meal subscription boxes for times when I am busy, when my husband is in town (as a restaurant alternative), or when I have a guest, as I did this weekend!
Plated Subscription: Summer Vegetable Carbonara with Grilled Chicken
Our first Plated selection was this pasta dish. I made it for the kids & I last Wednesday and it was a really huge hit with all of us. I took a really unexciting video of the kids eating, let's just trust that they slurped it right up.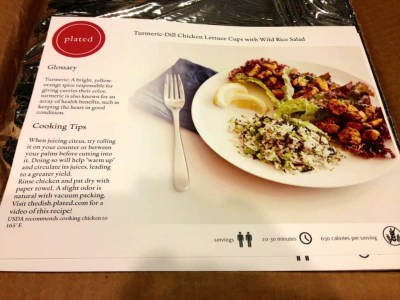 You can watch quick videos on the Plated website for a quick overview of the meal. I liked this because even though the recipe is step by step, it's nice to get a birds eye view. Plus it got my kids interested!
All the ingredients for our Plated meal.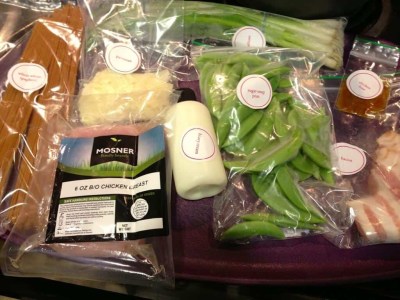 Et voila! It turned out really nicely and was terribly delicious. The sauce was creamy, and was punctuated by nice bits of smoky bacon and sugar snap peas (one of my faves).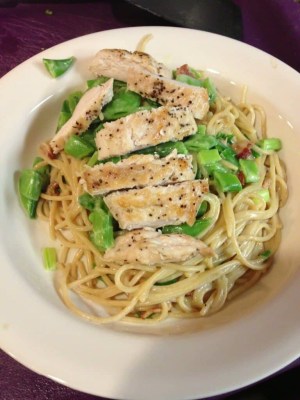 Plated Subscription: Turmeric-Dill Chicken Lettuce Cups with Wild Rice Salad
I saved this Plated meal one for my best friend & me. We didn't have to bother with going out to eat or wrangling the car seats in her car. And it was absolutely delicious!! What a flavor combo! The chicken was cooked in turmeric, seasoned with fresh dill, and the wild rice pilaf had mint and scallions mixed in and a dressing of fish sauce and fresh lemon juice. It was such a unique twist on lettuce cups and we both loved it.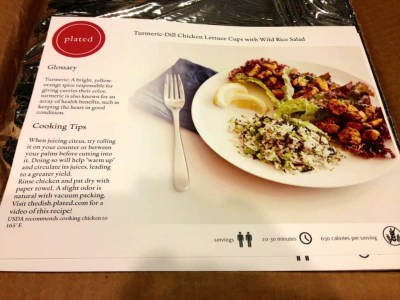 Plated even sent a whole head of lettuce when a few leaves would do. I think it stays fresher that way!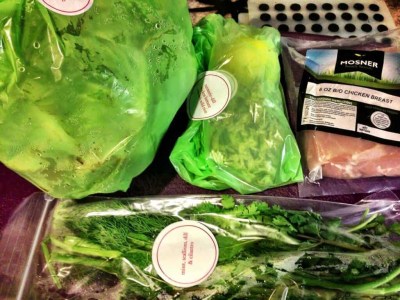 I've never seen a meal like this in any restaurant. I adore food subscriptions because I can try new things, alter it the way I want it, and eat cheaper than going out.
New Plated customers can get 2 free plates by using my referral link. Order 4 plates and only pay $30. Both meals were easy to cook and didn't take a lot of time. I had a hard time choosing between meals, and I will definitely go back to Plated for more.