PeachDish sent me this subscription box for my review.
I love fresh food subscriptions and dinner kits! Living in the city without a car, it's harder than I'd like to make sure I have everything to cook a great meal all the time. I use fresh food subscriptions for the times when I'm lazy and don't go to the store, or when I have a visitor in town. Peach Dish is a new food subscription service and I love the model – just twenty bucks for one great meal for two. Everyone could go for one gourmet-designed meal a week without any recurring commitment. PeachDish's weekly meal is a surprise, and I always like surprise meals.
The Subscription
:
PeachDish
The Description
: Get a box of recipes & ingredients once per week to make a 3 course meal for two!
The Price
: $20/week
August 27, 2013 PeachDish Mediterranean Dinner
PeachDish Shipping PeachDish is shipped two day priority mail, and is marked perishable.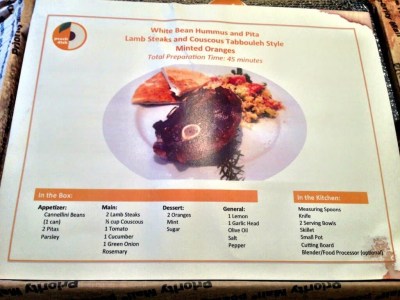 Recipe Card The recipe card comes on top of the box. As soon as I opened it, I knew there was a problem. I suspected it from the outside of the box, but the recipe card confirmed that something had leaked. Oh no! The meal looked great: White Bean Hummus & Pita, Lamb Steaks & Tabbouleh Style Couscous, and Minted Oranges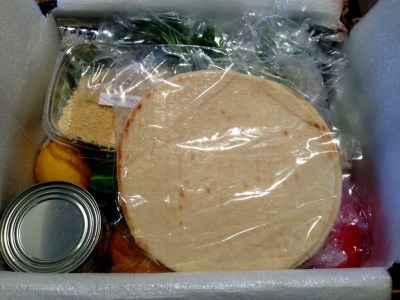 PeachDish Ingredients The box was totally packed full. There was certainly a lot of food in this box. Upon further inspection I discovered that the leaking culprit was warm lamb. Unfortunately I had to toss it out.
There was lamb juice everywhere and it wasn't a still cold could put it in the fridge – the lamb was hot and so were the ice packs. The lamb itself was in a second freezer pouch with ice packs inside of it. Who knows what happened, but it wasn't safe to eat. PeachDish said had I been a paying customer they would have refunded me.
I was impressed that PeachDish included an entire huge bottle of olive oil to cook the meal, as well as staples like salt, pepper, and sugar.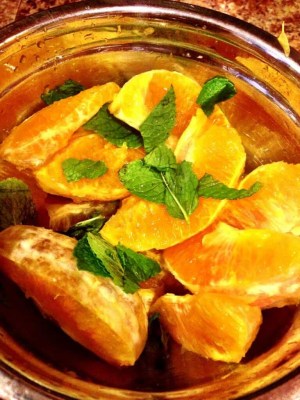 We made the minted oranges, which was quite a delicious flavor combo.
Unfortunately we weren't able to really try out this box, though you can see what's in it. PeachDish says they are investigating different ice packs. I thought that a refund on the price for a paying customer was satisfactory, though I was disappointed I wasn't able to review the box. It came with my mail, was not left outside, and I opened it right away. My mail carrier often doesn't arrive until 5pm, so this box was on the truck all day long. I'm not sure that with my mail delivery schedule PeachDish would work for me in the summer months. Of course, PeachDish wouldn't be able to keep the low price using another delivery method.