Project DIY sent me this subscription box for my review.
That's right, I said September! I was totally thrilled to review this fantastic box from Project DIY! M&J Trimming is basically the source for anything that appears on, next to, or integrated into clothing. M&J is all about notions and embellishments – ribbons, laces, buttons, rhinestones, all the items to complete your fashion and style DIY projects!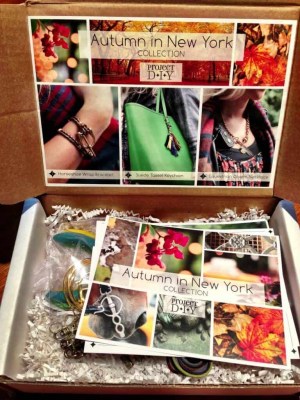 With Project DIY you will get the trims, accessories, and materials to make 2-3 runway inspired accessories. Plus, you'll receive detailed instructions that will guide you through making each project step-by-step, along with tips and hints to customize each project. All the items are designed by M&J Trim's in house jewelry designers. The Project DIY box launches in September and you must sign up by August 31 in order to receive the September box and make these projects your own!
Beware! I took a ton of photos of this box! They are mostly the finished products because it's awful hard to take pictures as you go along. I can assure you that the online project guides are super clear with huge images and totally broken down into each individual step. I was really impressed with the online guides. This is a crazy long review as I know people are itching to know if they should sign up! The answer is yes.
The Subscription
:
Project DIY
The Description
: Monthly subscription from M&J trimming (findings like rhinestones, ribbons, buttons). Get items for a new project every month like necklaces, bracelets, and more.
The Price
: $30 per month

The Coupon:
Get a starter kit with any subscription. Exp Unknown
September 2013 Project DIY Autumn in New York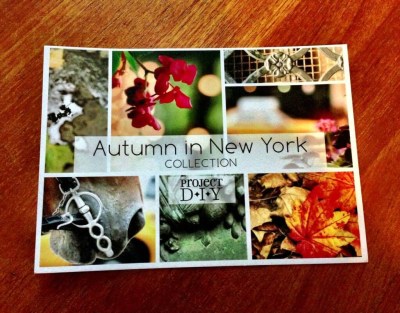 The theme for September is Autumn in New York – fall runway-inspired equestrian looks. These projects are totally classic!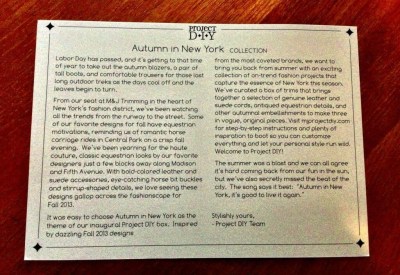 I thought this was a lovely information card and really set the mood for the projects!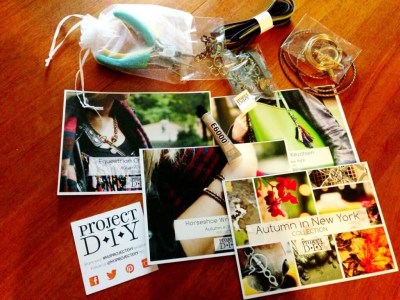 Project DIY Materials All the materials for the three projects in the September box. My review box also contained items from the starter kit so I could complete the projects.
Suede Tassel Keychain
I started with this cute project! The instructions, which are online, gave tips to make it my own. I tried a multicolor look but didn't care for it, so I went with this stripey look instead. This project was rated moderate difficulty.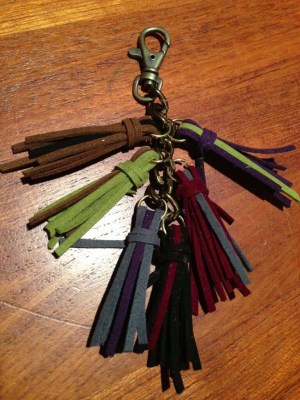 This project was fairly straightforward and easy to accomplish. The chain was seriously heavy and excellent quality and the suede was super soft. I loved these muted fall colors with a splash of brightness.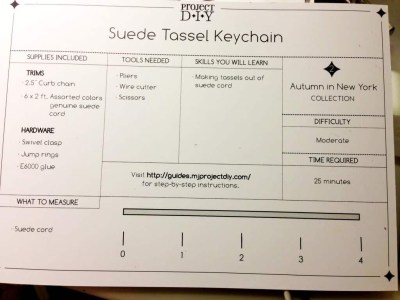 The reverse side of the information cards have complete details on what you need and a measuring chart! I loved this feature!
My helper assisted with cutting. Most of the projects are definitely too complicated for children but I could see a teenage girl going crazy over this subscription!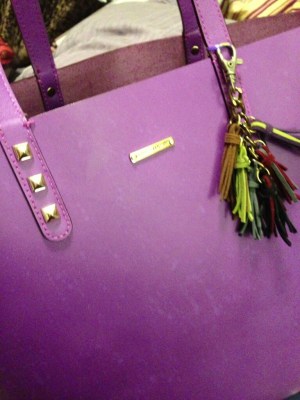 I thought it was great how this accessory could turn a spring bag into a fall transition bag! I copied Project DIY and stuck it on my Rebecaa Minkoff tote. My straps were too wide so I used a silicone hair elastic to attach the keychain. I didn't have a clear one but of course I had purple.
Equestrian Charm Necklace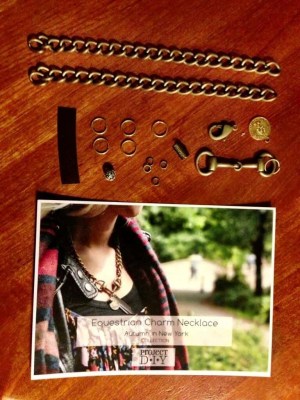 I was totally intrigued by this necklace. When I went through all the materials I noticed that there were two separate pieces of chain.
The clasp is attached in the back and the front of the necklace is a horse bit. While I was putting this together I made sure that all my links were flat and everything hung correctly. Curb chain can be funny & flip around and I did have to undo one piece. This one was an easy project as long as you have the right tools.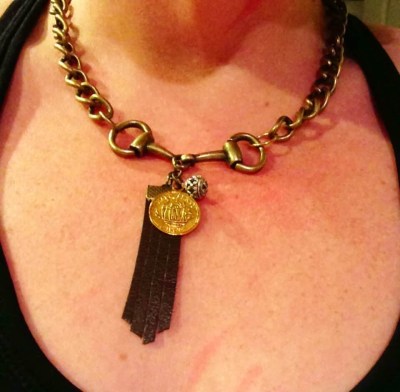 This necklace turned out great. I love the layered charm look and the textured accents with three different metal tones. The colors on all three accessories in this box were warm and rich and deep and definitely brought to mind the fall season. I also thought this necklace fit just right!
Horseshoe Wrap Bracelet
The photo in the box didn't do this leather bolo cord justice at all. It's tinged with a shimmery gold and just fabulous.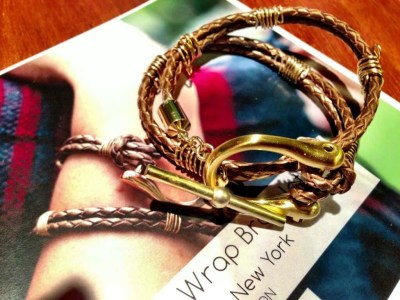 This one was bit harder than the necklace. I cut up the wire, curled the ends with the pliers, wrapped the bolo cord together in 8 spots, and attached the closure. I think this bracelet is amazing!
I can't imagine where I would find these materials or that I would want to spend the time finding them and then feel like I had to buy a lot to get my money's worth. Can I tell you how much money I've wasted on craft project supplies that never get completed? A lot. And I am so jealous of designers who can just go into a store and pull these looks together from essentially random materials – I always end up with something I definitely do not want to wear! I loved making these great accessories from Project DIY and I totally feel that an accessories crafting box is pretty much a two for one deal – you get your craft on and then you get to wear the finished product!
I love doing crafts but am not particularly skilled and I was thrilled that each project turned out great! I have some amazing fall accessories that I combine with the stuff I already own and mix up my look a little bit. Plus, all the materials that were in the box were extremely high quality and I loved the trendy seasonal designs.The projects, despite their great looks, aren't overly ambitious, and I definitely learned/practiced some DIY skills. Each project did come with customization tips to help you personalize each item to your own style.
If you are planning to get this box and you do not already own a needle nose plier, wire cutter, and chain nose plier, you should definitely get the starter kit – the tools I received were excellent. The starter kit is basically free with your first month's subscription to Project DIY (see the coupon). If you already own those tools use the coupon for 20% off your first box!
What do you think of the September Project DIY box?