I'm superdupes excited because A) my Jennifer Love Hewitt Fancy Box finally shipped and B) it came the next day! So even though it wasn't quite July, it's still the July Jennifer Love Hewitt Fancy Box! It only took one day to get here so I'm not going to complain about it shipping late or the shipping charge.  It's definitely not the August Jennifer Love Hewitt Fancy box, it's the July box. I bought it on July 9. Per the website: If you place your subscription between the 1st – 15th of the month, your Fancy Box will ship at the end of the month. It's the July box and happened to only arrive in August…
Although I hate paying for shipping, I like that the Fancy Boxes come via FedEx. They're a premium box with premium shipping.I am totally excited about my Fancy Boxes lately!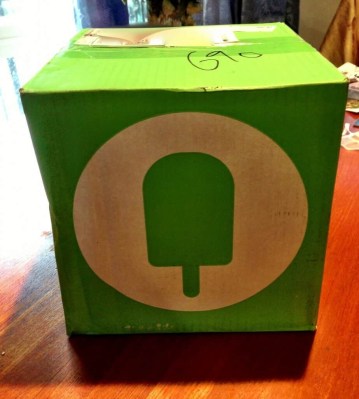 This box costs $47 including the shipping but you can get 10% off the base $39 price with coupon code FOLLOWUP10. You can see 100% of my previous Fancy Box reviews. My kids were also super psyched to open the big green lollipop box (see little hand in photo below?).
So, I saw last month's box and it looked totally awesome – it was very high value and looked really fun. And you know most of the time when I read someone else's review I don't love the box, but when I get it in my hands, I totally love it. Sometimes I even change my mind as I'm writing my review! I decided to sign up for the July JLH Fancy Box although I was already signed up for Tyler's. My choice was based solely on the wafflemaker in the last box.  Even though I didn't want that particular item (because we have a mini donut maker) I just thought it was an awesome choice and felt I needed to get in on this curation.
July Jennifer Love Hewitt Fancy Box
This is what was in my July Jennifer Love Hewitt Fancy box! I felt that it kind of had a fit & fab theme going on. I LOVED THE CRAP OUT OF THIS BOX! Fancy is just A+ for me. Hahaha that was a joke. Get it?
Fancy information cards: Super fancy, because they're all separate.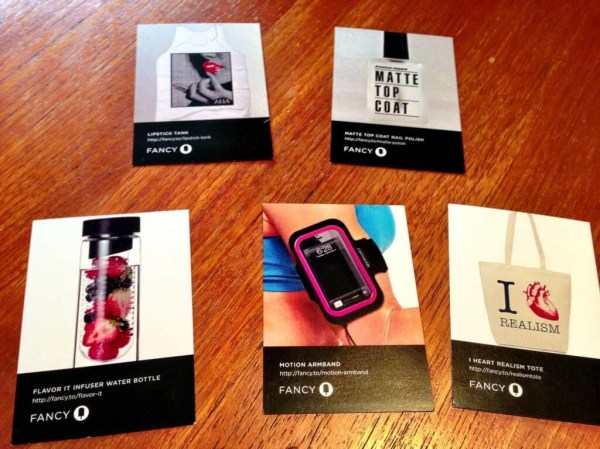 Flavour It Infuser Water Bottle – my kids already lost the card to this so I can't tell you the information on it 🙁 But it will be awesome for infusing flavors into my water. I don't have one of these and I love it! $13
Mercury Motion Armband – My daughter stole this immediately and wearing it on the stationery bike. She totally got it. It's to take your tunes while you work out! It has a little key pocket too. Jennifer says it "helps me focus on what needs to get done." $20
So that's the fitness theme right, here's the fab.
Lipstick Tank – After Hours Agenda – I read on a fashion blog (not sure where, too bad) that these kinds of tank tops are the totally trendy thing for August. I'll believe her, I wish I knew where I saw it so I could link to it. I love it & I'm totally going to wear it. Fancy says it's for sleeping but I would totally wear this over a black sports bra too. JLH: "simple and yet so me." $30
American Apparel Matte Top Coat – I love doing matte polishes and I'm going to try this out with my polka dotting. I'm getting better. $18 for pack of 3, so $6.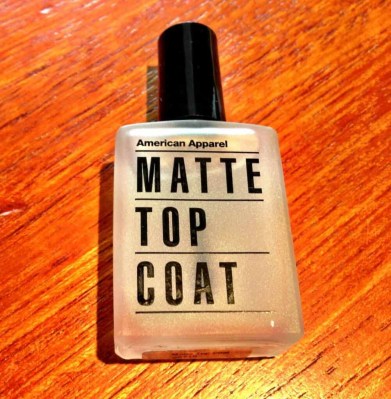 I Heart Realism Tote – My very favorite thing in the box, I'm taking this everywhere! I think it's funny and totally me. JLH says "Carry your heart on your tote and be real." The tote itself is also American Apparel. $22
I just loved the July Jennifer Love Hewitt Fancy Box! Did you get it too? What did you think?
I came up with a total of $91 value for this box (a couple things I was able to use Amazon prices, and I like to use real pricing when available). Just about double what I paid for it. I loved the items and felt I got a ton of value so I am thrilled with this box! You can get yours here. I'm definitely subscribing next month.