The Homegrown Collective sent me this box for review!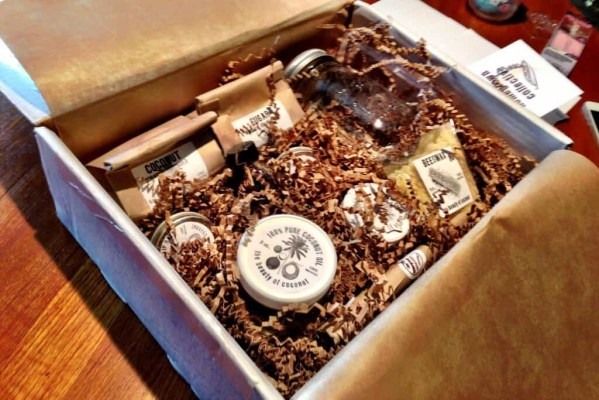 The Homegrown Collective is a subscription box that delivers a homegrown lifestyle to your door each month! Get seasonally appropriate, professionally curated  products that deliver the satisfaction of living a more self-sufficient & sustainable lifestyle. I love this idea because I like puttering, making things from scratch (I totally make my own yogurt!), and living a green lifestyle! The Homegrown Collective GREENBOX makes greenifying your life more fun!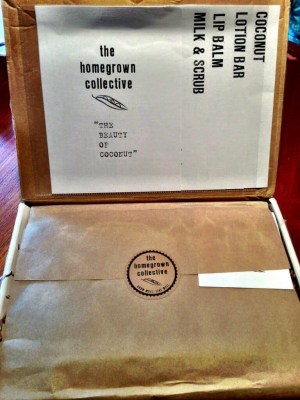 The box was lovely when I opened it. This would be a beautiful gift! I was really excited about this box and invited one of my favorite bloggers, Mary from a little fat notebook, over to help me do the Homegrown Collective projects with my kids. We had a fantastic time! This is a box that the whole family can get involved in. What a great way to share a green lifestyle with kids!
July Homegrown Collective Box: The Beauty of Coconut
The theme for July 's Homegrown Collective Box was The Beauty of Coconut. Since my youngest child had an infant milk allergy, we got hooked on coconut products and use them all the time (coconut milk, coconut oil, coconut anything). It smells delicious and is healthy! I sing the praises of coconut and if you're still using Crisco, please stop and try coconut oil instead! Get rid of those terrible hydrogenated oils! (stepping off soapbox…)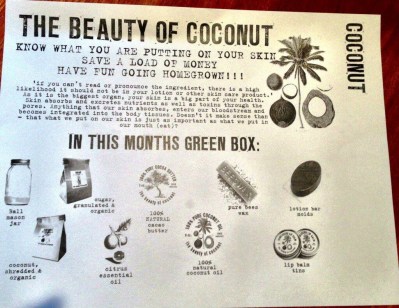 Homemade Coconut Milk: This is the only project I haven't made yet, but it's something I want to learn, and I'm excited to try it. I don't like the taste of most canned coconut milks (I worry about BPA in the can liners too) and don't like buying the shelf-stable ones with weird chemicals. Just like any nut butter, you blend up the coconut in the blender (shredded unsweetened) with water, then strain and squeeze. You can use a towel, but when I do this I'll use my trusty chinois (which I have for making yogurt and bone broth, yes, I really am a DIYer at heart!).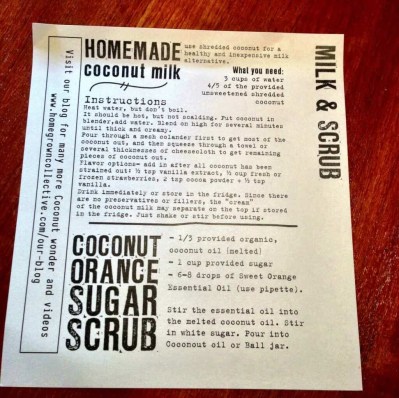 Coconut Orange Sugar Scrub: This is the first project Mary & I attacked. Simple, essential ingredients: coconut oil, sugar, and orange oil. This blended together nicely – I donated extra coconut oil and sugar so Mary & I could both have a jar – there was plenty of essential oil so I can keep on making this yummy scrub!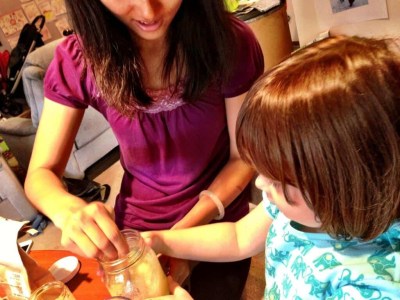 And yes, I totally tasted it. It was yummy. Can you eat your exfoliator? I can!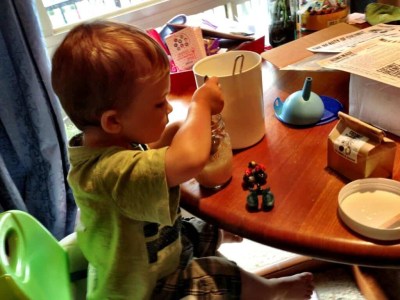 Citrus Coconut Lip Balm: We loved this! We heated up the ingredients – citrus oil, coconut oil, cocoa butter, and beeswax – as directed – and poured them into the provided tins.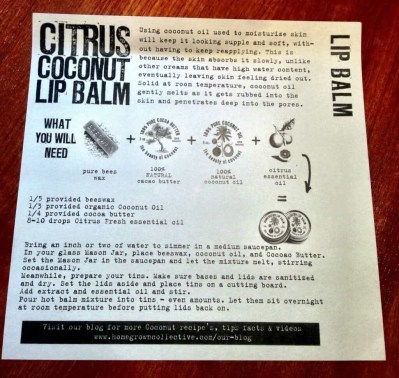 The end result looked so professional. Who knew? We were very excited and I had a good chunk left over, which I poured into a condiment cup so I can leave it out for daily dipping. I loved the creamy coconut oil/beeswax/cocoa butter combo. There were two balms but Mary took one home with her of course.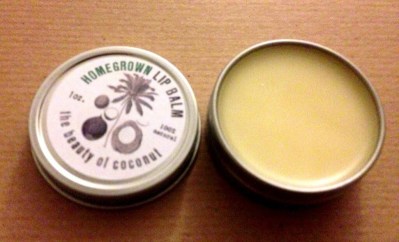 Coconut Oil Lotion Bar: Last, we made this awesome lotion bar using the same ingredients as the lip balm, in slightly different proportions. We had a bit left over so we made a nice sliver. I love that I can put this on our bodies without worrying about it. Every ingredient is 100% natural! Again, this made two lotion bars!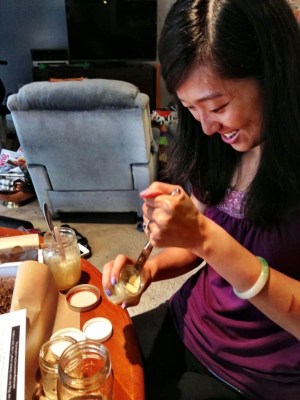 The Homegrown Collective GREENBOX is $39 per month plus $9 shipping (hey, real stuff is heavy!). BUT, you can save $10 with coupon code GREENMOM10! Or you can save 25% on your first box on a monthly subscription with promo code SPLURGE25.  Plus you will get totally free shipping with a 6 or 12 month subscription. With the free month on the 12 month subscription and my promo code, 1 year of boxes will get you these boxes for under $35 per month. Although I completed all but one project in a day, I recommend spreading it out for more fun every weekend. This is a box I recommend and I personally believe it is well worth the price of the box! Sign up by August 15 and get the August box!! Hurry!