Our July Babba Box came last week but truthfully we've been so overloaded I've had a hard time squeezing in a review, so I saved it! We've been enjoying the Babba Box activities in little bits interspersed with other fun!
Babba Box is a kids creativity subscription box and I just love the themes and the materials. It came in a padded bubble mailer (not a box!). For July I ordered the classic Babba box with 2 hands on activities with materials and two bonus activities.
This is what I don't like about the box – all of the materials were curled. :/
July BabbaBox
The July Babba Box came with The activities guide with instructions, tips, facts, and a guide for those pesky parents. There was a reading guide for the book & 2 bonus activity ideas. We're going to do stick animals tomorrow.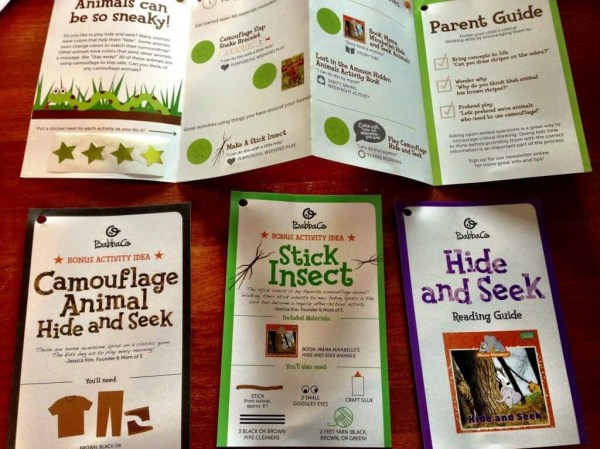 Camouflage Slap Snake Bracelet & Coloring Sheet – We loved this activity. A got right to work on creating the slap bracelet and the habitat. She can read a little but mostly follows along the pictures. I was impressed that she gave the snake camouflage without prompting!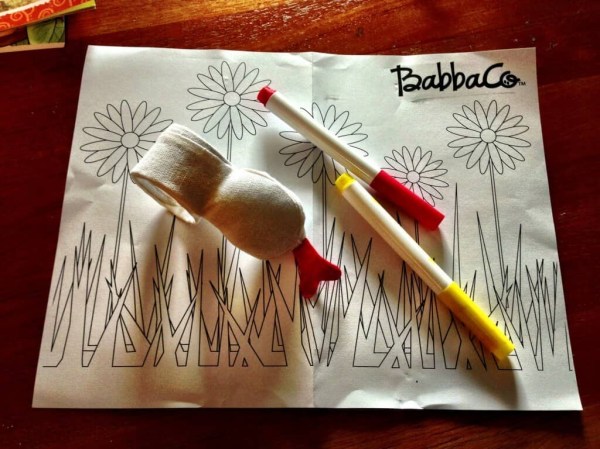 First she made a pattern.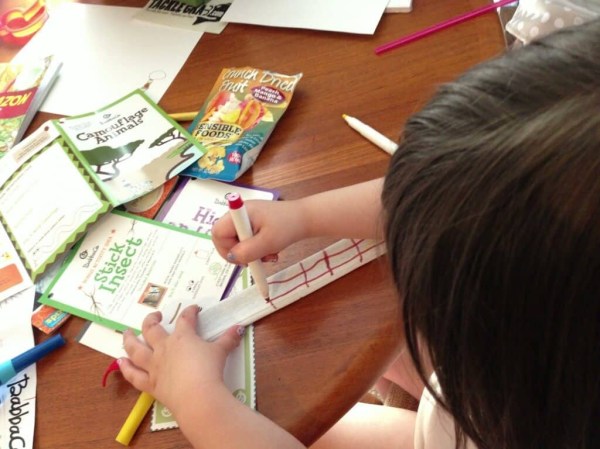 And then a habitat!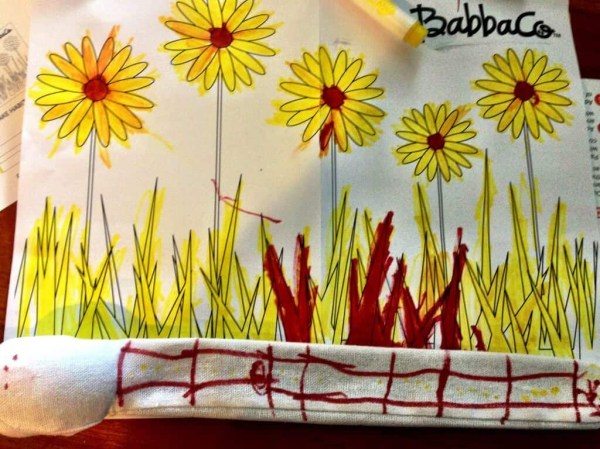 I didn't really use the guide to explain these things because she had already picked them up.  E is too young for it.
Lost in the Amazon Coloring Book – My daughter & son (4.5, 2.5) both loved finding all the animals in the book. Then we colored some. It will take us quite a while to get through coloring all the intricate pictures.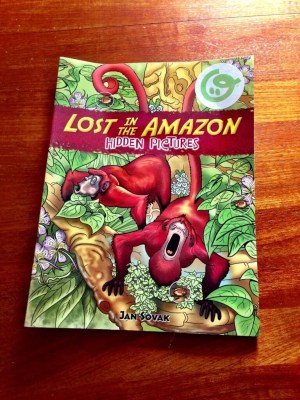 Mama Mirabelle Hide and Seek Story Book – This was so cute & adorable & both kids loved it.
I also didn't love the Babba Box stickers on everything. I felt they could save time & money by not putting them there.
You can actually get three different versions of this box – all digital ($14 – pretty much only if you're overseas), regular (which I got – $19), and Premium ($40). I actually put the subscription for Babba Box on hold for next month, because it's pirates, and while the box looks TOTALLY awesome we just have so much Pirate stuff already I can't really justify it. It was so easy, I just emailed them back and they got back to me ASAP about it. I *love* when I don't have to actually cancel a box and can just skip a month.
But we are going for September for sure based on our experience with the July Babba Box – and perhaps upgrading to premium so we can check out that version too and see if it's worth it! If you want to check out the awesome pirate theme (it really looked good and we love pirates, we just recently built a treasure chest in our Surprise Ride and all that!) go to Babba Box! It's my referral link & I (and especially my kids!) thank you for using it if you choose!
Don't forget you can see all my reviews of subscription boxes for kids here!