If you remember the huge pallet of Biscoff I spotted at Costco last week, it was down to this yesterday. I bought one. The kids thought Biscoff >>> Animal Crackers!
Could they be any cuter? No, no they could not. Yes E brought his new Playmobil to Costco. And yes A is SO FREAKING ADORABLE in her cowgirl gear.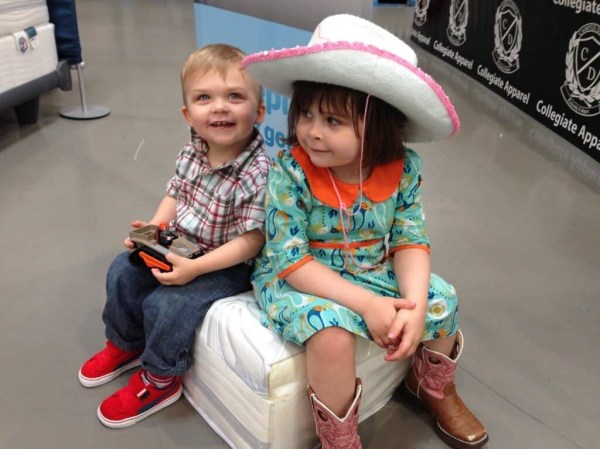 Let me think of what box awesomeness I have. I signed up for Mugler Addict last month and got this really beautiful card in the mail yesterday. Wowza. Mugler Addict is $50 a year and I get free shipping at the store all year long. I was really impressed with this handwritten note and super thick card from my Celestial Concierge. It was gorgeous! Angel is my absolute favorite fragrance. I know it doesn't work for everyone but I get constant compliments on my smell, so it works for me 😉  I can't wait to try more Mugler!
Yes I was totes lazy and took this on my bed instead of cleaning the table. Then I sprayed Angel Violette all over my body. Then I noticed that this subscription was not in the directory. Whoops. Sorry!
I fell asleep in the recliner while the kids were playing dinner and woke up with peanut butter smeared between my thighs. I was so confused.  My kids are nuts! I put FaceTime on the iPad, gave it to the kids (daddy time), and hopped in the shower.  They're so cute, they set it up so daddy can see them playing. A busted out her guitar and sang a bunch of songs. She's quite a good songstress and remixes phrases that she hears. She must get her musical ability from her dad. And from our occasional opera-singer babysitter. She doesn't get it from me!
I forgot to pop by Target yesterday, and of course that's when toy clearance started. Trying to get the kids out the door early but that never works!