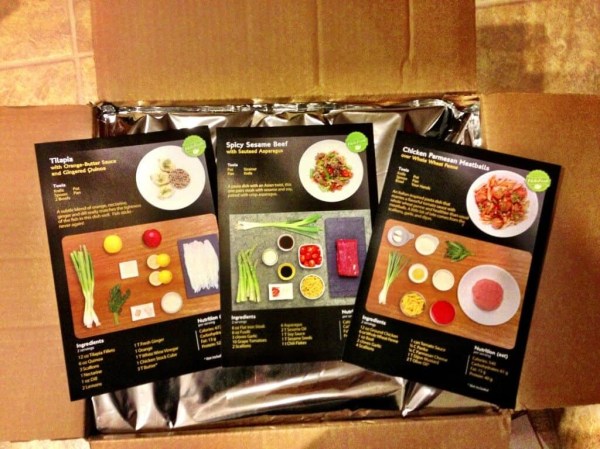 We took advantage of Hello Fresh ingredients & recipes subscription box again recently.   Although I don't subscribe weekly I love getting this box when I'm too busy to manage getting to the grocery store with two kids in tow, would rather eat out but don't care for the expense, or just because I am lazy! If you're looking for current coupons, always find them at the bottom of my reviews, right under the big purple button!
Hello Fresh arrives in a big cardboard box. They apparently have changed the outer box design, or perhaps ran out of regular boxes due to a promotion.
The Hello Fresh box is insulated with four very large ice packs on the bottom, and the insulation goes around all four sides. See an example of the Hello Fresh Packaging. I skipped taking photos of all the food this time. I must have been busy! I recall that I didn't put it away until around 11pm and it was still extremely cold. Yep, I just leave them on my floor all day long.
Hello Fresh: July 28 Delivery
Once again, I didn't get a chance to make selections, so these meals were automatically selelcted by Hello Fresh. Because I won't need any more deliveries for a bit, I made sure to go into my account and pause for a few weeks!
Tilapia with Orange-Butter Sauce & Gingered Quinoa
This was completely delicious! I loved the complex layering of flavors and citrus together. The butter sauce was definitely french-inspired!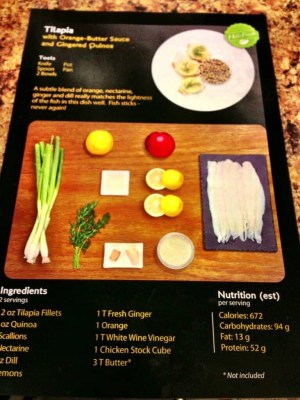 I chose this meal during a "water activities" day. My daughter was very excited about the concept of dead fish (I know…) and the kids loved fish, so I decided it was time for some Hello Fresh!  When I open the box I stick everything into the fridge and then we just find the bags we need for the meal. I don't keep it organized, everything is just shoved in. A found the fish.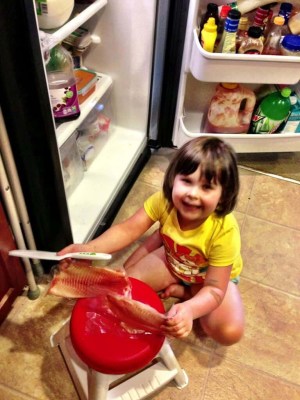 This Hello Fresh meal was easy to prepare. They forgot instructions on what to do with the sauteed scallions (I suspect they were to top the quinoa, the photo didn't show them either). So I ate them 🙂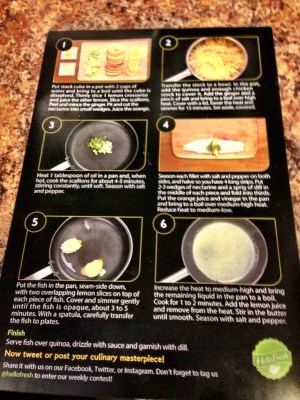 Although it looks complicated it was very simple. Slice the nectarine, roll up the fish with some dill, and then sauté.  Hello Fresh likes juicing fresh citrus. If you're a regular subscriber I suggest getting a juicer (see how I got mine!)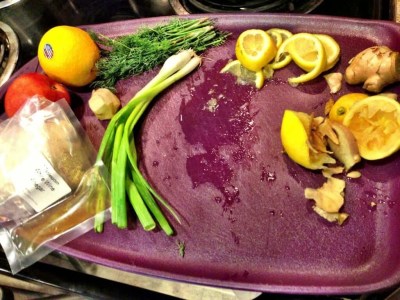 I decided to use some toothpicks to keep our fish rolled up.
I molded the quinoa with a hard-boiled egg molder. The shape didn't turn out great but the kids loved it! This meal was delicious. I never thought of adding fresh grated ginger to quinoa and it was a unique flavor experience.  Hello Fresh's focus on fruit in their recipe creation is another thing I love. I never think to actually cook with fruit but we all really enjoy it. Even after 5 days in the fridge the fish was superbly fresh and cooked up beautifully!
Chicken Parmesan Meatballs with Whole Wheat Penne
I was excited when I saw this meal because it was so kid friendly! We swapped the penne with the pasta from the beef meal for the kids. They were in charge of the meatballs.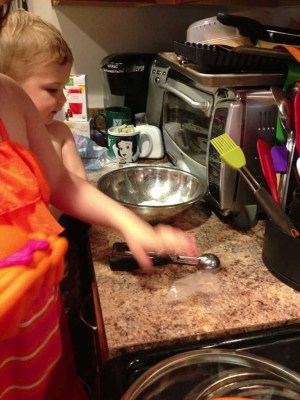 This meal turned out great, even though I was skeptical of the quick tomato sauce. The chicken meatballs included parmesan and dijon and were completely delicious. Sorry for the ugly plate, I'm not a restaurant, I just get treated that way! This is a meal that would be great for both adults & kids alike – they were sophisticated meatballs but accessible due to their form.
Spicy Sesame Beef with Sautéed Asparagus
Well, I let my husband be in charge of this meal. He skipped the pasta (kids ate it plain later), and added some yellow squash I had in the fridge. There's no way we could have eaten more, and it was absolutely delicious. Even though we sometimes switch up the ingredients we do use up every bit that comes in our boxes and it is such a relief to get a ready-to-cook meal delivery when I am frazzled.
Hello Fresh Details
Hello Fresh is $69 for a weekly delivery of 3 meals with two extremely large portions of food. It's all healthy and natural and easy to cook. I noticed this box took fewer pans than the last 2 boxes, which was an improvement.  The meals are delicious with complex flavors but accessible. I have found in my 3 deliveries (that's 9 different meals!) that all the produce is extraordinarily fresh. It's pre-washed, which I think contributes to its longevity. Often I don't get to cooking these until a week after they are delivered because of various schedule changes, and the forgotten meal is just as great as the first-cooked meal. I'm hooked!
The cost seems high but a restaurant-quality meal for two for $23 seems right to me. What's a combo meal at McDonald's running now anyways? This is healthy & fresh and I get to customize it however I want.