Goodies Kids Box is here! Yippee!  Goodies Kids is a brand new subscription box that is an offshoot of the very popular Goodies Box. It's $7 per month and it looks like there are now 6 and 12 month subscription plans that will earn you extra Goodies points, but no discount on the box itself. $7 is pretty cheap including shipping.
This was such a fun outer box and the kids did dig on the coloring after I took a photo.. I think it will take us a few days, which is fantastic. All boxes may now arrive to me pre-printed for kid art goodness, okay?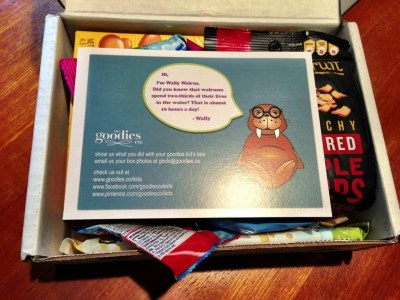 Goodies Kids apparently has a non-informational information card. It's kids snacks, do we really need to know too much? Probably not.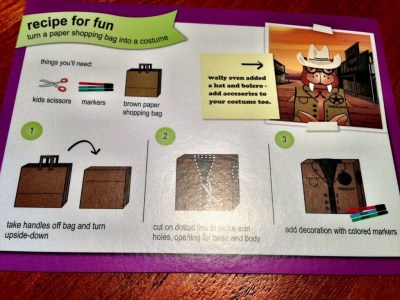 The back had instructions to make an outfit out of a paperbag.
Goodies Kids August Box

I was partially pleased with the box. I am pretty picky about giving my kids more sugar than they do already get, so some of the things I wasn't excited about, but as I said, it was so little, I wasn't angry or depressed about letting my kids get their paws into the Goodies box. Total value – About $10.65 including shipping and the fun outer box. I think we'll keep this one for now!
I poked around a little on the Goodies website and it looks like the points system is exactly the same as the regular Goodies box! Coupon code may still be working for your first Kids Goodies Box free: PSsJ6kXrP. We had a party with ours!