I finally had the chance to try out some Ellie gear!  Ellie offers the Fit Fashionista women's exercise clothing subscription.  For $49.95 a month you get 2 pieces of workout gear that is comparable in quality to high-end brands like Lululemon.  Lulu pants are ohhhh, $100 a pop?! For half that you get two pieces with Ellie! It's the magic of the Internet!
I admit, I was so excited about my Ellie clothes that I wore them before I took photos. So they look a little wrinkly as a result.
I was a little worried that the clothes might be too small, but I selected pieces that are in my size (currently a large) so I would be able to see if they were! I selected a fantastic long sleeve top with a tank top liner, and went out of my comfort zone with white! Yes, I am an always-wearing-black kind of person. The Pretty in Pearl Shirt ($44.95) surprised me with how soft it was! It is so comfy and is a silk modal fabric. It does say dry clean only but… no. I'll be throwing it in the wash like a normal person and it will be just fine.  The white/gray top is sold out, look for the It takes Two top instead!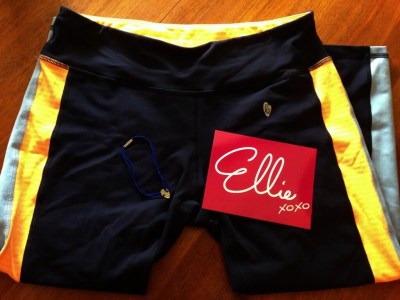 I didn't pick a matching bottom, I got the Bondi Capri ($79.95) from the August Ellie Bon Voyage collection. These workout pants are navy blue with orange & light blue side panels. They have UPF 50+ protection (score!) and I was really thrilled to see this great pocket inside them. It's much nicer than those weensy side pockets.
Let me tell you what I love about Ellie! They have all these cute really fit models (and if you're one of those people, great!) but the clothes fit great on me. The pants are not low rise, I would say they are about average and fit just right. I'm under 5 feet tall and have had two ten pound babies and I have some extras to squish in! I felt really comfortable wearing these pants. My clothes are all too large right now and it was a relief to have some nice running around pants that kind of hold everything in. The waistband did not fall down or flip down but stayed right in place.  I wish I had more of these pants!
You can get Ellie 20% off using my link and through tonight only pick up pieces at the Ellie sale for $24.95! Visit Ellie to pick up some excellent active wear. The clothing I received has a value of around $125 and with an Ellie subscription it would be just $25 per piece!