For all my readers with sweet little puppies, I have a DoggieLawn giveaway!
My dog is with her dad (my husband works out of state). Sadness. She is having a great dogcation.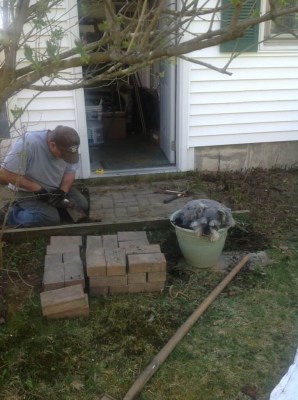 She loves hanging out in the planter. And she loves grass! She would love DoggieLawn!  DoggieLawn is a subscription "pet square" for your pup to do her P&P on! The regular DoggieLawn is $50 per month (including shipping) and you get one square every two weeks. 24″x20″ so it's more than a square, it's a rectangle!
DoggieLawn Plus gives you an upgraded 24″x48″ piece of grass for your dog. It's $60+ per month (depends on your location). DoggieLawn is soilless sod so it won't make a huge mess.
My Most Memorable Dog Potty Experience
This is something I would totally try if my dog wasn't so far away. I actually bought a non-soil kind of "dog square" and it didn't work, because it wasn't real grass. My sweet baby dog will only go on grass. She went exactly two times on concrete. In her entire dog life. That's it. My husband collected excrement, peed on the plastic grass (yes, really, it's totally true and no he doesn't read my blog).
I have heard great things about DoggieLawn and if you are an apartment dweller or any other kind of person who has a dog that can't get regular walks, I would encourage you to try it! DoggieLawn would be great for an elderly pet, too.
This giveaway is for one DoggieLawn for TWO readers! If you are not so lucky as to win this to test it out for yourself, you may use coupon code splurge10 to get $10 off your first shipment of DoggieLawn.
I received zero compensation for writing this post, if it sounds like I did, well, it's because I can't wait to review it in the future!
This giveaway is open to the 48 lower states only! You only need to do one entry in the first group to enter. Bonus entries like tweeting & sharing with a friend you'll find when you complete the first group. Giveaway ends at 11:59pm Eastern on 8/21!