There are so many underwear subscriptions! I've been working on trying them all and yesterday I got the August Ditsies underwear package. Ditsies is an underwear subscription and you'll get one pair of made in NYC Ditsies panties per month for $12. When you sign up for Ditsies you specify what kind of colors you prefer (brights, etc) and your preferred level of cheekiness.  I picked "mix it up" for my colors and a "French" level of cheekiness. Sizes are S, M, L and the large is 10-12.
When you sign up for Ditsies you also get to choose a charity. I cannot fathom why you would skip the charity selection but you can do that as well.
Ditsies comes in a totally nondescript package. Now that I know what the Ditsies logo is I would recognize the package, but I just tore into it before I realized I should take a picture.
Inside was a sweet little tulle gift bag (I loved the colors!) with the Ditsies logo, a pair of panties, an information card, and a little charm that says handmade with love. I thought that was sweet.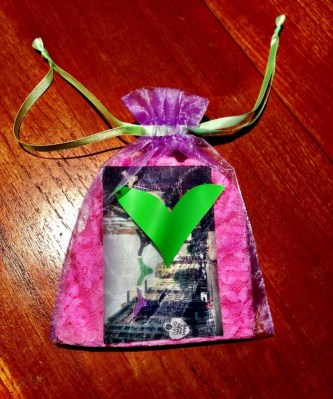 The Ditsies panties were a beautiful color bright pink and lacy and soft. They were doable but a bit snug for me. In comparison to MeUndies the sizes on these panties are one smaller than the MeUndies sizes. So these sizes run a tad smaller and just a head's up on that. (See my MeUndies Reviews)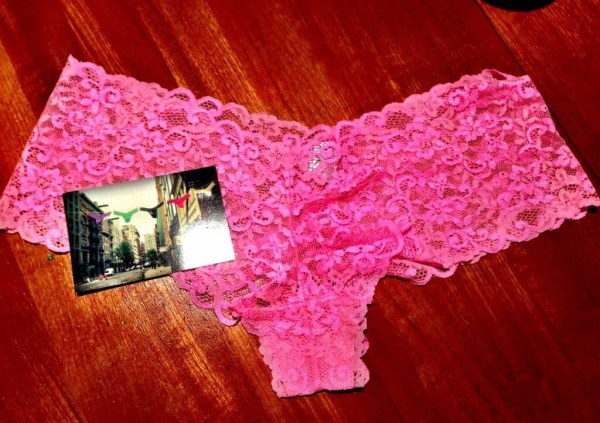 These panties were comfy and cute though and I liked them! They are extremely well made and while I am skipping next month (I just got a bunch of underwear), I will absolutely resubscribe in the future. These are really quality panties!
If you want to be able to get pretty specific about your color & cut choices on your panties, Ditsies would be a good choice. Plus you can designate your charity and I love it when subscriptions do that.  You can sign up at Ditsies, and that's my referral link!
Be sure to check out my list of underwear subscription boxes. And all my underwear subscription reviews!