Carefree Crafts is a monthly kids' craft subscription and is designed for kids about age 3 to 7. Monthly subscriptions are $14.95, though you can save a few dollars every month with a longer subscription! August Carefree Crafts had six crafts in it, though sometimes there are 5, depending on the included activities.  It arrives in a large padded bubble mailer and all the crafts are packaged inside a large plastic zipper bag.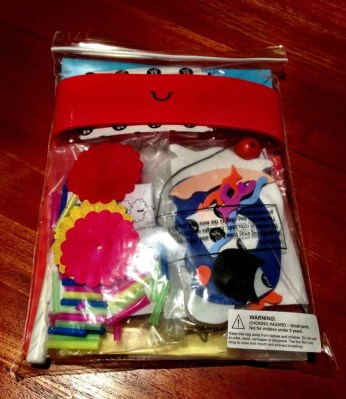 All the individual crafts were separately packaged so you don't have to hunt for the pieces for each one! I loved that! Plus each craft is packaged with the necessary extras and hints!
August Carefree Crafts: Summer Fun
The theme was summer fun and August Carefree Crafts had six sun, beach, and ocean themed crafts. My daughter dragged out Carefree Crafts at every opportunity. She loves each and every box and this one was no exception! I think we were all particularly drawn to the more pure crafting nature of this subscription!
Fish Catch Game – My daughter selected this one first. It's a super cute paddleball game and she loved assembling it!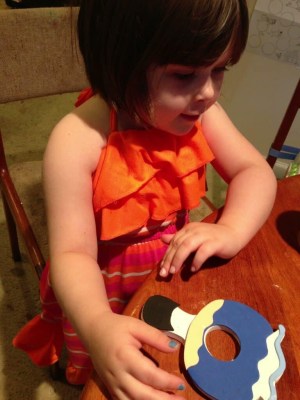 Crab Headband – both kids got a kick out of this one! It was super simple to do and I managed to help put it together while juggling a call!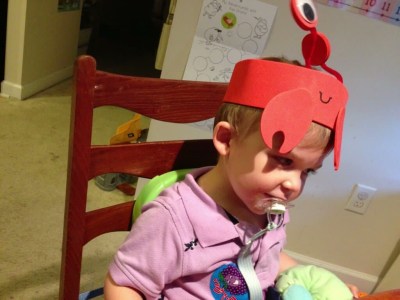 My son has reflux and was feeling a little crabby. Don't hate on the binkie. It's usually only a nighttime thing.
Lei – My daughter loved putting this together and the 1 straw 2 flowers reinforced pattern matching!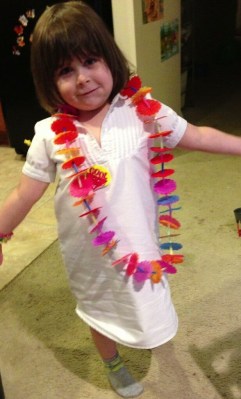 Beach Sand Art – No, you should not freak out about my giant Cutco shears there either. I just hopped over to snap a pic! This was a huge hit!
Paper Stained Glass Sun – The kids put this one together! They loved sticking the tissue paper squares on the sun.
Sandcastle Magnetic Photo Frame (not pictured individually) – my little guy did this all by himself! I helped with the flags.
You can try out your first month of Carefree Crafts for $5.95 with code SAVE60. I thought this was a really fun activity and it was nice and low-key – just crafting fun, no fiddling with anything else. I enjoyed putting everything together with my kids and they absolutely loved it. I also think it would be great for a vacation to keep the kids busy, to have available for a sitter, or to do with grandparents. To sign up, visit Carefree Crafts.