August Beauty Box 5 is here! Beauty Box 5 is a cute little beauty subscription box arriving in a sweet blue box. I have found that the products inside are pretty unique!  I did do a quicky video look at this box plus applied my eyeshadow in a separate video for you. Links for those at the bottom!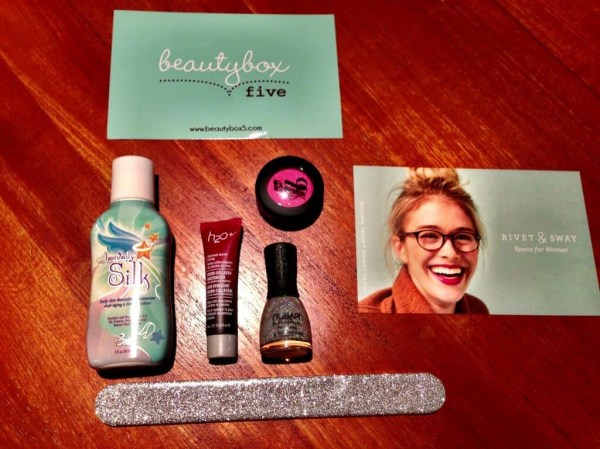 August Beauty Box 5
Beauty box 5 has a great info card. I love that they say thank you!!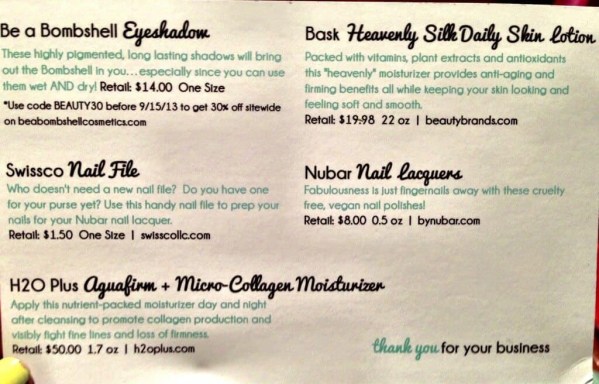 Nubar Nail lacquers – Hologram Glitter ($4) and Swissco file ($1.50). I loved this glittery sparkly polish!!! I think silver holo polish is wearable for everyone and it was so fab that beauty Box 5 found a nail file to match!!  Plus with silver holo nail polish you can basically make any color you own into a hologram polish. This will get used up quickly!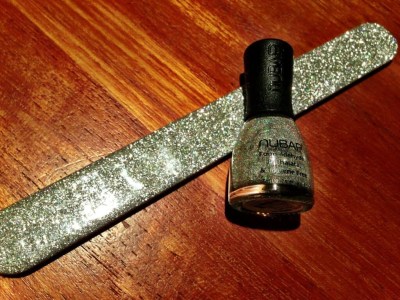 Usually every month Beauty Box 5 includes some kind of tool and I really like that. Either it's something you need or something you need that you had no idea you wanted! I also think this would be great to whip out on the train during a morning commute and make it a sparkly kind of day. Nubar is Formaldehyde Free, Toluene Free, (DBP) Phthalate Free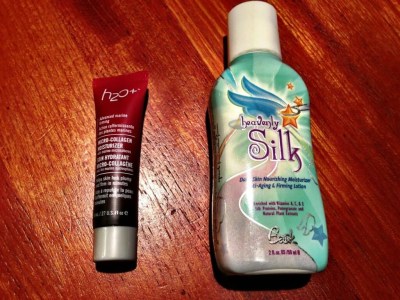 Bask Heavenly Silk Daily Skin Lotion ($1.80). I really like that this lotion had a larger size than a small tube! It goes on very silky and light and is fragranced with a great Nashi Pear (Asian Pear) and Mimosa scent. I suspected by the bottle design and confirmed online that this is a lotion mostly sold in tanning salons and I am guessing this would be a onesie you would buy at the salon if you don't want to buy the full bottle – so there should be enough to try it on your entire body! It has Pomegranate, Grape Seed and Kola Extracts (antioxidants) to help heal your skin.
H2O+ Aquafirm + Micro-Collagen Moisturizer ($7.95). The other lotion was this was a pretty small sample size but if you look at the information card it is  quite a pricey item and really with a sample so you should be doing is seeing if you like the texture and the scent and  the basic formulation and then for something  does have product claims (like promoting collagen production and decreasing visibility of fine lines) you know if you like the sample then purchase the bottle and test out for a month or two months! For this particular lotion it went on nice & light and was scentless, which is a huge plus for me & anything I put on my face! I got a different H2O+ product last month!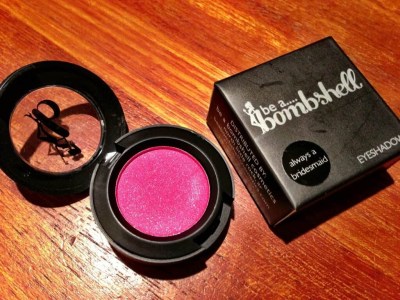 Be a Bombshell Eyeshadow – Always a Bridesmaid. Wow, this is really hot pink eyeshadow! These are highly pigmented & long lasting and can be used wet & dry. This shadow is an intense fuschia shimmer and isn't made for putting over your whole lid, just for accenting. I think it would look great as the accent to a smoky eye.
The box also had a $50 credit to Rivet & Sway glasses. I do have to say I got the necklace in from last month and we loved it. No pic, because my daughter's name is on it, and I don't use it on the blog. Take my word – it was great! So if you need glasses these are probably great too.
So that was August Beauty Box 5! What do you think? It's only $12 per month and such a fun box. I always enjoy it. For some reason I am on month to month and I really should switch that up!  Also, you know I've been doing some videos, and I did a short video look at this box PLUS…. a mini "tutorial" on hot pink eyeshadow. It's not really a tutorial because it's a terrible video but if you want to take a quick look on how to use this shadow and not look crazy, have at it!