My August Gourmet Taste Trunk arrived yesterday and I unboxed it on YouTube! Woo. Video is at the bottom of the post. I stuck with the Gourmet Taste Trunk this month.  This is Taste Trunk's second month in business! It's is a new food subscription box with four different versions: Sweet, Gourmet, Healthy, & BBQ.  Taste Trunk is $29 per month plus $5.99 shipping (and the items are HEAVY!). To subscribe, visit Taste Trunk, put my name (Brandy O'Grady) in the special instructions box, and use coupon code Splurge25!  You'll get your first Trunk for 25% off – less than $28!
Once you open the box you get this nice view. I think this is a really uniquely themed box! A refreshing change of pace.
The outer trunk also has the gold seal. The whole thing arrives in a large priority mail box. I love that it ships so quickly.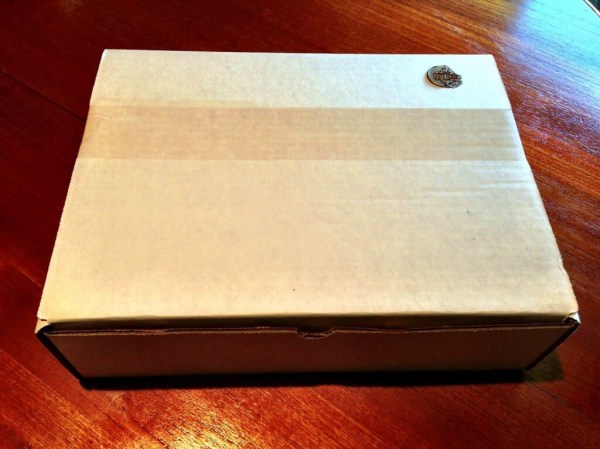 The information cards are packed up in here. I love the old timey print.Even if it is advertising undertaking.

August Taste Trunk: Gourmet Subscription Box
There's an information card for every single item in Taste Trunk. I really like this because if I choose to gift an item, I can include the information card with it. But we always use everything. If you're wondering, I use nearly every single item I get in my boxes. She thought my house would be totally overrun by subscription box mania, but nope. I do have one small bag of samples that I dig in and use a few times a day and a couple of things to sell (duplicates).
There were six items in my Taste Trunk this month!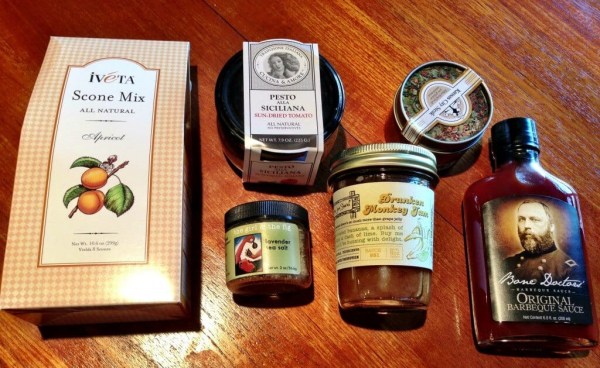 Cucina & Amore Pesto Alla Siciliana Sun-Dried Tomato  $3.25 (available by the case only on Amazon, retail on this is probably a bit more): This was a nice sauce and it is a pesto, as it has cheese. My only criticism of this entire box is that after you remove the wrapper from the jar, it doesn't have a label!  This was yummy and I served it for dinner tonight.
Bone Doctors' BBQ Original BBQ Sauce $5 This was a really delicious barbecue sauce, totally natural, with about 1/4 less sugar than regular bbq sauce (I checked).  It wasn't too sweet or spicy and I really enjoyed it. So did the kids.
Try not to hate on my meal choice tonight, we like to try everything! The sketties were dressed in the pesto & the dogs were eaten with the BBQ sauce. I'm not letting the kids have any more BBQ sauce. It's too yummy.
The Girl & The Fig Lavender Sea Salt $3.75 This came with a recipe for lavender blondies. This is a wet, very briny salt with lavender in it. My husband and I brainstormed uses for this one – on fruit or with a soft cheese is probably your best bet. I need to find some chocolate to stick it on! It would be great to brighten up a gamey meat like lamb or if you want a more pure approach, try it on popcorn!  And who doesn't keep chèvre in the fridge? No, seriously.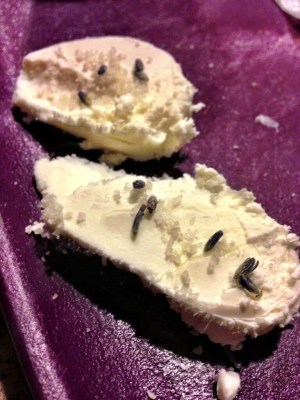 The Jam Stand Drunken Monkey Jam $10 Wow this was good. I mean really really good. You should buy some.  It's just bananas, sugar, pectin, and lime.  and RUM!  Buy it.
Iveta Gourmet Scone Mix, Apricot $6 I was a little ho hum about this mix, but I popped it in the oven tonight (I'm really serious about trying everything we possibly can) and the result was amazing. The apricots baked into the mix turned out like balls of jam inside the warm scone and then I knew why Taste Trunk curated this choice. My kids went nuts over these. I used evaporated milk in place of the heavy cream.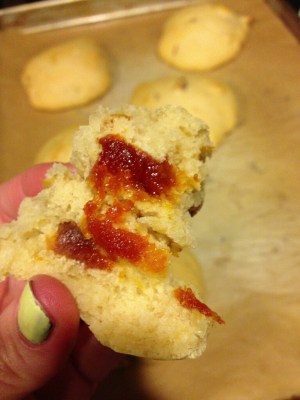 Two Snooty Chefs Kansas City Steak Seasoning $5.47 This mix was lemony, but it was a soft lemon after I cooked it up with some ground beef last night. I used quite a bit and it was very delicious. It wasn't weird or overly salty like Montreal steak seasoning can be. Loved this.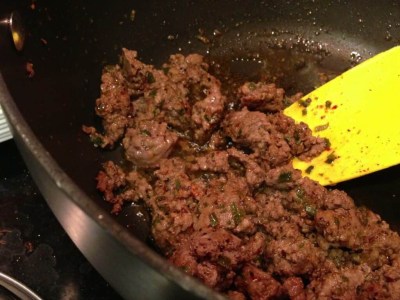 The value of the August Taste Trunk Gourmet Box toted up to over $36! I think this is a fantastic way to try new, gourmet foods. I'll use up every item in this box, and I used up all the items in last month box two weeks in. I have a hard time deciding on things, at least selecting them, so this is a wonderful way to add variety in my cooking. However, I'm considering getting a different version next month – perhaps the Healthy Taste Trunk! I fear that if I got the Sweet Taste Trunk A) I would eat it and B) the kids would eat it in about 3 days flat.
You can see my unboxing of this subscription box below! I'm just having some fun, thanks for being kind, and "like" my video!  You can pick up your own Taste Trunk and save 25% on your first trunk by putting my name (Brandy O'Grady) in the special instructions/ambassador box and using coupon code Splurge25.
http://youtu.be/ba9dZSyH6j0&rel=0