August Seasonsbox is here and it was a whole lot better than last month! Seasonsbox typically has four items and costs $35 per month. I do love the new outer box, it's very pretty and inviting (see last month's review for better shots). I unboxed this one on YouTube – you can see the video at the bottom of this post!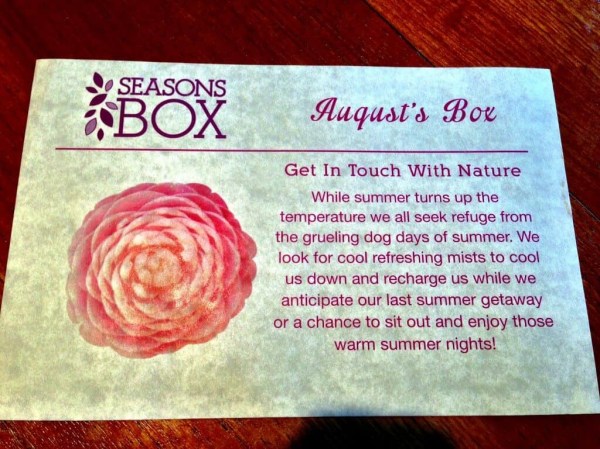 August Seasons Box Review: Get In Touch With Nature
Wow… that's remarkably similar (aka exactly the same) as last month's theme.
This is a nice information card and tells you why the products were selected.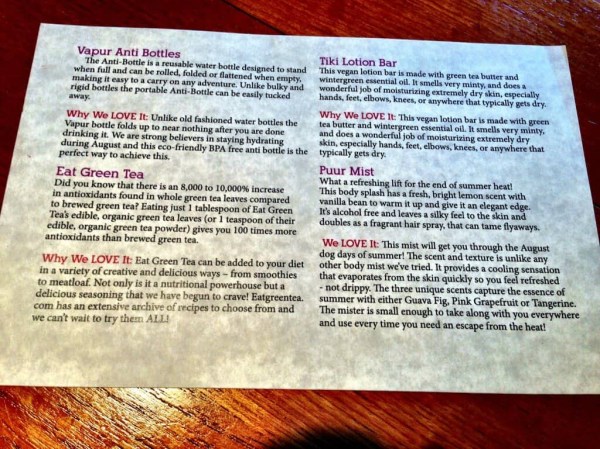 I missed getting a shot of the presentation. This is a meager amount of squigglies but I guess it does the job. It's an improvement over last month's crumpled paper. It's really not bad, just think of the new Seasonsbox as a completely different box than the previous ones. See the video for more (bottom of the post).
There were four items in my SeasonsBox!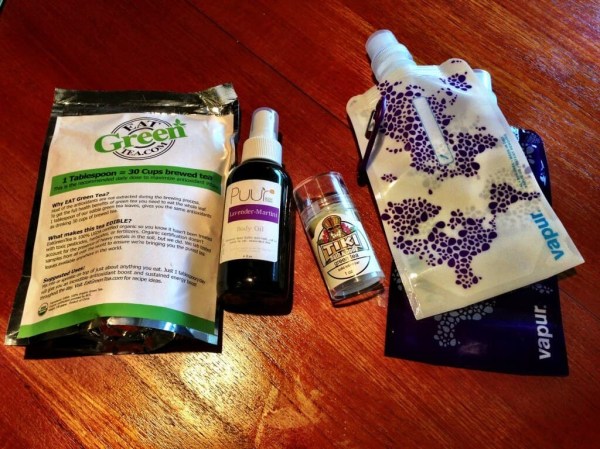 2 0.4 liter Vapur Water bottles – I love these and they are in my favorite color! We used them today and they were fantastic for a quick playground run! Worth about $13. You can get a $40 for $20 voucher for Vapur on Plum District through Sunday 8/18.
Puur Lavender Martini Body Oil – The card says I was supposed to get a mist. While this oil is nice, it's quite heavy and doesn't exactly have the same qualities as a body mist. However, I love the smell and I love body oils, so I'm not broken up about it, just telling you what's up. This is produced by an Etsy seller with quite an extensive range of natural body products, including mens' products! This particular item isn't for sale right now, but judging by the other products, $8.
Tiki Lotion Bar – This was a fantastic minty tea hard lotion bar. I loved this and the smell is fantastic! Usually $8, this is on sale for $6.40 for the next week. (plus $4 shipping).
Eat Green Tea – Well, this bag is "worth" $25. There's a reason that humans have drunk tea for thousands of years – Because eating tea leaves is disgusting. I tried it. Apparently you can also get this in powdered form, which I think I would have totally gone for. I actually sort of like the flavor of green tea and could have mixed the powdered form (which is just matcha powder) into just about anything. I thought this comment on Amazon.com was instructive as to the health claims of this product. I am not saying this is a bad product, it's not up my alley, and I wish that a much smaller serving had been sent as a bonus item, like in the Vegan Cuts snack box. I am sure many recipients of this box would agree.
This box had a value of $29 plus the tea. I'm actually pretty happy with the box because as a recipient of a great many boxes I totally understand that every item may not be my… cup of tea. Plus, I really did try something totally new to me. I'm going to see if I can make those tea leaves work for me somehow! If you're interested in Seasonsbox, you can check them out here and sign up!