Mugler Addict is a brand new subscription box from Thierry Mugler – creator of Angel – my very favorite scent in the whole entire world! When I heard about this subscription, I signed up! How could I not! Mugler Addict is a quarterly box and only $50 per year. That's only $12.50 a box, and I think Mugler might be crazy considering how much was in here! It's just as crazy as the LMdB box!
The box comes in a Birchbox-style explodabox, with a Birchbox style box, and Birchbox style information cards. I think it might be managed by Birchbox! It would totally make sense – why replicate that capacity when you can just manage someone else's program? Great idea.
August Mugler Addict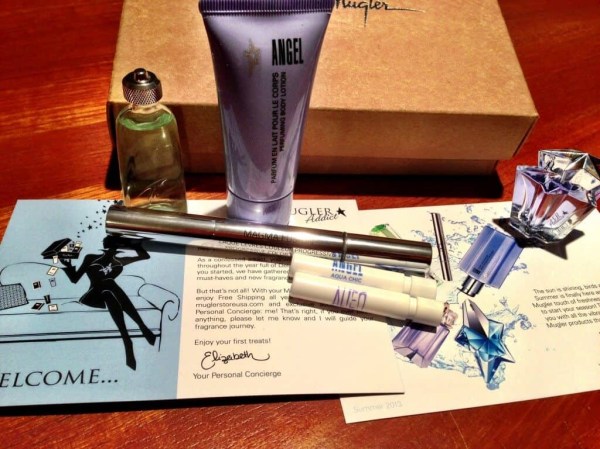 The box had two cards: a welcome card and the quarter's information card. August is a weird month, because it's summer, and we're all anticipating fall, but I agree with Mugler Addict that it's summer!
For the most part I'm using Mugler's descriptions because 1) the copy is fantastic on them and 2) I have a hard time describing perfume beyond YES and NO.
Magma Fusion Progressive Color Lip Lacquer in Blue Effect: This reacts on contact with lips; color progressively intensifies. When the gloss' brilliance wears away, lips retain a transparent pink tint. And it is the most unique lip product I have ever tried! It's a silicone applicator, goes on clear with some blue sparkle, and does really get pinker! It has a tad bit of blue sparkle which is fun (but not tacky, I promise!).  It's delightful and I'll wear it all the time. It dries smooth, not tacky. $35.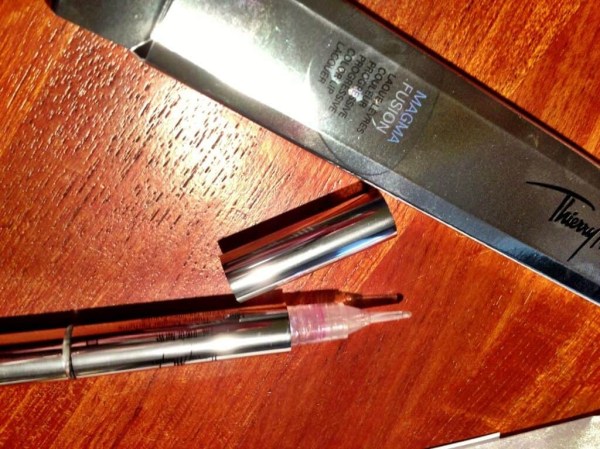 The copy on the information slip inside the box is so wonderful, I have to share the entire thing. The photo is at the bottom of the post!
Alien Aqua Chic Sample & Angel Aqua Chic Sample: Angel Aqua Chic is infused with aromatic waters, a perfect temptation for summer sensations and delights. The Alien Aqua Chic is infused with aromatic orange blossom waterthe perfect temptation for summer pleasures and warmth. I put on the Alien Aqua Chic first – despite my great love for Angel, I've never ever tried another Mugler fragrance! ~$3.50
Mugler Cologne Eau de Toilette – Subtle alchemy of intimate and sensual notes. Universal for men, women "and others!"  I think this one will go to my husband, but I'll have to see how it reacts with my skin first before giving it up. Notes: neroli, bergamot, white musk. $13
Angel Eau de Parfum Shooting Star – The signature scent! My very favorite! Since I am totally out I am thrilled to get this one! Notes: bergamot, tropical fruits, vanilla, caramel and patchouli. And yes, it's really that amazing. I should also note that I hate patchouli with a deep and intense passion and love Angel just as much as that. Don't be afraid. $13
Angel Perfuming Body Lotion – This is a great lotion and I use it whenever I get a sample! Smells just like Angel and is great for layering. Has fragrance encapsulation technology, too! $8
I get a total value of over $70 for this box! Of course many of these are freebies when you buy a whole huge bottle, but I can do that with free shipping with my Mugler Addict membership (and of course my personal concierge)! I am looking forward to sampling all my fragrances and perhaps selecting a new second favorite 🙂
Once again, sign up for Thierry Mugler Addict for $50. For the year. No affiliate relationship. Just love. Excuse my while I go breathe my wrists for an hour. Here's the Magma Fusion description. I heart Thierry Mugler so hard. For the ultimate Angel addict there's also Angel Room Service!