Getting my Juniper box always puts a smile on my face and the August Juniper Box was no exception! That's a lot to say about a period box. Juniper is a monthly tampon & treats subscription and gets you through the rough times. Juniper Box is $28/month but if you tell them you found them through me (just put in Mommysplurge in the box) you'll get 50% off your first box! (Good until 8/31)
Juniper always starts out with a funny note, and Lynn's Letter was all about some wild catwalk class she took. I laughed so hard I nearly peed my pants.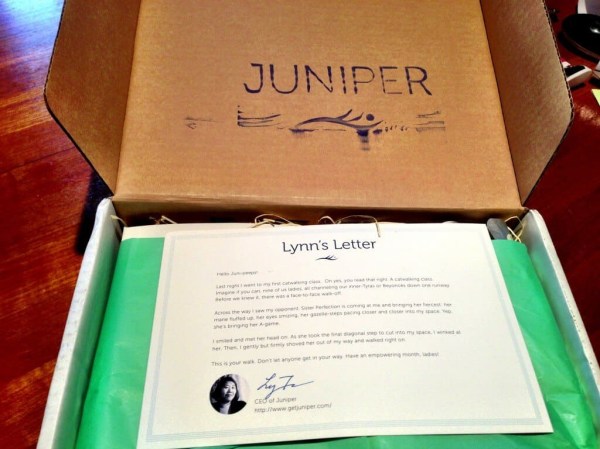 August Juniper Box
I'm not sure if Keep it fun, mix it up is really a theme, but I didn't care because the treats are always so great in Juniper! Plus I got a great variety which is pretty much what the theme implies. I always get stuff in my Juniper Box I haven't seen before, and one item from the July Juniper Box made my list of subscription faves for July! This card was a bit hard to get a photo of but don't forget to tweet your favorite item with hashtag #lastbite to Juniper so they can send you an extra in the September box (OMG September!?).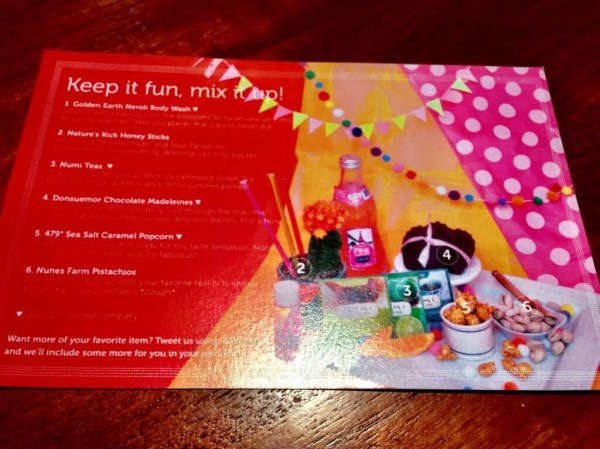 The treats bag in the August Juniper box was totally packed to the gills.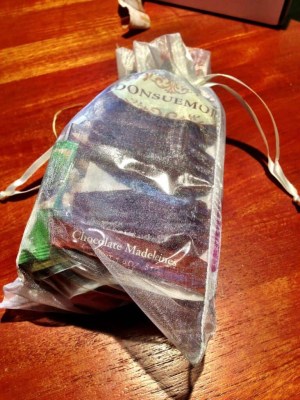 Golden Earth aromatherapy body wash in neroli. I love this smell!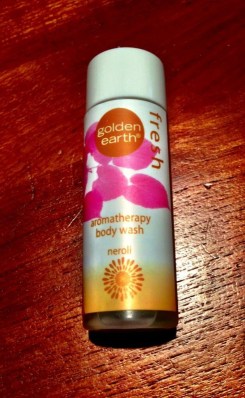 479 Sea Salt Caramel organic heirloom popcorn.Do I need to say anything besides sea salt & caramel?
Donsuemor Chocolate Madelines – Three of them!! A brilliant way to send chocolate without a meltage problem.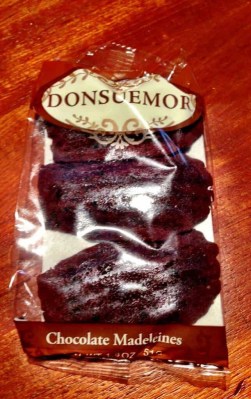 Nunes Farms Roasted Salted Pistachios. I'm a huge fan of nuts in general and salty treats in a period box. Hooray!
The August Juniper Box Tea & Honey Selection consisted of Numi Teas in Toasted Rice, Moroccan Mint, and decaf Green Tea for some detox. And of course some honey sticks, this time from Nature's Kick: Key lime, Pink Lemonade, and Sour Tangerine. These ones sound really super fun and I think they're going to be sourlicious.
And my favorite item, the Dang coconut chips. Because they are DANG GOOD I asked for more. I'm saving these!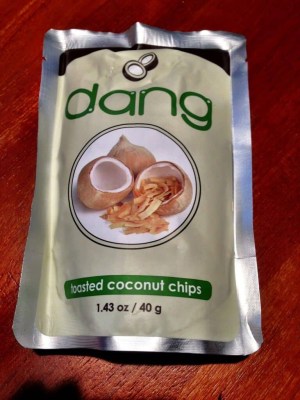 Plus, you know, tampons. Exactly what I ordered.
And Liners and Advil. Hooray!  You can pick up this fantastic box at GetJuniper.com and get 50% off your first box just by referencing the name of my blog when you sign up. Sweet!
I just love having all my stuff delivered to me anyways and my monthly supplies are no exception! I'm not sure yet what I'd tweet for more of. What would you pick?  As always, see all my previous Juniper box reviews by clicking the tag at the very top of the post OR just by clicking here.