August Julep box is here! I forgot to skip it, and then my cc got hacked and I was kinda overjoyed I wasn't getting the box that was auto-selected for me I think I told my credit card company all the charges were valid, and I had missed the skip window, my fault!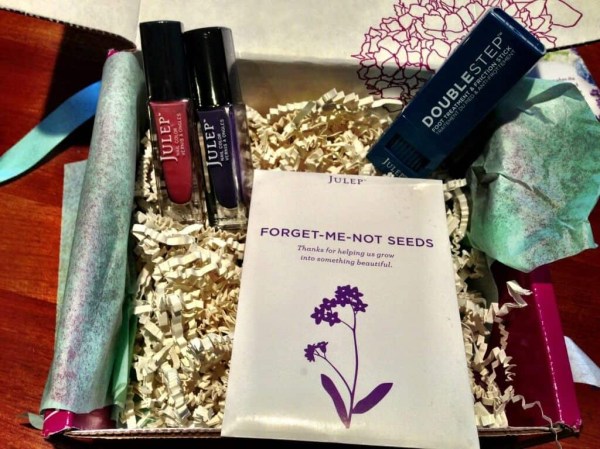 I admit I was cranky about getting Julep this month (ummm it's hard to manage my boxes!) but after playing with it I loved this box. I don't know what I was thinking. Purple PLUS a totally new to me shade neutral-ish color? Why was I mad about getting this box?! I LOVED IT!  And this is why I try to write reviews after sampling what's in the box. Because I cannot tell you my personal opinion until I actually try it.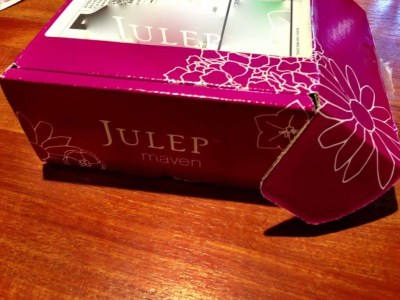 Julep's August selections – its anniversary month – was the Garden Party collection. Kind of an odd choice for August, but the outer box was beautiful this month!
August Julep Maven Subscription: Classic with a Twist Box
In the August box I received…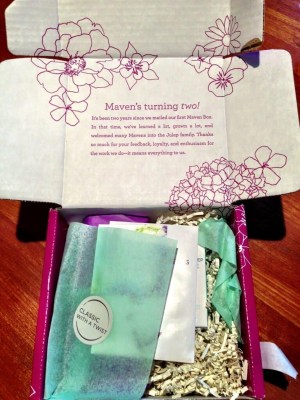 Julep Sylvia Polish: Lilac purple crème
Julep Veronica Polish: Modern mauve crème
These two polishes were a bit creme and "modern mauve" describes Veronica perfectly. I love it. Why was I mad about getting Julep? I LOVE JULEP! Forgive my quicky swatching swipes all over my fingers, you want to see them, right? Of course you do!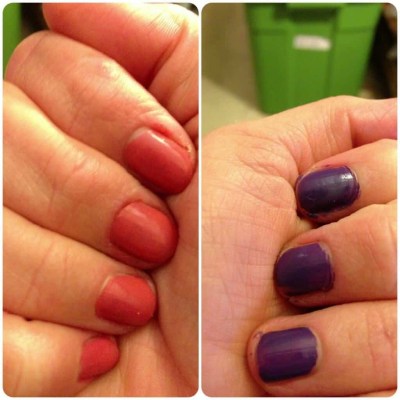 Doublestep Foot Treatment and Friction Stick: This no-mess shea butter treatment nourishes and moisturizes feet, stimulates circulation, and prevents blisters. Right now I'm all about my New Balance sneakers and walking to the mall. I thought I wouldn't use this but after thinking about it, I do like to pamper my feet after dragging my kids all around everywhere I will use this to soothe tired tootsies. And yes, it got used!
The bonus extra was forget-me-not flowers which I gave to a new bloggy friend who visited me yesterday to grow at her new condo! So although I was a little meh about getting flower seeds in AUGUST I thought it was a sweet gift to give to someone with a brand new home and someone I just met! That made me happy!  But yeah, that's why I was mad, because the flower seeds weren't awesome like, oh, say, all the other months. But giving it as a gift made me feel much better. Even if it was a tiny gift.
Did you get Julep this month? What profile did you get? If you haven't signed up, you can sign up for Julep here and use coupon code FREEBOX to get your first box free! (Shipping is $3.95) You can skip every month and only get the boxes you love, plus you can get the Maven discount and free shipping from then on! And even if you forget you'll probably love it anyways!