August Glossybox landed on my door yesterday but it didn't get opened immediately. The kids & I went on a puddle walk and then they went crazy and poured paint on everything. Ah, at least I had some retail therapy so I could recover from yesterday (the painted objects included an iPad Mini, fortunately it seems like we got it all cleaned up!). On to the Glossybox!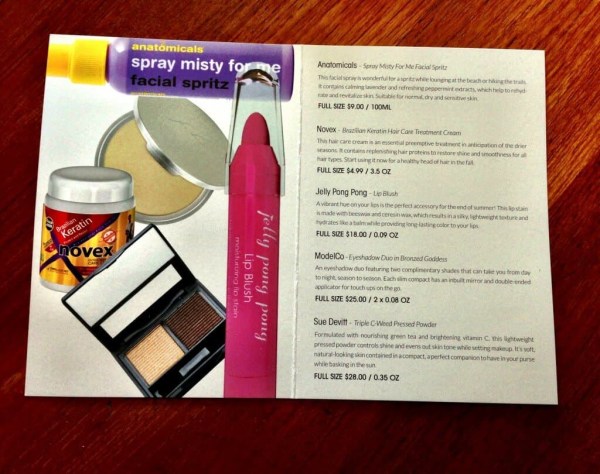 August 2013 Glossybox Review: Bohemian Summer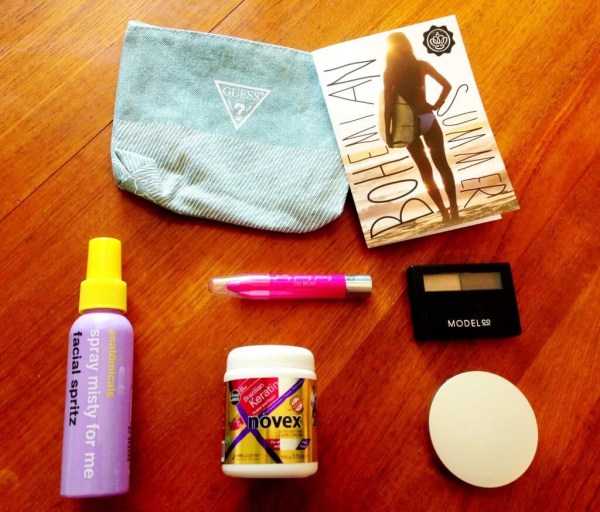 August's Glossybox theme is Bohemian Summer. It's slipping away (today is gorgeous btw, we're going back out as soon as the kiddo is done with his nap!) and Glossybox encourages you to make every last minute count!
Anatomicals Spray Misty for Me Facial Spritz ($9) – This has a great lavender & peppermint scent. I love face sprays. They are a great pick me up and I like the attention to aromatherapy in this one.
Novex Brazilian Keratin Hair Care Treatment Cream ($5)- I am going to stop complaining about my fine hair and give this one a shot anyways. Maybe it will be thickening? I think it's funny how it says "hair food" on the package.
Jelly Pong Pong Lip Blush in Marshmallow Pink ($18). I loved the formula, but to be honest, this was a little too pink for me. The great news is this isn't messy so it's perfect for my daughter's dressup bag.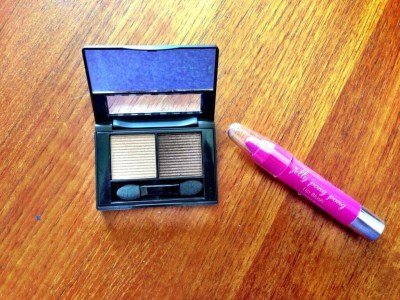 ModelCo Eye Shadow Duo – Bronzed Goddess (Maldives & Jamaica) ($10)- Wow do I ever LOVE this shadow duo! The colors are creamy and shimmery and perfectly neutral. This is an instant goes in the every day makeup pile kind of shadow.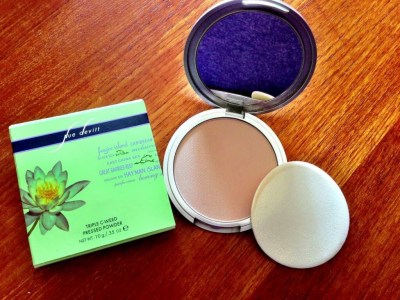 Sue Devitt Triple C-Weed Pressed Powder in Quiet & Still ($26) – I always seem to get the right shade of face makeup from Glossybox! I was surprised at the coverage this has. It's really quite nice and it is superfine powder.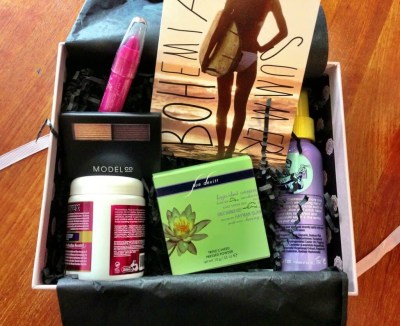 Guess Denim Cosmetic Bag – Bonus! This is super cute. My daughter stole it already. She's in the dress-up phase for sure! There's also a coupon for 30% off Guess.
I thought this was a fantastic Glossybox and I got about $70 worth of great stuff for far less than that. Of course I subscribed on a coupon and I don't recall, perhaps $21 per month? Code JULYMAG is still working for 15% off, and you can use code OLEH for a free Ole Henricksen Collagen Truth Serum with your subscription!  Get your own Glossybox right here! August Glossybox is STILL available so go check it out.