Zockster is a socks subscription box that promises awesome and amazing socks automatically. Say that ten times fast! Zockster socks are made out of bamboo, which means they are environmentally friendly!  Not only is bamboo renewable (it grows like mad!) it only takes one tenth of the water needed to make bamboo socks compared to cotton socks. Neat!
Zockster offers women's white ankle socks, men's white ankle socks, and men's black dress socks, all in bamboo. The Zockster ankle socks – both men's and women's -are $5/month, $7/bimonthly or $9/quarter. Add a buck to each of those prices for the dress socks and $2 shipping.There are 3 pairs in each box.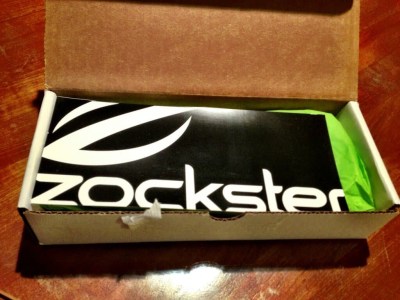 As soon as I heard about Zockster I ordered a box myself. I really wanted to try some bamboo socks! I can never find socks I really like so I was excited to try these out. Plus my socks disappear like crazy. I'm not sure where they end up – I generally wear them to bed (not so much during the summer) and remove them in my sleep and they fall into some sort of black hole.
Zockster says the women's socks fit sizes 4-9. I'm pretty sure that's shoe sizes, not sock sizes, because a sock size of 9  is  a size 4 shoe. I wear a shoe size of  6.5 and they were a little big on me. I would absolutely love to see the women's socks appear in 2 different sizes! I find that a snugger sock is a little more invigorating.They are really very silky soft and do feel amazing on my feet. And you know, I really like how they made this into a real subscription box with a card & tissue paper and didn't just throw socks at me in the mail.
Bamboo socks are moisture-wicking and antibacterial, which should make feet less stinky. YAY! My feet felt nice & cool wearing them.
Zockster has an excellent website and you can even pause your sock subscription right from there if you feel you are inundated with socks. But if you're like me and always losing your socks, you probably won't be!
If you want to find more about Zockster or sign up, go visit them! Zockster has a referral program and if you sign up with my link I'll get free socks. Thank you! Zockster is a great sock and they feel great after they go in the wash, too!
Have you tried Zockster socks? What do you think?