Rather than making separate blog posts I thought I'd put all my Honest Company Essentials reviews on one post, so I'll update this as I review new items. If you're new to Honest Company you can sign up with my referral  link and get $10 off by using code INVITED10.  Once you start using Honest products you'll find it hard to go back! They're very effective, smell fantastic, and once you start using them you will hate using conventional cleaners all full of icky stuff. You can also see my Honest Company diaper/baby related stuff here or just see all my Honest Company reviews!
Honest Company Essentials Bundle Review
I get a new Honest Company Essentials Bundle once or twice a month. I live in a metropolitan area and don't have a car so my grocery trips are pretty much just groceries, and I rely on Honest Company to supply me with all my household needs. The Honest Company Essentials Bundle costs $35.95 per bundle plus $5.95 shipping, but you can totally skip the shipping charge in one of two ways:
Order enough add-ons to your bundle to reach the $50 mark

Subscribe to a second bundle. There are also dipes/wipes bundles and a wellness bundle (prenatal, baby/toddler, and kids vitamins & DHA)
You can change the shipping date right online and I usually make my bundle ship every two or three weeks
Each bundle comes in a big cardboard box and is packaged securely. Honest Company recently switched to including sprayer nozzles in the box rather than having them attached. Great idea.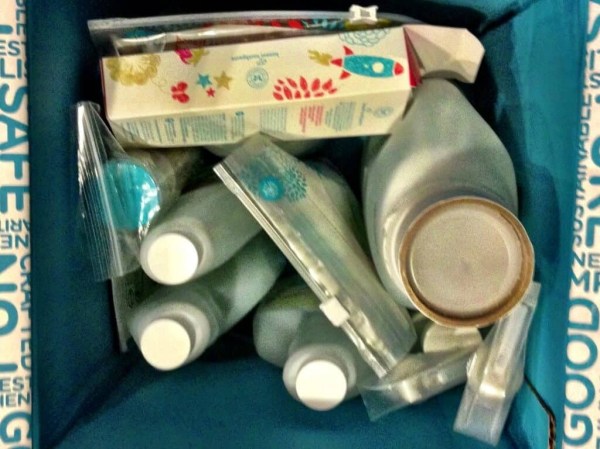 In each bundle you get 5 Honest Company Essentials products of your choice and you can add three more at 25% off from an expanded variety of items. This is what I do because I never like to pay shipping.
Honest Dish Soap
Maybe the one product that's really not my thing, it doesn't cut grease for me well. I now supplement my Honest Company order with an ePantry order to pick up a different brand of dish soap (and liquid fabric softener).
Honest Bathroom Cleaner
My favorite bathroom cleaner ever. It smells great and is perfect for daily chemical-free cleaning. Seriously you must get it.
Honest Stain Remover
I use this as my carpet cleaner! It works a charm! I'm sure it works great on clothing too but this is what I use it for!
Honest Fruit & Veggie Wash
I *do* use this. I don't know the numbers but Honest claims (via independent lab tests) that it cleans better than water alone. I am worried about food safety. I clean everything with it. I just spray, let it set, then rinse. Even stuff like cantaloupes. Listeria is everywhere now.
Honest Dish Brush
This is a sturdy, well-made dishbrush and is quite attractive. The holder holds  a plate with a spring attached to it and you are supposed to put soap & water in the dish and pump the brush up and down to foam it. The foaming didn't work for us (perhaps because of the Honest Dish Soap), but my kids loved this brush and happily did the dishes for me (hey, the package says to have my kids do them, so I did!).  I had to buy another to avoid fights over the dish brush.
Honest Organic Cotton Dish Towels
These towels have quite a gorgeous pattern on them and are very well textured to be as absorbent as possible. I like them, but they're dish towels, and pretty pricey towels (and do shrink quite a bit). I'll stick with Costco towels in the future because I recycle them once a year, but these are really nice as cloth napkins (which we use!). I actually found that my Costco towels got super crunchy and these ones haven't. Plus I actually like their smaller size. This is a product that I changed my mind about!
Honest Dryer Sheets
I did want to note that the back of the package says you can reuse the towels up to 2 times. The front says up to 64 loads. To me that means you can use them once and reuse them once. I thought that was a little deceptive so I wanted to note that. These are alright. I prefer liquid softener, I really do. I think they worked okay, but I didn't think you could really reuse them. They smelled like coconut I think. I get liquid fabric softener from ePantry.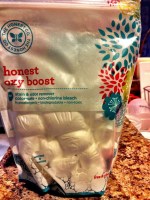 Honest Oxy Boost
Honest Oxy Boost are laundry packets of oxygen (non-chlorine) bleach. Basically it's Oxy-Clean but natural. I put one of these in every load of towels that I wash. It helps get the stank out. I'm certainly not a natural homemaker and I don't know any other way!
Honest Candles 
I didn't think these were particularly strongly scented. If you prefer a lightly scented candle, this are great candles. Otherwise, skip them.
Honest Sunscreen
This is a mineral sunscreen (no chemicals) so it's a bit whiteish but a good tradeoff for skipping chemicals on the kids' skin (and mine too!). It's SPF 30, goes on smoothly, and is unscented. It's our go to sunblock because of the total lack of chemical sunscreen.
Honest Kids Toothpaste
I have to admit that I didn't care for the formulation on this toothpaste (I love using fruity flavored pastes) but my daughter loved it! It's an all-natural fluoride-free formula.
Honest Toilet Cleaner
This worked surprisingly well! If you have kids that dip their hands in the toilet occasionally (they all do it!), this is a great option. Toilet cleaner is always so caustic but this one wasn't. Only downside – I had to use my teeth to open the cap. Yes, really, it's very secure. (I think they've since changed the packaging).
 Honest Bubble Bath
A total favorite of the kids. I love making sure their bath products are 100% natural and this bubble bath is bubbly and smells fantastic. The scent is called "tangerine dream." I love smelling their warm little bodies after they get out of the tub!
Honest 4-in-1 Laundry Pods
This is another of Honest's pods. I love pods so I can just get the job done! They claim to be cleaning, stain-fighting, brightening, and softening. They work really well in my front-loading washer and since I've been using Honest products the washer doesn't get so icky.
Honest Organic Lip Balm
I've received the Lavender Mint in a couple of subscription boxes. Bestie stole one and the kids stole the other. I'm not too broken up about it because I don't care for mint on my lips, but their reactions say that it's a great balm!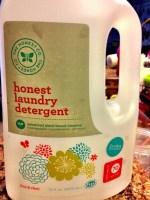 Honest Laundry Detergent
Sometimes I want more detergent or I need it for hand-washing, so I also use the Honest Laundry Detergent. I love how it has no smell! I usually get one in my bundle and another as an add-on item.
Honest Body Oil
I actually prefer the old bottle. It has a better scent (coconut blossom) – the new one doesn't have any and just smells like oil. The old bottle was also a tad bigger (0.4 more ounces). That being said I use this all the time! It's extremely moisturizing and hydrating!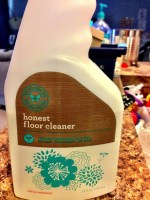 Honest Floor Cleaner
I'm crazy about this and so are my kids, because I'll allow them to clean the floor using this (it's a very exciting activity for them, I'll take it while I can get it!). It does the job on our linoleum floor and leaves absolutely no streaks or film. It's definitely one of my favorite Honest Company products.
Honest Conditioning Mist
We love this, love the smell, it's very light and not overpowering on the hair. A must order.
Honest Multi-Surface Cleaner
This is absolutely another favorite, I use it constantly. I clean way more often now that I use Honest products because I don't feel like I have to clean them up after I use them. I just love that I can spray this all over my counters, wipe up, and not worry at all about it.
Honest 2-in-1 Shampoo & Body Wash
This is my shampoo of choice for my kids and their pick too! It smells totally dreamy and delicious, gets em clean, and doubles as a body wash. Love that, less clutter!
Honest Bug Spray
This one smells very strongly of citronella and I won't get it again. The scent is too strong for me!
The only thing I don't like about Honest Company is that they make you call in for customer service. (Not true anymore, you can email them from your account!). I haven't needed any customer service in a long time, so I'm over it.  I hope they come out with carpet cleaner soon.  That's the one chemical filled item they don't have that I really need. Update – I now use the Stain Remover, see above!
If you want your own bundle of essentials goodness from Honest Company, you can sign up and save $10 with my link! Let me know what you got in your bundle and how you liked it!