These are my favorite subscription box items from June! You can see all my faves right here.
My very favorite subscription box stuff from June
MeUndies. MeUndies. MEUNDIES. If *I* describe underpants as life-changing, they definitely are on the top of the list! They totally blew my mind.
All of June Seasonsbox, but in particular, the Vance Family Pineapple Coconut Soy Candle. Which I called the Best Candle Ever.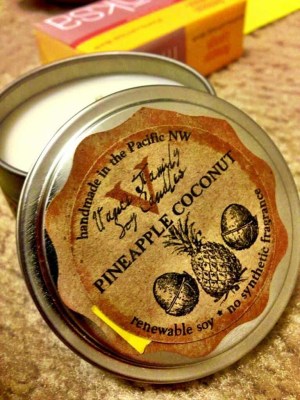 Skoshbox (all of it). The way I did this box (feeding it to my kids for a meal – OMG worst/best mom) made it an entire experience! I am definitely subscribing to this one.
Green Tea Blotting Papers from July Julep Box. I only begrudgingly accept the fact that they aren't edible. It counts because I got it in June. I don't even have oily skin or drink tea and they make my list. That good.
I also agree 100% on that Coconut Cashew bar! Looks like I got it in April Goodies Box though!
Last, but certainly not least, the towel from May Lootcrate that I bought from Jared.
Wanna know my misses? SEAWEED.