Munchit is an interesting new snack box that has a different model than existing boxes.  Every week they send a snack mix, tea, gum, and candy for $3.58.  All Munchit food mixes, treats, gum and teas are all free from MSG, partially hydrogenated oils, trans fats, artifical preservatives, colors, additives and ingredients. The snack mixes come in a little tray just like Graze and GoBites.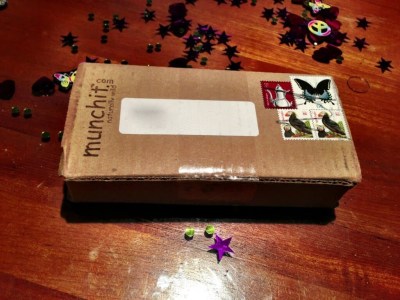 I took advantage of the free box deal Munchit had (has? may still be available).  When I signed up I noted that I liked all the flavors of snack mixes (I didn't bother to look at them – this is important), that I hate tea (I always forget my kids like tea), and I wanted chocolate.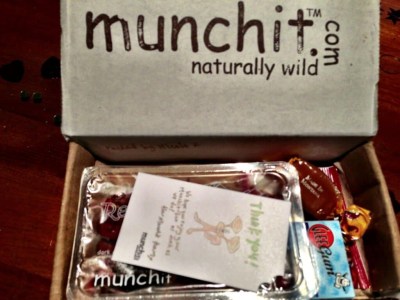 I was really disappointed when I found  chocolate coated espresso beans inside the mix.  And a caramel (I had totally expected to pay an upcharge on the piece of chocolate). I should have read the snack mixes!! There was quite a lot of snack in the tray, and Munchit says it is 2 servings. The mix's name is Red eye and it is dark chocolate espresso beans, hazelnuts, cranberries, and goji berries. Some serious superfoods in there.
I did not read the snack mixes available and didn't realize espresso beans could be part of the mix. I definitely cannot feed those to my kids! And I got tea. I should have just asked for a decaf tea for the kids, but I got a caffeinated tea. I wasn't sure what Munchit would do if I said I didn't want either tea.
I should have been more careful with my selections!  I think Munchit would be perfect for an office snack attack once a week. If you're interested in finding out more, go check them out at Munchit.com.