Since I love getting a surprise package of just about anything, I knew I had to order a Mystery Box from MeUndies! MeUndies ships wicked fast. I ordered this box midweek, and it arrived Friday! My husband's drawers are dragging so I was soooo happy to get this. Look for a trunks vs. boxer briefs comparison at the bottom of the review! Or, read my husband's own words on men's MeUndies!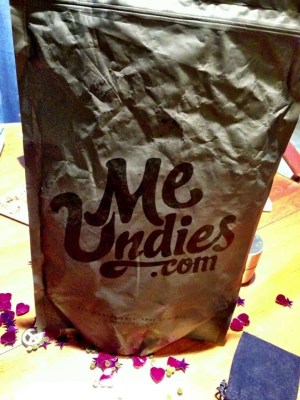 A few weeks ago, MeUndies sent both of us a couple pairs for review.  This is – verbatim – what I heard from my husband as he was trying on this pair of underwear from MeUndies.
"OH MY! OH WOW!"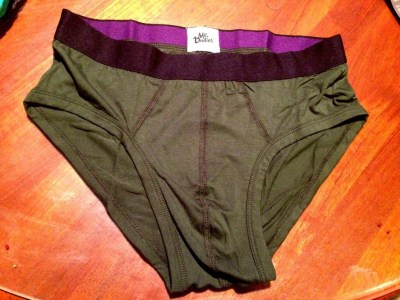 Needless to say he is in love with MeUndies as much as I am. Now, my husband hates spending money (he must love me a lot) and he immediately asked me to buy more MeUndies. So I did. When I saw the Mystery Box I knew it would be perfect for rebuilding his sad undies drawer. Inside the giant MeUndies zippy bag was a pile of very neatly folded underwear wrapped in tissue.
MeUndies Men's Mystery Box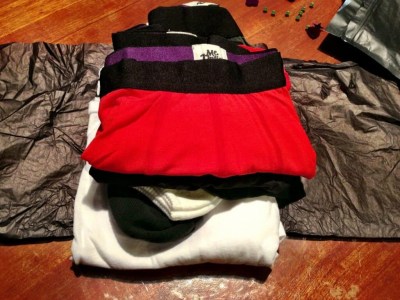 Husband got 2 pairs of MeUndies ankle socks – 1 white, 1 black. Retail on each is $4.
A MeUndies white men's tee: $25.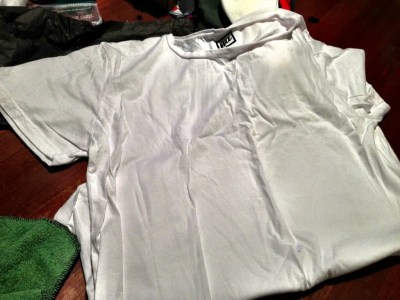 Khaki Green Boxer Brief, and Red & Black Trunks: $20/each. Since he already tried the briefs I know he is going to be extremely happy with this selection (he'll be visiting again in two weeks!). I'm honestly not sure if he'll prefer the trunks or the boxer briefs but I am certain one of those will be his favorite.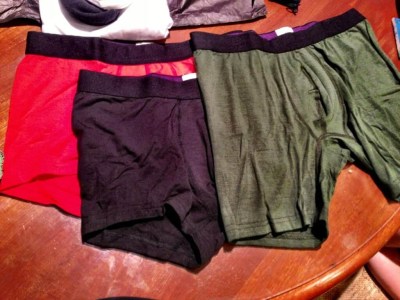 MeUndies Trunks v. Boxer Briefs
UPDATE: My husband amazingly let me take photos of him in his new underwear. Which is sort of unbelievable, but he was like okay! I have an excellent husband! The green MeUndies are the boxer briefs. They are a tad bit longer than some other brands and are his personal preference, though he said he would wear the MeUndies Trunks with a clingier pant.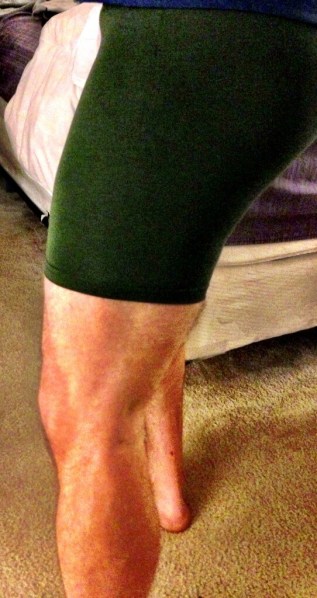 And of course these are the MeUndies Trunks! A lot more coverage than a skimpy brief but less than the boxer brief. Hopefully this helps you guys select the right pair!
Husband's MeUndies Mystery Box has a retail of $93, which is a bit short of the "about" $100 that MeUndies said it would contain. They could have thrown in a hat. Or more socks. On subscription prices (remember that MeUndies has subscriptions so you can get 1+ new pairs every month!) the shirt is $20 and the underwear are $16/each, so this is about $76 worth of clothing, which is still a fantastic deal!  All the underwear is made from a Modal blend and is super duper soft. It's hard to describe how awesome this underwear is. The only thing I can say is sign up, try a pair, and see if you love MeUndies as much as we do!