Whoah, I didn't even know the July Tyler Florence Fancy Box was coming today! It's my first Tyler Florence Fancy Box and my first Fancy Box in quite a while so I was totally happy when FedEx knocked on my door this morning to deliver it! And also totally thrilled that it comes by FedEx. Have you noticed that you're getting virtually no boxes via UPS or FedEx anymore? I sure have! Everything is USPS which is totally lame because I get my mail after 5pm.
Instead of one single information card of course you get the individual cards from Fancy! The July Tyler Florence Fancy box had 6 items. And two stickers, but my kids stole them. I also ordered the July Jennifer Love Hewitt Fancy Box but haven't heard a thing about that. Sadness.
Sonoma Smoked Olive Oil – $27. Wow this is smoky! It's infused with natural wood smoke flavor and I think I want to try dousing a steak in it. I think it would be delicious! Norpro Stainless Aerator Whisk – $8.50. This is for fluffing egg whites & making whipped cream. Now when I make whipped cream I totally use my Kitchenaid stand mixer but I will use this for eggs for sure.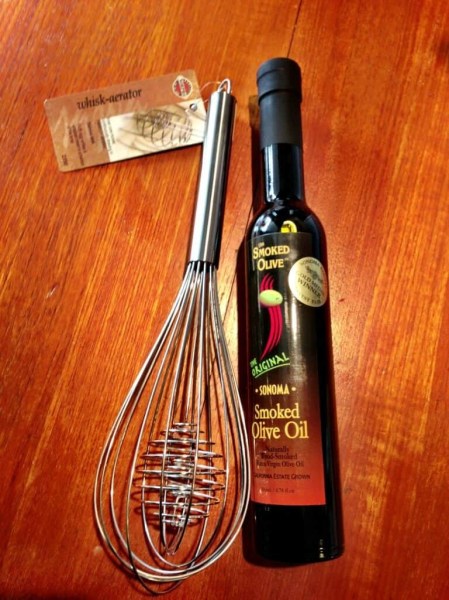 Chef'n Juicester – I was totally about to buy a juicer. Hello Fresh has you juice citrus all the time and I don't have a juicer and was tired of doing it by hand. This one looks totally awesome to use, plus you can do more than one little lemon. I'm taking the kids to the store today to buy oranges because they are so excited about this! $15.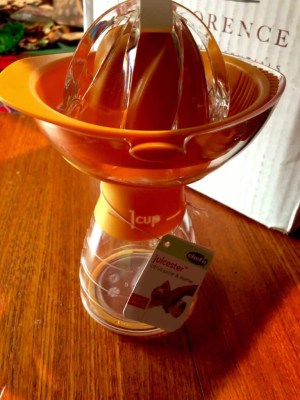 Prepara Ice Balls – $7. I'm totally excited about these because 1) they seal completely so I can just stash them in the freezer and 2) you can also make infused ice balls. I also think they may juuuust fit in a sippy cup but they'll totally fit in our huge drinking glasses. Awesome!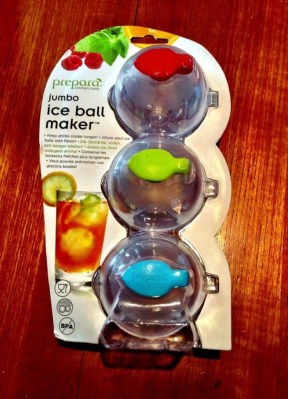 Tyler Florence Fried Chicken Seasoning – $5. Oh fried chicken in the summer sounds perfect.  Directions say use buttermilk and hot sauce. Don't forget you can just add 1 T of vinegar to 1 c of milk and get fake buttermilk. Works like a charm.
Barmops & Clean Cloths – I always need extra towels in the kitchen and I love the size of the multipurpose clean cloth. Perfect for little hands to do some cleaning. My kids actually love to help clean because they know they'll get to do something fun after that. This makes it a little more fun! Fancy says $20, ummm, I'm thinking more like $5 based on what I'd pay at Costco or something like that.
  Even ignoring Fancy's price on the barmops I still come up with a value of $67.50!  Awesome! We are going to use every single thing in this box and I am anticipating using the smoked olive oil in everything. It's intense but I think I can make it work with the right ingredients! The Tyler Florence Fancy Box is $39/month plus $7.95 shipping. With that price it better be good and it is! I'm definitely getting the August box! You can use coupon code FOLLOWUP10 to save 10% on your box (or another Fancy Box or anything Fancy sells). I'd love to wax more about this box but we have some oranges to buy! Did you get the July Tyler Florence Fancy Box? What did you think about it??