You can get your first Groovebook subscription photo album totally 100% free!
I did my first look at Groovebook last month when I told you all about how to get this awesome photo album absolutely free!  Groovebook is an awesome little app for iPhone, iPad, or Android OS that you can upload your pictures to and they print and send a 4.5″ x 6.5″ photobook straight to you!
Just use coupon code GROOVESPLURGE to get your first book entirely free – no shipping charge, no charge for the album. Put in the promo code when you sign up on the app and get your very first album, including shipping, totally free! Every book after that is free, plus a shipping charge of $2.99. You will have to enter your credit card. It may say $2.99, but that's next month, and if you wish to cancel before your second book arrives, you can totally do that and you won't be charged. It's an awesome deal and I've already started uploading my pictures for next month!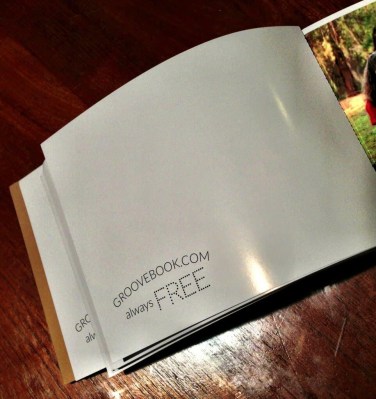 I got my Groovebook and also had one sent to my 90 year old grandmother in Colorado, who most definitely does not have any computing devices.  I was really impressed with the quality of this $3 (including shipping) photobook. The pages are shiny and while they aren't processed photos, they are great quality and wonderful to have around. My children really love looking at photos of themselves and their family members!
The photos are perforated so you can remove them easily. You can tell on each one above that they print the photo time above the perforation (that one was taken on Halloween!). They are perfect for hanging on the fridge, crafting with, or business uses. I love that the app is so easy to use and one thing I have been really liking is that it reminds me every once in a while to upload more pictures. I find doing it all at once is totally overwhelming, which is why I put off making photo albums to begin with. I snap a lot of photos! (The smartphone blessing/curse!)
Don't forget to use coupon code GROOVESPLURGE when you make your first album!! My kids really really loved this, they looked at all the pictures for an hour!